This cute Pineapple Vacation Savings Jar will help you save for a sweet
Hawaii vacation
! It can be created easily with everyday household supplies! Or if you'd rather have a Dole Whip a little closer to home, maybe
Disneyland
is the right vacation for you. Since that's a favorite treat in both Hawaii and Disneyland, this pineapple savings jar would be perfect to help the family save for a Disney vacation, too! Just follow the tutorial below and watch your vacation dreams become a reality.
One of our most popular vacation destinations at Get Away Today is the beautiful Hawaiian Islands. There is so much to do and experience in the tropical paradise! With the warm ocean and clean beaches, moderate tropical weather, majestic mountains, diverse food, cultural experiences, and exotic city life there truly is something for everyone! It is a premiere worldwide travel destination. I am going to wager that the only thing keeping anyone away from a Hawaiian Vacation is... money! Am I right?! The good news is that traveling to Hawaii doesn't have to be out of reach. Combine the expertise of our travel agents with a little bit of personal savings efforts and you can relax and enjoy a world-famous Dole Whip at the Dole Pineapple Plantation not far from Oahu's North Shore! Sign me up.
Pineapple Vacation Savings Jar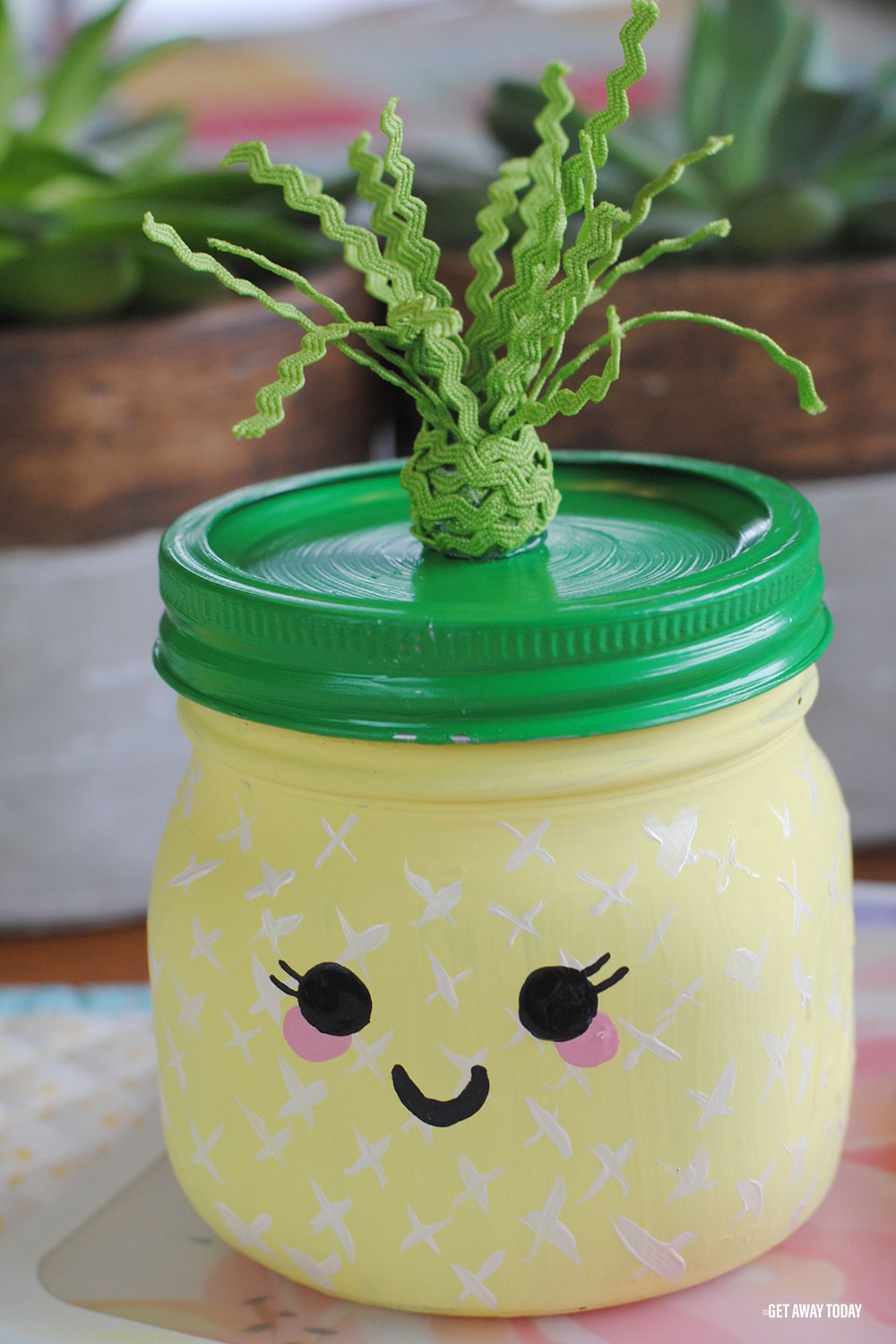 I created an adorable pineapple vacation savings jar to help with saving for a Hawaiian vacation! Fill this cute little pineapple jar with cash and feel the sweet satisfaction of being one step closer to paradise. You can create your own pineapple vacation savings jar with this simple tutorial. I had all of the craft items in my house before I even started this project. Just round them up and get to crafting!
Pineapple Vacation Savings Jar Supplies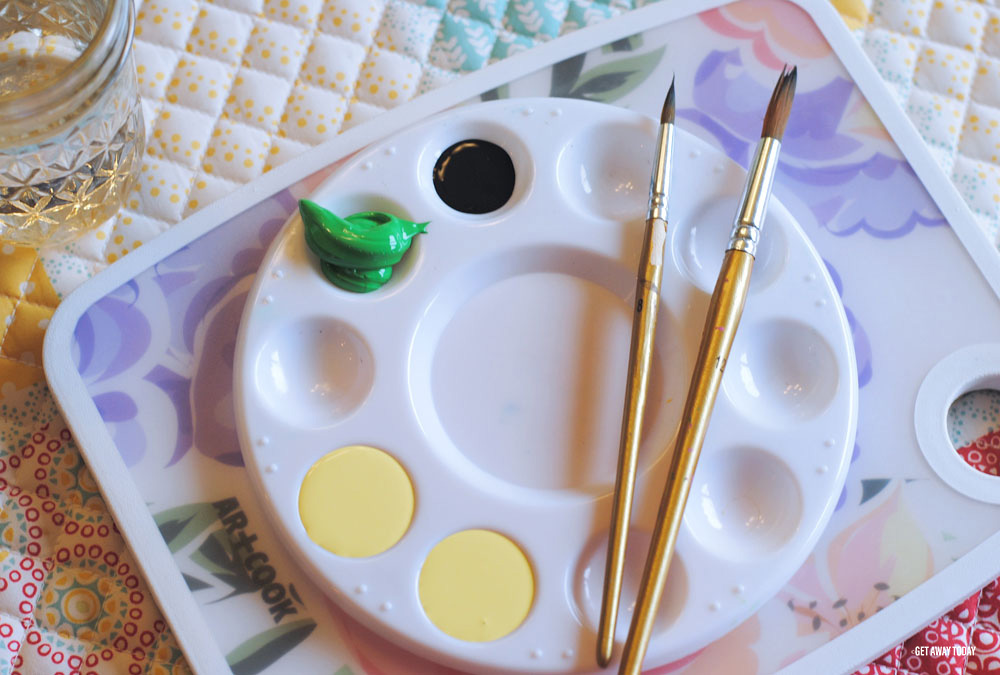 Pineapple Savings Jar - Getting Started
Gather up your supplies. Start your pineapple vacation savings jar by painting the glass canning jar with yellow paint. I like the short fat canning jars for this project. It is nice and plump like a pineapple. You could totally use a regular quart size jar if that is all you have at home.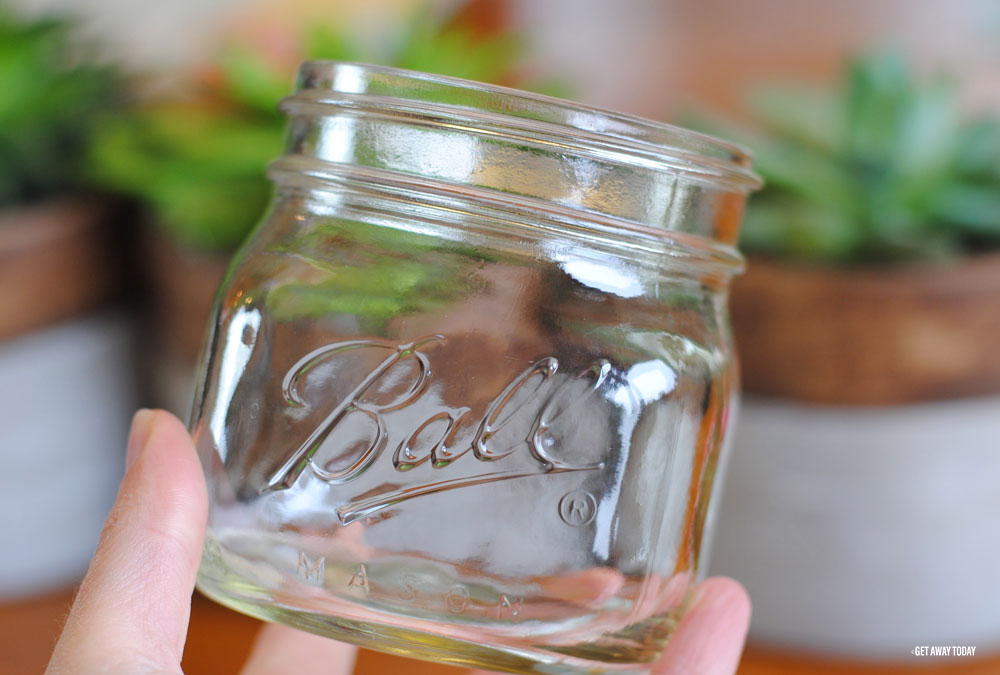 I did one thin layer of paint around the entire jar. It is practically impossible to cover the glass with one coat. You don't want the paint to be so thick that it runs and drips. That just makes a big mess. Thin layers is the best strategy! I let the paint dry for about 15 minutes before I added the second coat.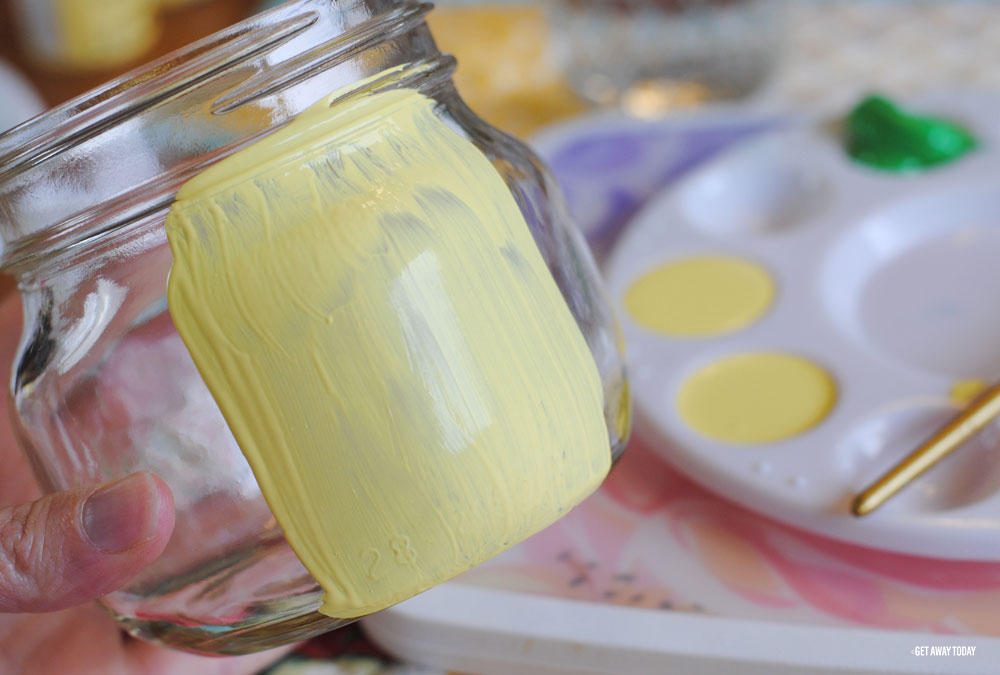 While you are waiting for the paint on the glass to dry, go ahead and paint the ring and lid.
Use the green paint to cover the entire ring and the top of the round lid. The green paint covered really nicely. I only had to do one coat of paint on this part of the pineapple vacation savings jar!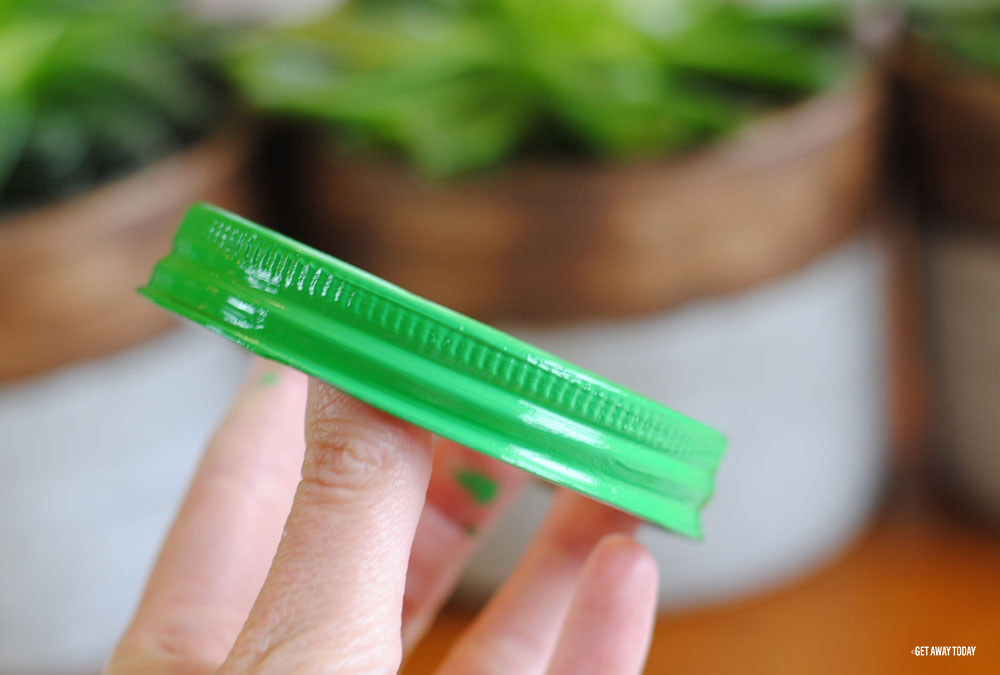 Pineapple Savings Jar - Details
Once everything is nice and dry, you can add some cream Xs to the canning jar. These marks make it look more like a pineapple. Technically, the marks could be green and brown, but I thought cream was so much cuter! Make the small Xs with a paint brush in a random pattern all the way around the yellow painted area.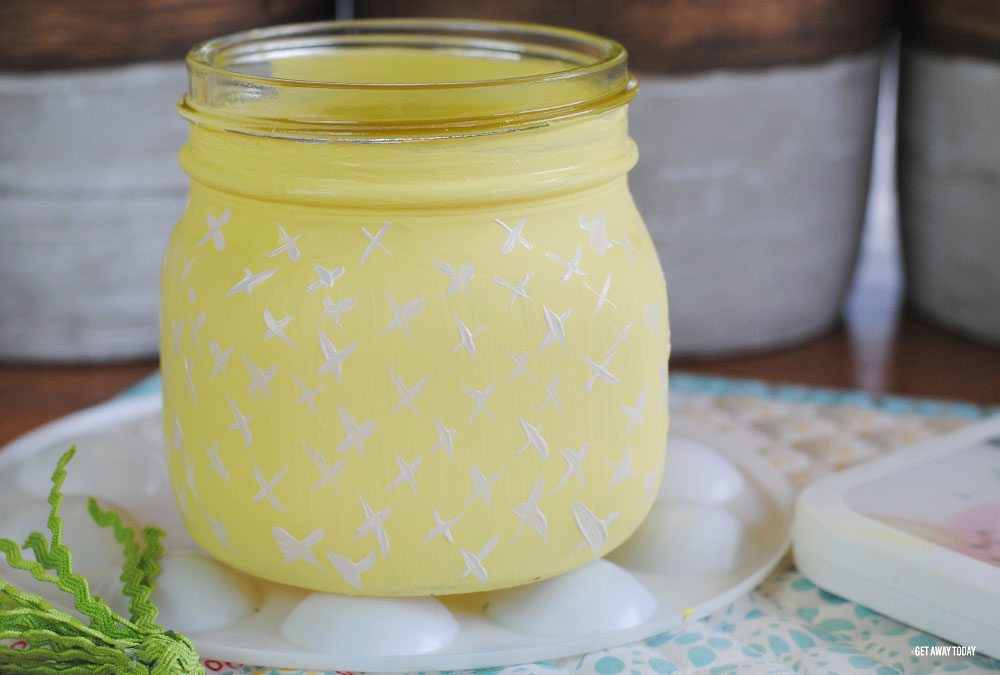 Let it dry! Plug in your hot glue gun and get it warming. While the X marks are setting up, you can make the cute pineapple vacation savings jar topper. Every pineapple needs to have a crown! Wrap green rick-rack around your fingers about 8 times.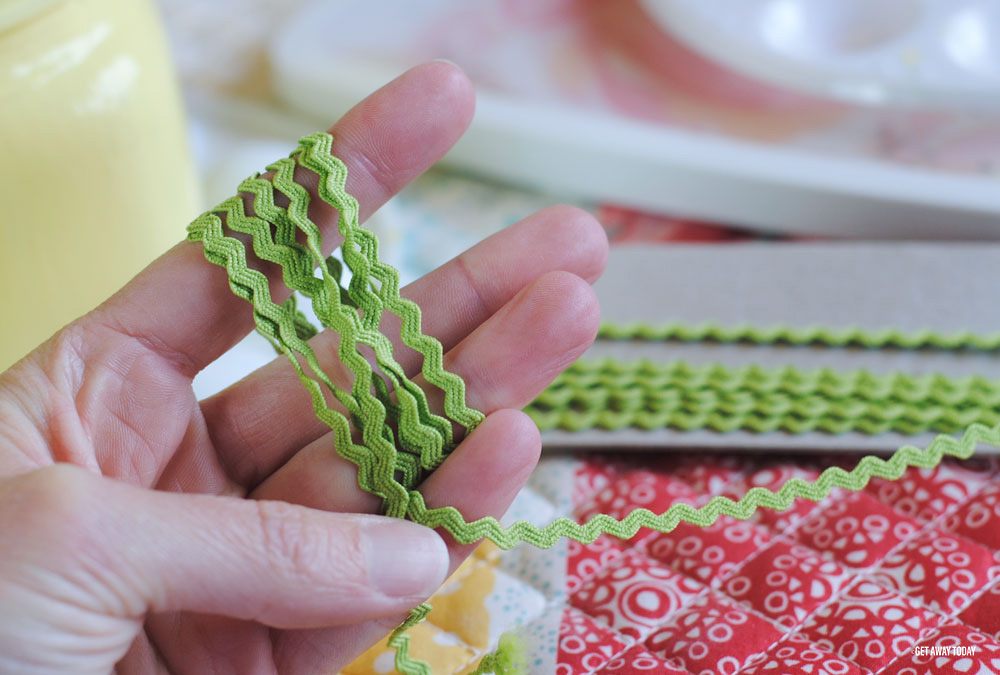 Then tie a knot around the center of the loops. Snip the ends like you are making a pom pom. It looks kinda like a crazy bow tie!
Place a ball of hot glue in the center of the bow tie and then press the fringe to the glue so all the cut ends are poking up in the same direction. It should look like the top of a pineapple. (If you squint and use your imagination!)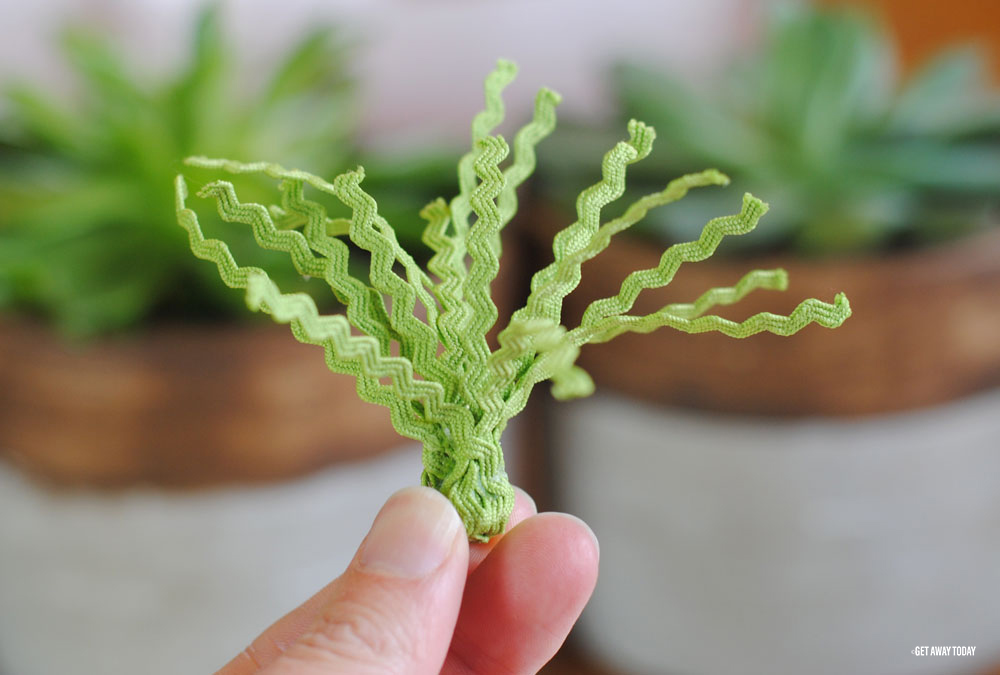 Set your crown aside for a minute and paint the cute little face on your pineapple jar. Start with the round pink cheeks. Place them about 1.5 inches apart.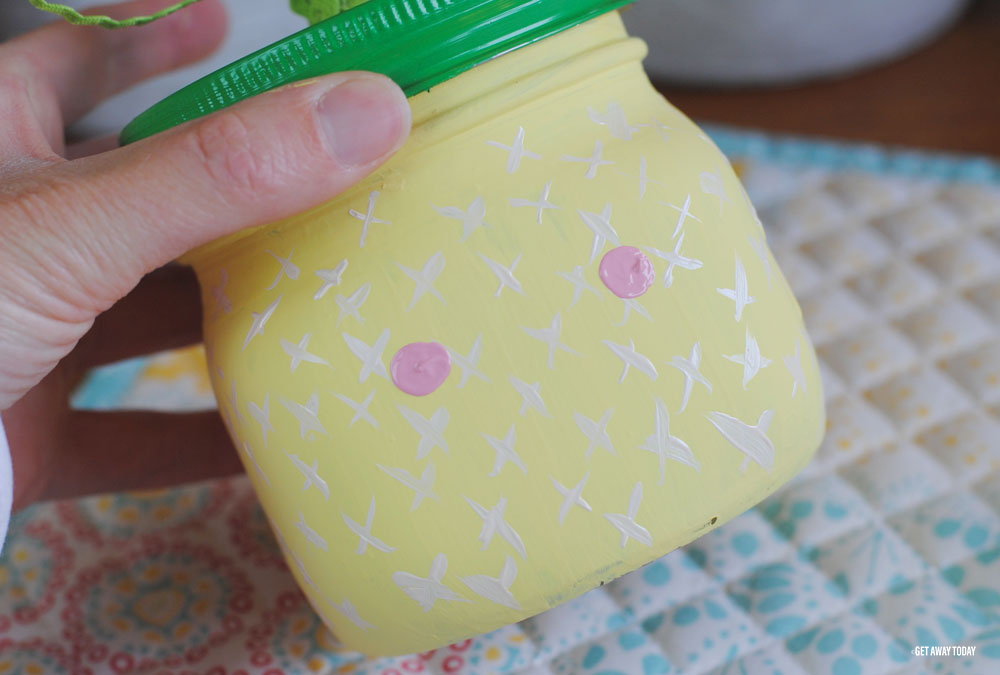 Once the cheeks are basically dry, add black eyes. They should overlap the top corner of the pink circles. Add some cute lashes too! Then paint on a happy, "I am going to go to Hawaii!" smile.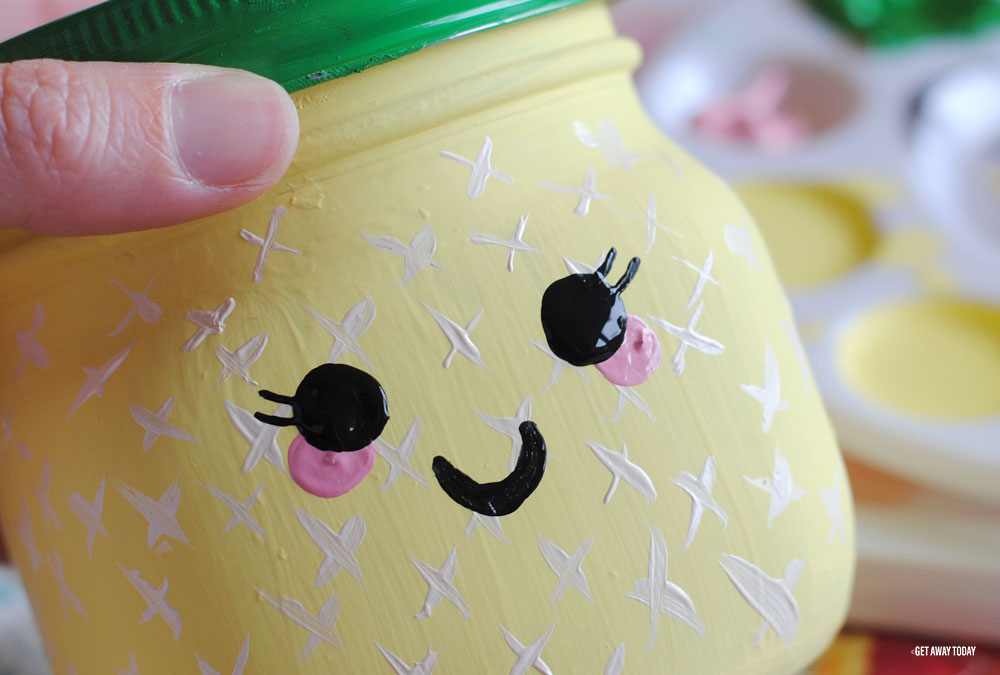 Isn't it so cute?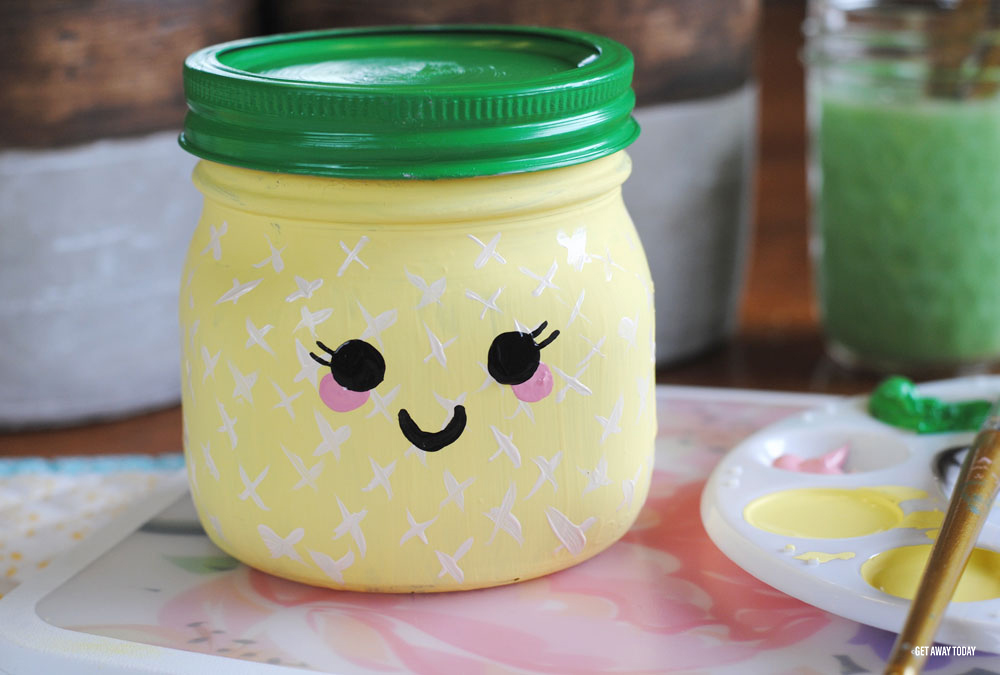 Pineapple Savings Jar - Finishing Touches
The last part of the project is to glue the green topper onto the lid. Squeeze a dot of hot glue on the bottom of the topper and press it to the center of the lid. Hold it in place until the glue sets up. (About 30 seconds)
Fill the jar with money! There are so many ways to save money for a vacation. The most successful way is to make a monthly budget and set aside a certain amount for travel. Making small changes to daily habits can also help like: ordering water at restaurants instead of drinks, going to the park instead of the movies, packing a lunch to take to work, using coupons at the grocery store, shopping in the clearance section, and choosing family time together instead of buying gifts for small holidays and events!
A penny saved is a penny earned. And a penny earned can quickly turn into an amazing Hawaiian Vacation! I hope you can fill up your pineapple vacation savings jar. Feel free to talk to our amazing travel agents if you would like help planning for your trip to paradise.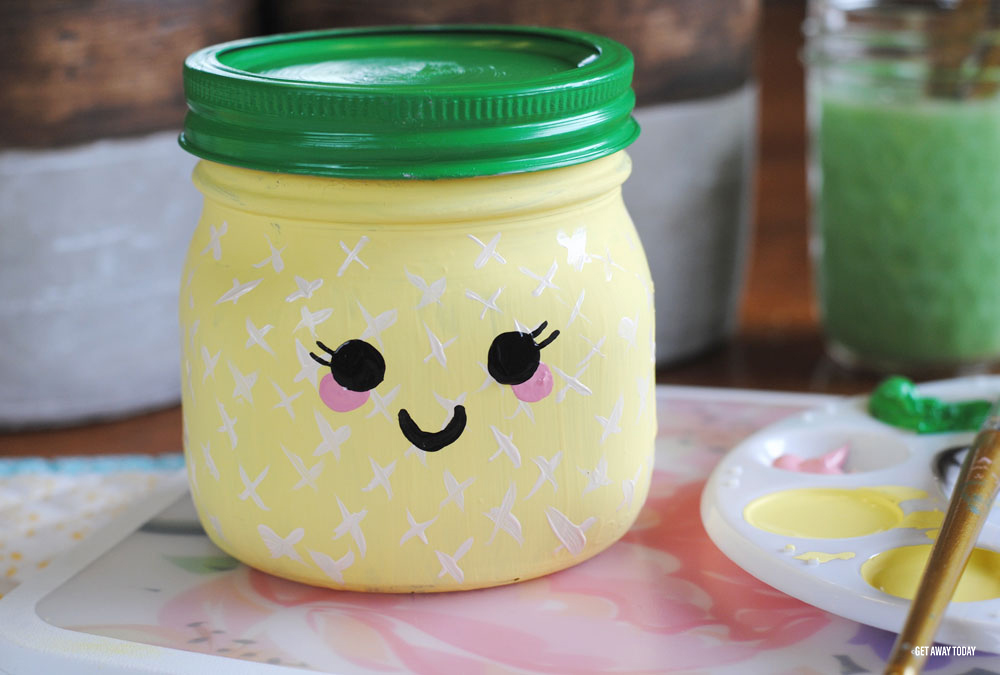 Whether you want to visit Maui, Kauai, Oahu or any of the other Hawaiian Islands, Get Away Today would love to help. See all available Get Away Today vacation packages online, or call an agent at 855-GET-AWAY.