There are so many wonderful things about taking a family road trip. Memories made traveling together are some of the best. One lesson I have learned after countless road trips with my small family is to make our breaks from the car productive. Kids tend to get a little bit restless after too many miles on the highway. They are typically strapped into a car seat that prevents a lot of movement - great for safety, but not for getting wiggles out. So, when it is time to fill up on gas and stretch your legs, you have to make the most of it. One of our favorite things to do is to find a park with a playground. We let our kids run and play for at least 30 minutes. We have races across the grass and play tag on the play set. The more exercise they can get, the better!

Sometimes, however, you don't have a lot of time to stop and play. It is also tricky to find parks in every area along the route. That is where Rest Stop Yoga comes in. Kids are able to stretch their muscles, get their wiggles out, and have a lot of silly fun before it is time to hit the road again. A few minutes of exercise will translate to many happy hours of traveling in the car. I hope your family has as much fun as we do with this simple yoga routine. There is no experience necessary! The most important thing is to get moving, enjoy the open air, and have a good time.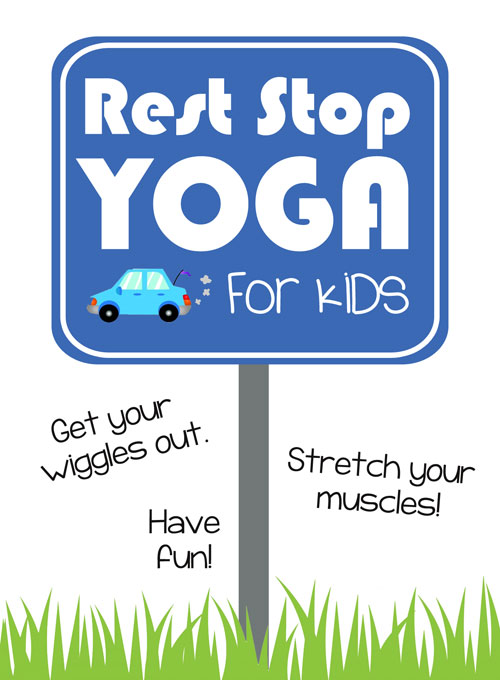 Here are a few poses you can do during your breaks from the car. Some are official yoga positions and some are positions we think are a lot of fun. Use these, or let your kids make up their own creative yoga poses. Everyone can take a turn suggesting an exercise for the group. It is good for their minds and their bodies.

Reach for the Sky

This activity is a good one to start with. Fold into tiny balls on the ground and then stretch up to the sky. The point is in the opposition. Try to be as tiny as you can and then as elongated as possible.



Triangle Stretch

Stand with your feet apart and arms out to the side. Keeping your knees tight, reach the left hand to the right foot. Then stand up again. Alternate directions and reach the right hand to the left foot. Repeat several times.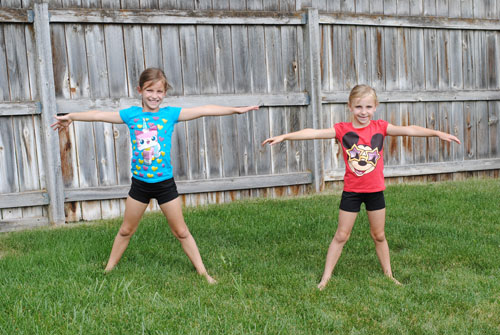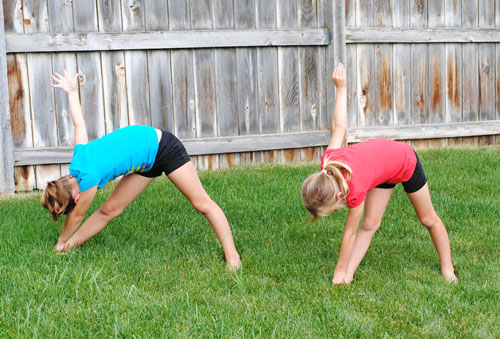 Warrior

Lunge forward with one foot and keep the back leg straight. The bent front knee should not extend past the toes. Reach arms above your head and place your palms together. It is trickier than you would think to stay balanced. Do the pose twice and hold for at least 15 seconds, once with each leg forward.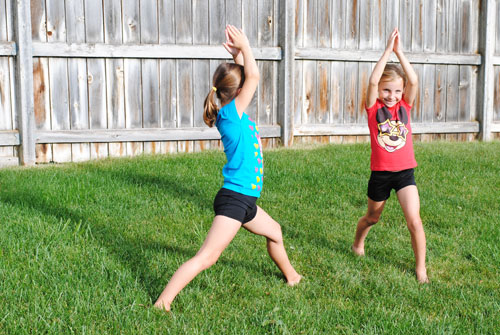 Up Dog and Down Dog

Some yoga positions are fun just because of what they are called. We always get a giggle out of doing up and down dog pose.

Start with Downward Dog. Reach forward and place both hands on the ground, shoulder width apart. Press your bottom towards the sky, so your body makes a triangle with the ground.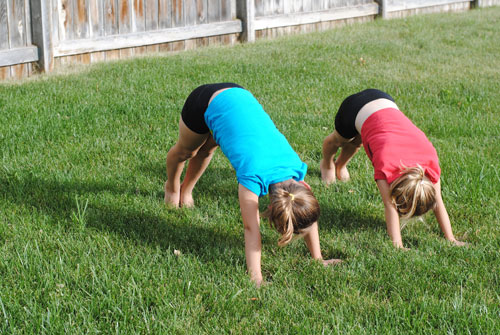 Move into the up dog position (aka Cobra for any yogis) by bringing your belly towards the ground and pushing your body up with your hands.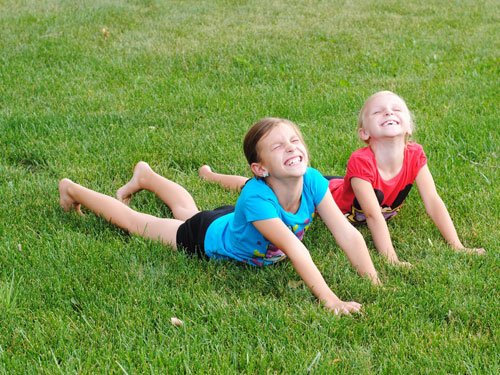 Tree

Tree is a great pose to turn into a game. See who can stand on one foot the longest. The other foot is lifted in a triangle position with the foot resting against the standing leg. Place your hands in prayer position in front of your body. The last one standing wins! It is a good thing real trees don't fall down as easily as people do.



Back Stretch

Backs can get tired from sitting in the car for extended periods of time. Give them a good stretch with this simple activity. Stand with your legs apart and place your hands on your legs, about mid-thigh. Press your shoulder forward towards the opposite knee. Then alternate sides.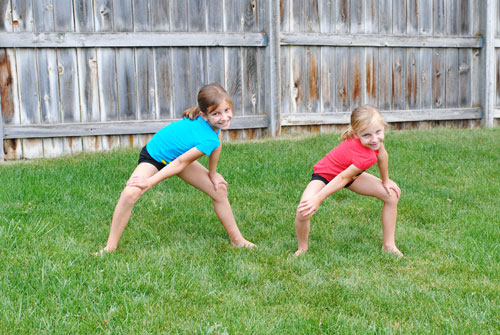 Leg Pull

Get your legs ready for more miles on the road with this simple leg stretch. Pull your leg up and hug it tightly to your chest. Give it a good squeeze. Then switch legs.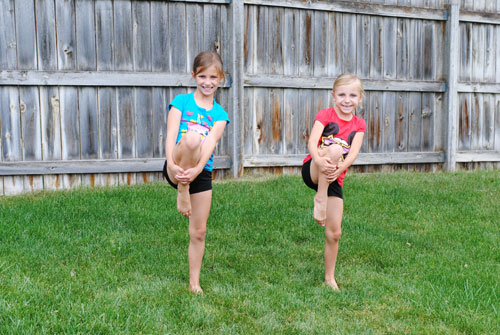 I would finish things off with a jog around the car and a few jumping jacks. You will be surprised at how a few minutes of stretching and moving can make such an impact on the car ride. Kids are happier and more content. Which, makes for very happy parents.

Make your family happy by booking your next road trip through Get Away Today! We'll help you get the best deal on your Disneyland, San Diego, Carlsbad, Universal Studios, or any other vacation! Book online or call our vacation experts at 855-GET-AWAY.

Check out these other great articles:

Disney Would You Rather Game
Disneyland Road Trip Surprise Bags
Road Trip Essentials and Safety Checklist