Season of the Force at Disneyland has officially opened this week and it is everything we hoped it would be and more. You can experience the far, far away galaxy of Star Wars like never before, only at the Happiest Place on Earth. Although this is a limited time attraction, you can experience
Star Wars Land Disneyland
year round when Star Wars: Galaxy's Edge opens in 2019.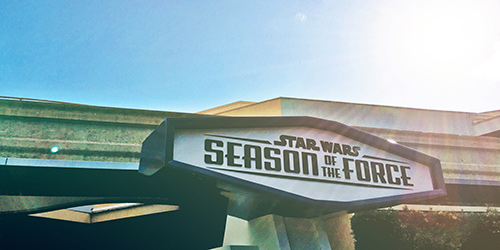 Hyperspace Mountain:
You join the Blue Team squadron in your own X-Wing fighter as you prepare for an epic space battle, but you fall right into a trap (much to Admiral Ackbar's dismay) of Empire Tie Fighters. With the classic Star Wars score, favorite characters, and being right in the action of Star Wars, this one of a kind ride is every bit as amazing as it sounds. Again, you can ride Hyperspace Mountain ONLY at Disneyland - you will not be able to find this attraction anywhere else. This immersive galactic adventure of a ride alone makes Season of the Force a can not miss event for any Star Wars fan.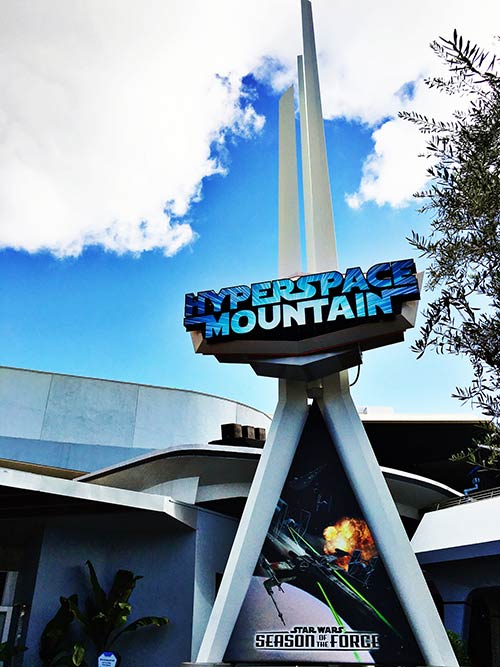 Star Wars Launch Bay:
If you want to walk right into the world of Star Wars, welcome to the Star Wars Launch Bay. Located on the first floor of the Tomorrowland Expo Center, you can enjoy the past and the future of the Star Wars universe. Complete with a Game Center filled with Disney Infinity 3.0 consoles, a Light Side and Dark Side Meet and Greet where you can interact with Chewbacca and Darth Vader respectively, a Cantina that is straight out of the movies, a Gallery full of props from all of the Star Wars movies and a Launch Bay Shop to bring home a little piece of the adventure.
Star Wars Path of the Jedi:
Located in the Tomorrowland Theatre, Star Wars Path of the Jedi is a new 4-D film comprised of all of the Star Wars feature films, including scenes from the all new Star Wars - The Force Awakens. This completely engaging compilation of favorite Star Wars scenes includes rumbling seats and flashing lights that allow you to view Star Wars like never before and be completely engulfed in the action.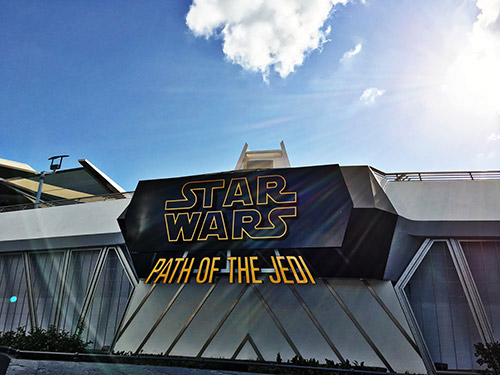 Jedi Training - Trials of the Temple:
Opening a little later this year on December 8th, this all new Jedi Training introduces so many new and exciting additions to a completely revamped show. Seventh Sister Inquisitor from the hit show Star Wars Rebels will now fight alongside Darth Vader to take on these young padawans. The stage has been set and we can not wait to see what is in store. Be sure to get a good spot early for the show to increase the chances your child will be chosen to participate in the battle between the Light and Dark Side.
Food/Souvenirs:
Our friends over at Mouse Planet were able to experience all the fun at Season of the Force and scope out all the amazing themed Star Wars food and souvenirs. Including these adorable BB-8 sipper cups and tons of exclusive Star Wars merchandise located in the Launch Bay gift shop.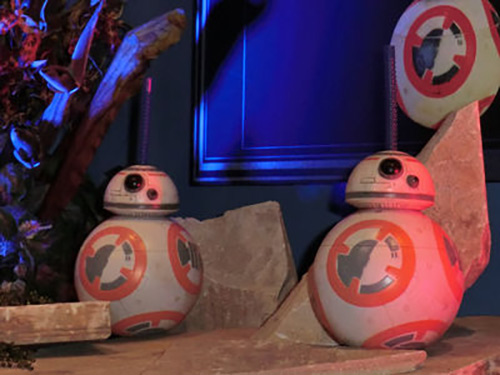 Photo Courtesy of Mouse Planet - Adrienne Vincent-Phoenix
Photo Courtesy of Mouse Planet - Adrienne Vincent-Phoenix
You can also enjoy a completely revamped and themed menu at the Tomorrowland Terrace, which has been renamed the Galactic Grill for the event. Over a dozen new items include Light and Dark Side specialty drinks with souvenir glow cubes, the Pastry Menace (an eclair filled with spicy chocolate creme to resemble Darth Maul), and so much more! You can also pick up Tie Fighter popcorn buckets and a Chewbacca stein at multiple locations.
New Star Tours Scenes:
If it was possible for Star Tours to get any better, it just has. Now your Starspeeder 1000 adventure will include a new scene and characters (like BB-8) from the upcoming Star Wars - The Force Awakens. And for the first few months, every ride on Star Tours will have this new experience so you won't miss it!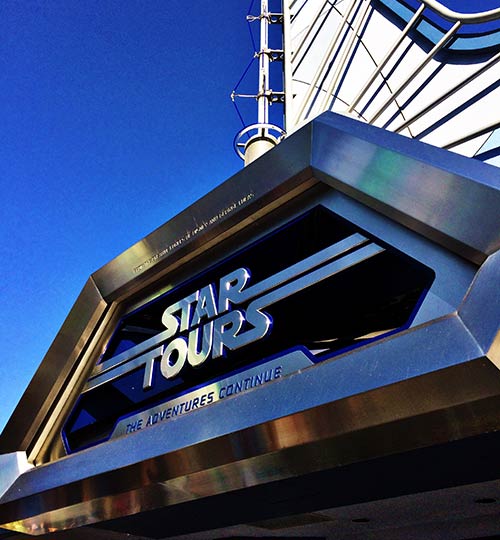 With the best deals and prices from here to Tatooine, Get Away Today is your best price guarantee travel expert. As Master Yoda would say - Miss out of this limited time event you do not. Enhance your Star Wars experience and be a part of the action only in Tomorrowland at the Disneyland Resort. Book your Star Wars themed
Disneyland package
online or call our travel experts at 855-GET-AWAY.
Check out these other articles: