UPDATED MARCH 2019 The Force is still very strong at the Disneyland Resort this summer! Meet and greet your favorite Star Wars characters at the Star Wars Launch Bay, brave Hyperspace Mountain as you blast through the galaxy on a thrilling coaster ride, sit back and relax as you watch the Path of the Jedi short film that covers the entire Star Wars saga--in about 10 minutes, become a real Jedi at the Jedi Training Academy, and so much more. It is destined to be an epic adventure!
You can jump start this amazing vacation with just a single penny... and our Star Wars Disneyland vacation surprise scratch off printables and tutorial. Use a coin to scratch away at the vacation reveal cards to announce your Star Wars themed Disneyland vacation to your family. It is safe to say that you will be known as the best parent in the Galaxy! And with Star Wars Land Disneyland opening May 31, 2019, it's time to put these to use!
Here's everything you'll need:
Printable Star Wars Disneyland vacation surprise scratch off cards
Clear packing tape
Acrylic paint (matching the color of your cards)
Liquid dish soap
To start, print the templates below onto heavy cardstock.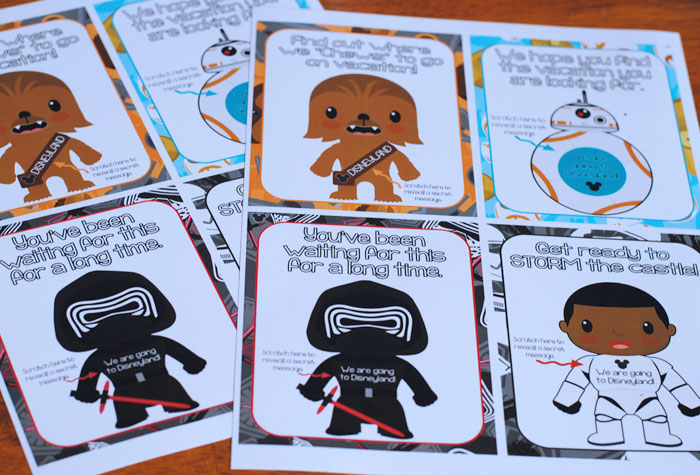 Cut out the cards that you want to use in your vacation reveal. There are four options to choose from; Kylo Ren, BB-8, Finn or Chewbacca.
Cover the area designated for the scratch paint with clear packing tape. I cut my tape to be about the same size as the spot that my scratch off area was going to be, but I wasn't too picky with it. The tape is clear so it doesn't really show up too much. Just make sure the area you are going to paint has tape on it!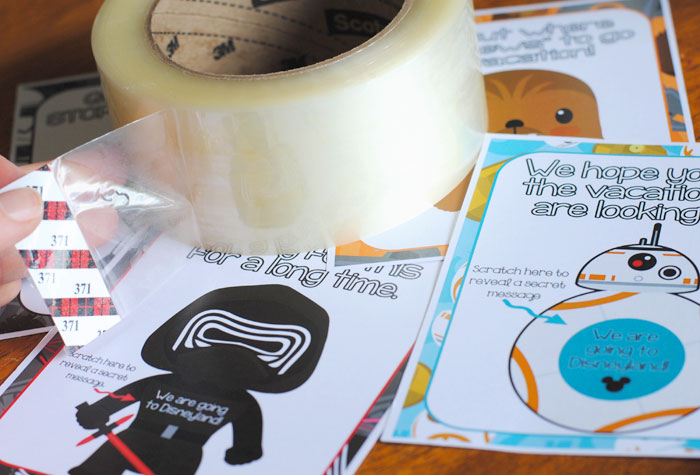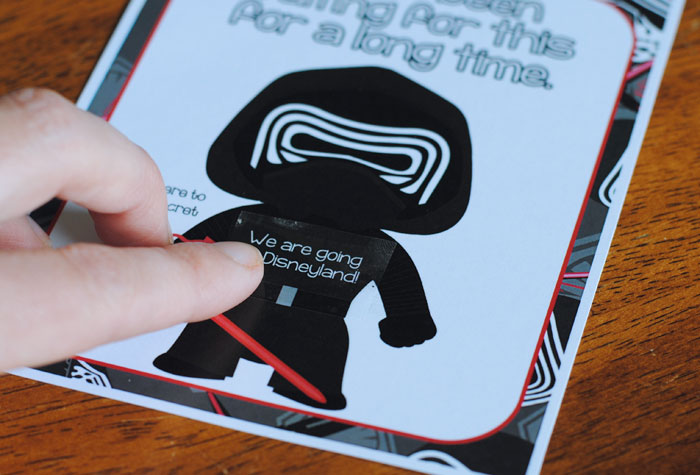 Mix two parts acrylic paint with one part liquid dish soap. Use the paint color that matches your card.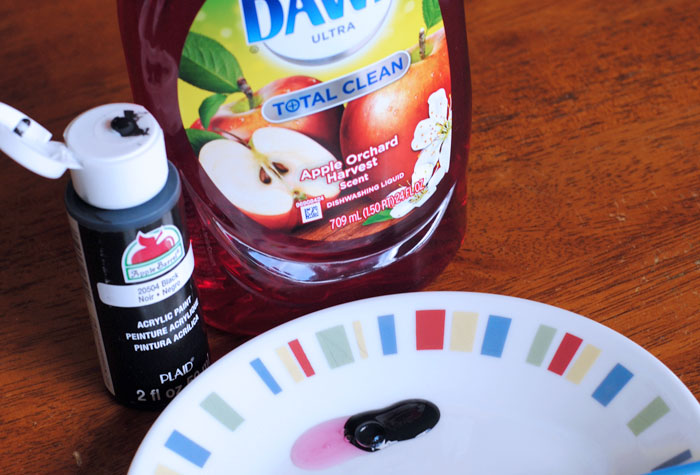 Spread a thin layer of paint mixture across the designated taped area of the template. Let the paint dry completely before adding another thin layer of paint. Repeat the process about four times. Add enough layers to fully cover the text on the paper. You want it to be a surprise!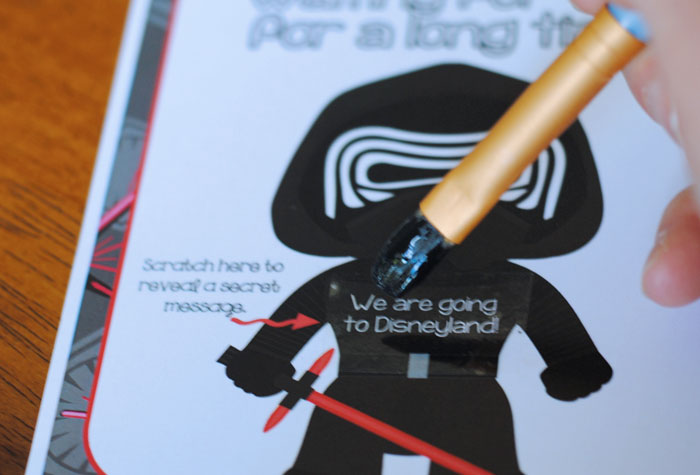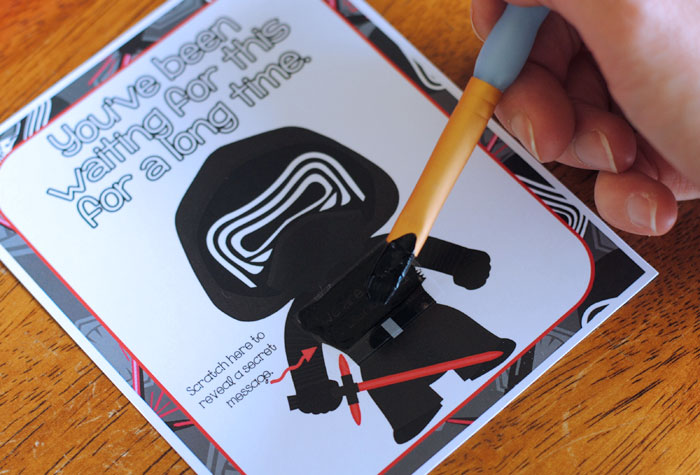 The cards are ready when the paint is thick and dry.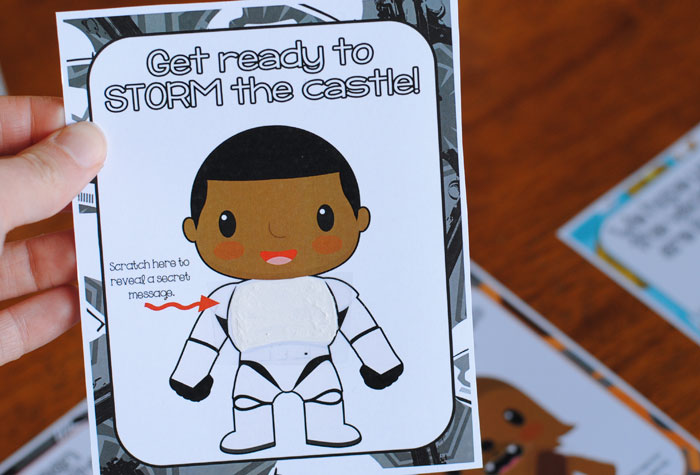 The fun part is about to begin. Give the cards to each member of your family along with a penny each. Let them scratch the paint away to reveal your Disneyland vacation!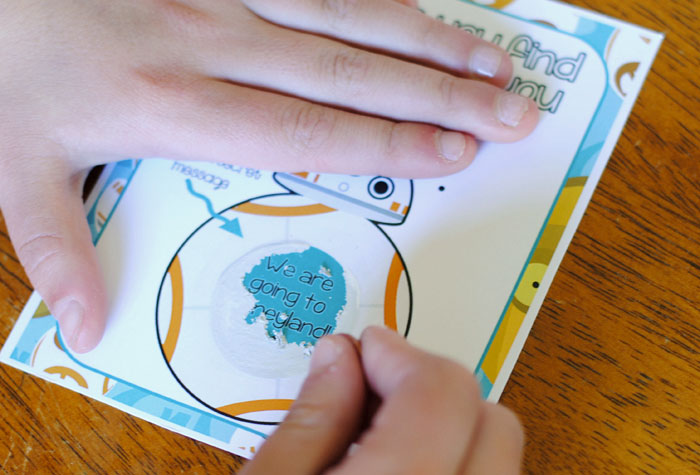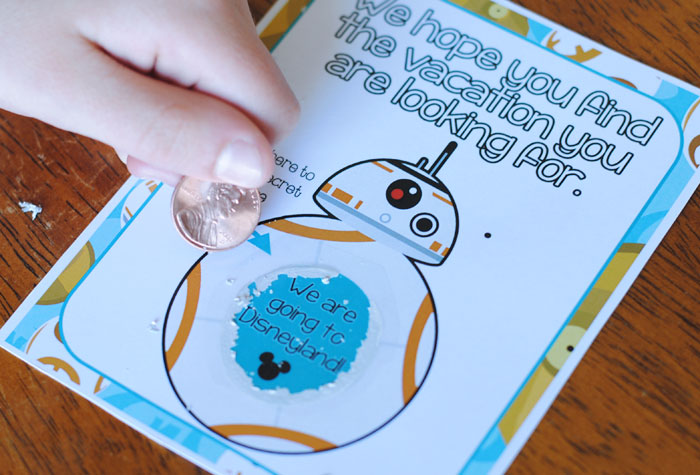 Each of the card designs have a unique spot for the secret message. But, the overall concept is the same. Scratch the paint away to find a secret message about a trip to Disneyland.
We hope that these Star Wars Disneyland vacation surprise scratch off cards bring excitement that is out of this world! After you're enjoying all of the Star Wars experiences in Tomorrowland, be sure to head over to Frontierland to ride Big Thunder Mountain Railroad. Not only is it super fun, you can get a bird's eye view of the construction going on for the new
Star Wars Land Disneyland
. No date has been announced for the new land, but we're sure it will be absolutely incredible.
You can always find the best deals for your Disneyland package with Get Away Today either online or over the phone at 855-GET-AWAY. Combine our discount Disneyland tickets with our extra night free offers at a large selection of Anaheim area hotels to save the very most.