UPDATED MARCH 2019 It's no question that Star Wars has taken over the galaxy - including Disneyland! Season of the Force has brought Star Wars to life with Hyperspace Mountain, new scenes to Star Tours - The Adventures Continue, Path of the Jedi, Star Wars Launch Bay and so much more. You could even say Star Wars has taken Disneyland by Storm...trooper! We are also so excited for Star Wars Land Disneyland to open May 31, 2019!
I think that Finn from The Force Awakens has given the Stormtroopers a whole new coolness factor. They went from being faceless targets to pretty awesome heroes. Well, at least one of them is a hero. I'm still not so sure about the rest! So, in honor of Finn, we created Stormtrooper Movie Munch for you to enjoy at home while watching the films, or on the road on your way to Disneyland! It is really easy to whip up a batch of Stormtrooper Movie Munch. Just be careful, the dark side of this treat is pretty fantastic, so you'll need to stay strong in the force.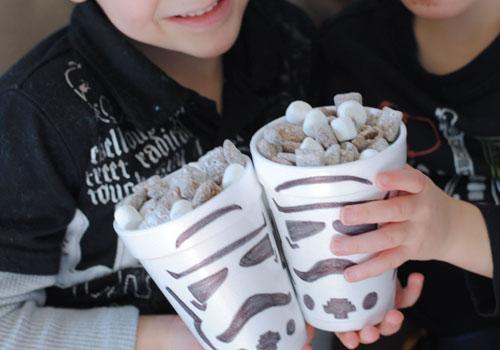 Here's what you will need:
9 cups Chex Cereal (I used half Rice Chex and half Corn Chex)
1 cup Semi Sweet Chocolate Chips
1/2 cup Creamy Peanut Butter
1/4 cup Butter
1 tsp Vanilla
1 1/2 cups Powdered Sugar
1 cup Mini Marshmallows
This recipe is basically the Muddy Buddies recipe on the Chex cereal box. We just added a few mini marshmallows to it because my kids think they look like Stormtrooper helmets. If you use your imagination, or are watching the movie in the dark, it totally works!
Measure the cereal into a large bowl and set it aside. Put the chocolate chips, peanut butter, and butter into a bowl and microwave it on high for one minute.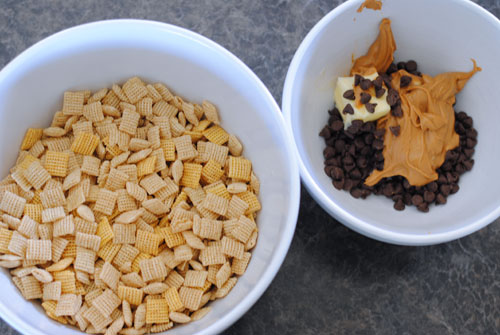 Stir the chocolaty mixture until it is smooth and creamy. You may have to pop it back in the microwave for 20 seconds. Then, pour it over the cereal. Mix it around until all of the cereal is coated evenly. I refer to this step as the Dark Side. Mmmmmmmm. Who knew the Dark Side was so tasty?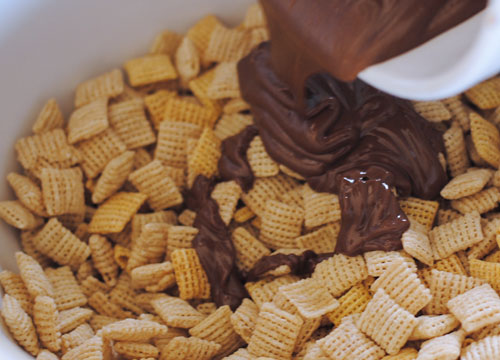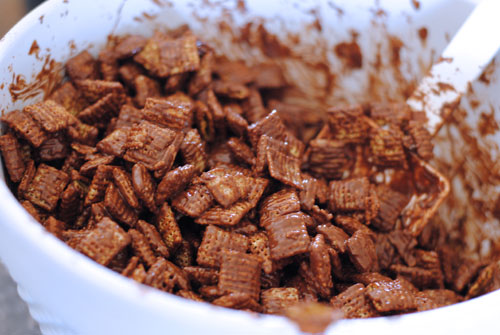 Then, place the powdered sugar into a gallon sized Ziplock bag. Scoop the cereal into the bag and shake it. Your little jedis will love this part of the process. The powdered sugar will stick onto the chocolate. As you can see, the Light Side wins in the end. Thank goodness! Toss in the mini marshmallows and you are done!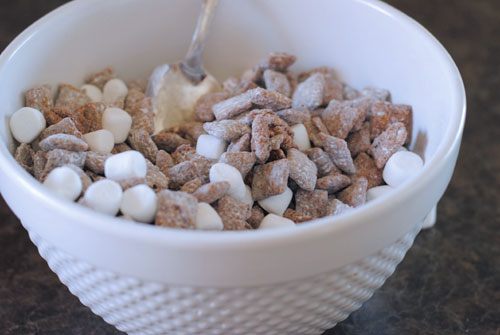 We took our Stormtrooper Movie Munch to the next level and served the movie munch in Stormtrooper cups. I picked styrofoam cups because they are super cheap and they are white! Draw the Stormtrooper face onto the cup with a black Sharpie marker. The face doesn't have to be perfect. My kids were more focused on what was inside the cup. You can use the photo below as a guide.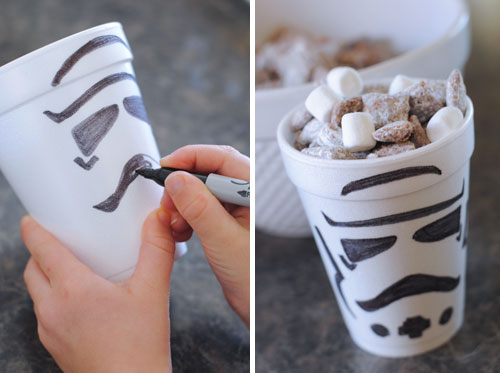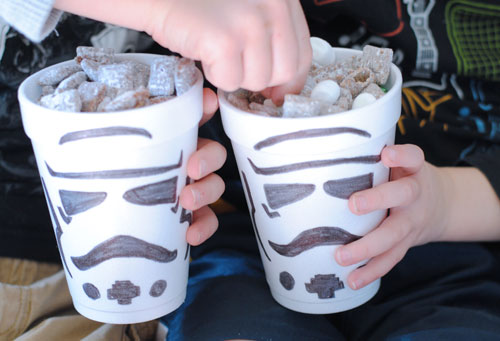 I hope your Stormtrooper movie munch is a hit with the padawans in your life. Be sure to make a batch to get your family ready for Season of the Force at Disneyland. If you haven't booked your Disneyland vacation, take advantage of our Extra Day Free Disneyland tickets, extra night free specials at Anaheim area hotels, and more. Book any of our Disneyland vacation packages online, or call our Disney Experts at 855-GET-AWAY.

Check out these other great articles: