We are less than a week away from the opening of Despicable Me: Minion Mayhem and Super Silly Fun Land opening at Universal Studios Hollywood! We love the Minions at our house and in celebration of the new attractions, we wanted bring some Minion Mayhem into our home. My kids are suckers for sweet treats, so we came up with these super easy Jolly Rancher Minion Lollipops. (We first shared these treats on one of our favorite blogs, OrSoSheSays.com.)

This project is so easy even the littlest Minions kids can do it! And, it only takes about 10 minutes from start to finish.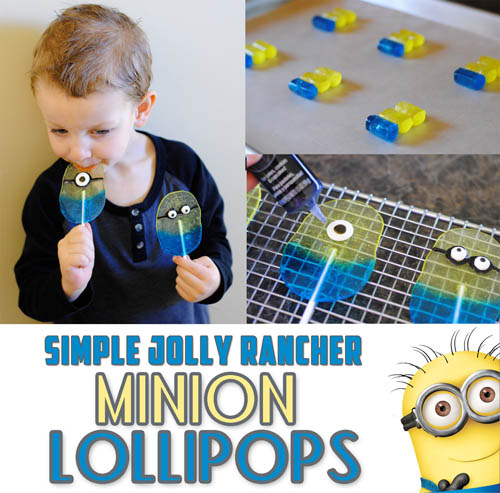 You will need:
Jolly Rancher Hard Candy (Wild Berry Flavor Pack)
Sucker Sticks
Candy Eyes (Small and Large sizes)
Black Frosting
Parchment Paper

To start, line your baking sheet with high quality, non-stick parchment paper. Then unwrap your Jolly Ranchers and group them into threes with two yellow candies on top and one blue candy on the bottom.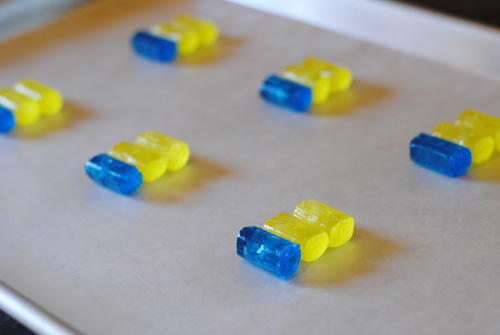 Leave enough room between your rows so that you can easily place your lollipop sticks when your Jolly Ranchers melt. Next, bake the candies in the oven at 350 degrees for 4-5 minutes. Keep an eye on them during the last minute. When the centers are totally melted, they are done. Immediately place the sucker sticks into the bottom part of the melted candy.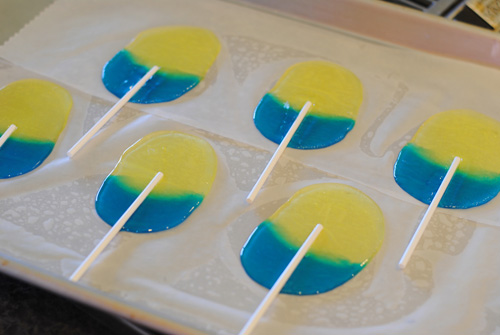 Once the candy has hardened, peel the lollipops off of the baking sheet. Wet the area where the eyes go with a drop of warm water to make it sticky. Place the candy eyes onto the sucker. Of course, no two Minions are exactly alike, so we did a combination of two smaller eyes and one large eye.




Next, use a black frosting pen to draw around the eyes and across the face to form the strap for the goggles. Let the frosting dry, and you are done!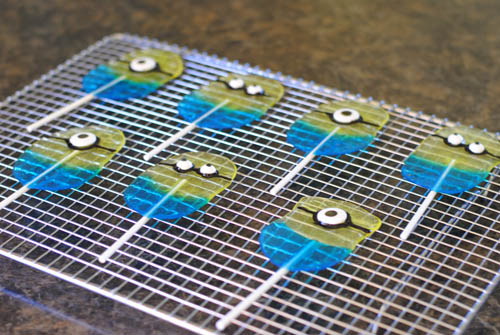 It is that easy! The Jolly Ranchers are very tasty and they turn into delicious suckers. I hope you enjoy making these cute little Minion Lollipops with your family. Enjoy - and when you're ready to bring your Minions to California, be sure to check out Universal Studios Hollywood.

We offer a range of Universal Studios tickets including 1-Day, Front-of-the-Line Passes, and VIP Tour Tickets. Or, if you're planning on exploring all that Southern California has to offer, check out the Southern California City Pass which includes a day at Universal Studios Hollywood, a 3-Day Disneyland Resort Park Hopper Ticket, and a day at SeaWorld San Diego for $112 off the gate prices - it's like getting a ticket for free! We'd love to help you plan your next vacation. Book online or call our vacation experts at 855-GET-AWAY.


Check out these other great articles:

Despicable Me Minion Mayhem Coming to Universal Studios Hollywood
Minion Mayhem Milano Cookies
Get Away Today Visits Universal Studios Hollywood