Disneyland Resort
may cover less ground than
Walt Disney World Resort
, but it doesn't lack in magic and imagination! As the only park ever personally visited and created by Walt himself, Disneyland certainly has a unique charm. Additionally, there is so much throughout the entire resort that you can only find at the Disneyland Resort. Today we're sharing some things unique to Disneyland that you definitely need to experience.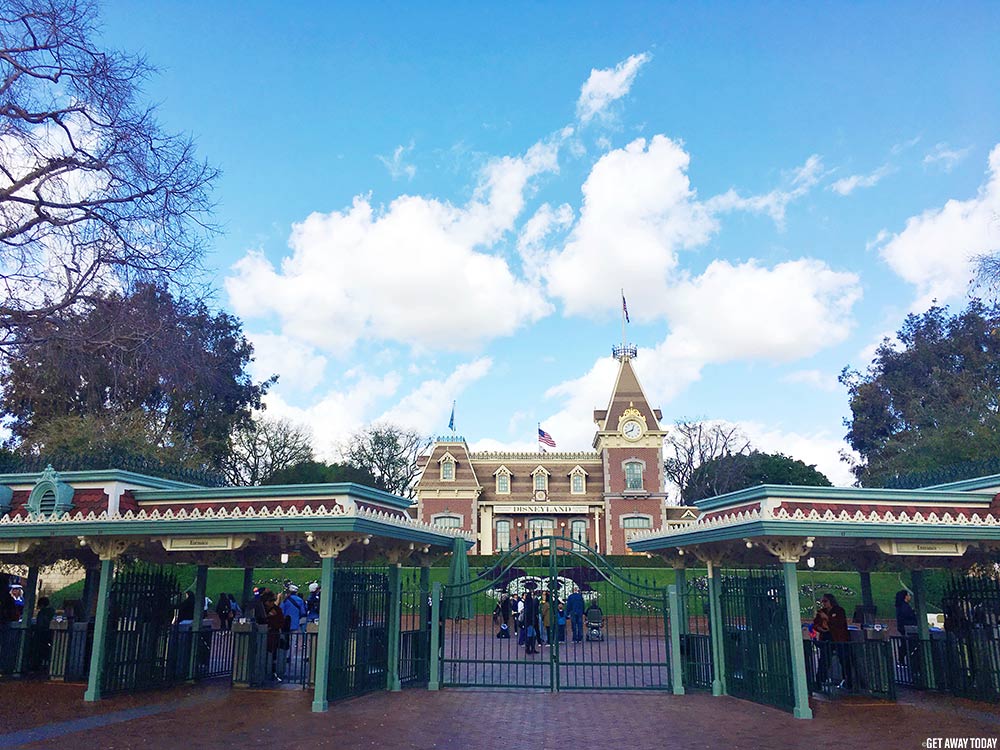 Things Unique to Disneyland Resort
There are many rides, attractions and dining experiences unique to Disneyland Resort. In this article, we outline what's unique to Disneyland Park and what's unique to Disney California Adventure Park so you can be sure to add these to your list!

Things Unique to Disneyland Park
You're probably familiar with a number of these Disneyland attractions, but did you know the ones listed here are unique to Disneyland Park? That's right! So if you want to experience these rides based on some of the most iconic Disney movies, you better head to Disneyland.
Main Street, U.S.A.
Walt Disney's Main Street, U.S.A. apartment: Did you know Walt kept an apartment above the firehouse on Main Street, U.S.A. while Disneyland was being built? From there he could keep on eye on the Park, and in honor of his memory Disneyland now keeps a light in the window. You can take a Disneyland tour, Walk in Walt's Footsteps, to get a look at the apartment and more behind-the-scenes of Disneyland.
Sleeping Beauty Castle: If you'd like to walk through Sleeping Beauty's castle, you can only do so at Disneyland. Located at the end of Main Street, U.S.A., the Castle recently underwent renovations so it looks more magical than ever before.
Magic Happens parade: In 2020, Disneyland Park debuts an all-new parade. The floats will showcase moments in classic Disney storylines during which the magic happens, hence the name. Think of it as a highlight reel for when Disney Characters experienced a transformative moment.
Fantasyland
Mr. Toad's Wild Ride: This "Dark Ride" in Disneyland takes guests on a ride in an old-fashioned British motorcar. Guests of all ages can tour the manor and the English countryside on a ride that is original to Disneyland.
Snow White's Scary Adventures: As the name implies, this ride can be a little scary for young guests. An original to Disneyland, Snow White's Dark Ride takes guests through scenes that feature the Seven Dwarfs, the haunted forest, the Evil Queen's chambers and more.
Pinocchio's Daring Journey: Guests venture through the tale of Pinocchio aboard a woodcarver's cart on this Dark Ride in Fantasyland. Look out for the evil puppet master, say hello to Jiminy Cricket and avoid Monstro the Whale if you can!
Alice in Wonderland: This indoor-outdoor ride takes guests through the nonsensical world of Wonderland! Climb on to a caterpillar cart and explore the White Rabbit's burrow, encounter friends such as the Mad Hatter and keep your eyes peeled for the Queen of Hearts. If you're lucky, you may just get to celebrate an impromptu Very Merry Unbirthday too.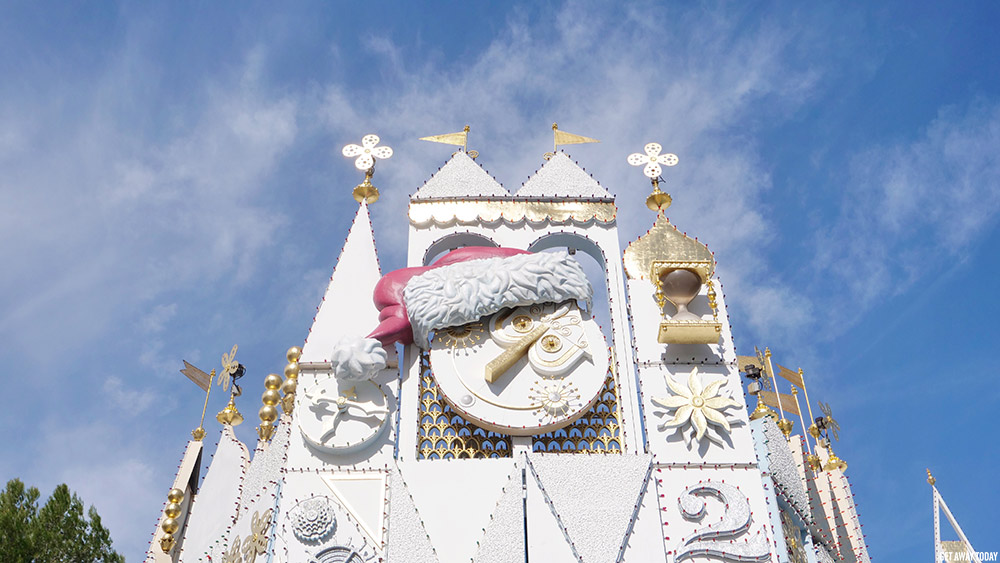 "it's a small world" Holiday: While "it's a small world" is a staple in a number of Disneyland parks, the Holiday-themed overlay is unique to Disneyland, California. Beginning mid-November or so, this boat ride gets layered with lights and other festive nods to holiday celebrations from around the world. Seasonal songs join the iconic "it's a small world" tune and guests can enjoy regular light shows on the ride's exterior in the evenings.
Storybook Land Canal Boats: Are you brave enough to go through the mouth of Monstro the Whale? Aboard the Storybook Land Canal Boats in Disneyland, you'll do just that! On the other side, guests experience miniature versions of beloved Disney stories, including Arendelle (Frozen), London (Peter Pan), Agrabah and Cave of Wonders (Aladdin) and more.
Casey Jr. Circus Train: Tour miniature versions of storybook locations, much like Storybook Land Canal Boats. Aboard the train, you'll gently rumble past The Three Little Pigs' three little houses, Prince Eric's palace (The Little Mermaid), the Seven Dwarfs' cottage and more.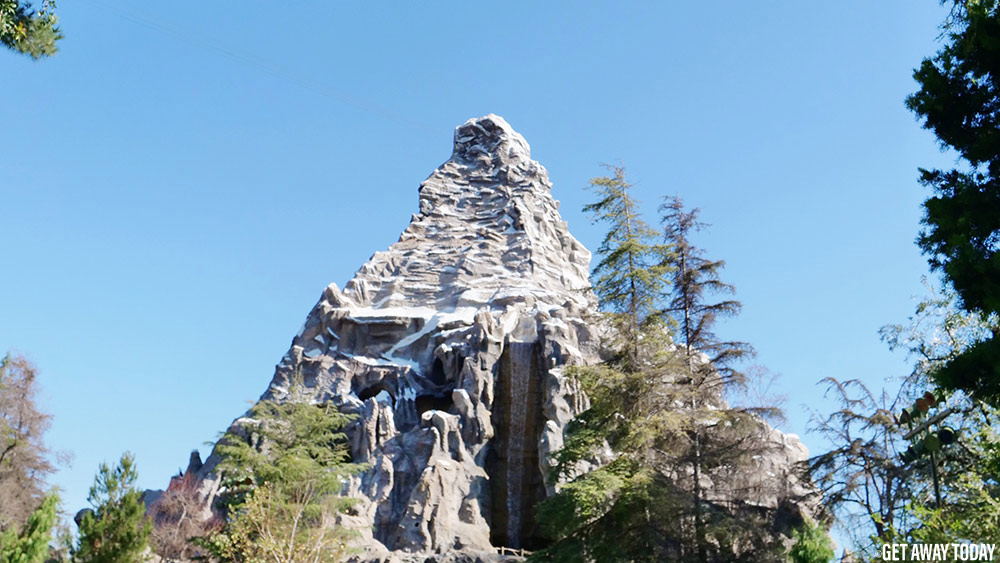 Matterhorn Bobsleds: Look out for the Abominable Snowman on this bobsled ride! Six guests board the sled and climb to a height of 80 feet before taking a perilous, thrilling journey through Matterhorn mountain. Did you know there are two separate tracks for Matterhorn? You may take a ride on the Fantasyland or Tomorrowland side of the mountain depending on the day.

Frontierland
Davy Crockett Explorer Canoes: You can actually paddle down the Rivers of America in a canoe - just like Davy Crockett! Experience the wild west and check out Pirate's Lair, Tom Sawyer Island and more on this Frontierland ride. Guests are joined by two river guides, so while paddling is encouraged, it is not required of every guest.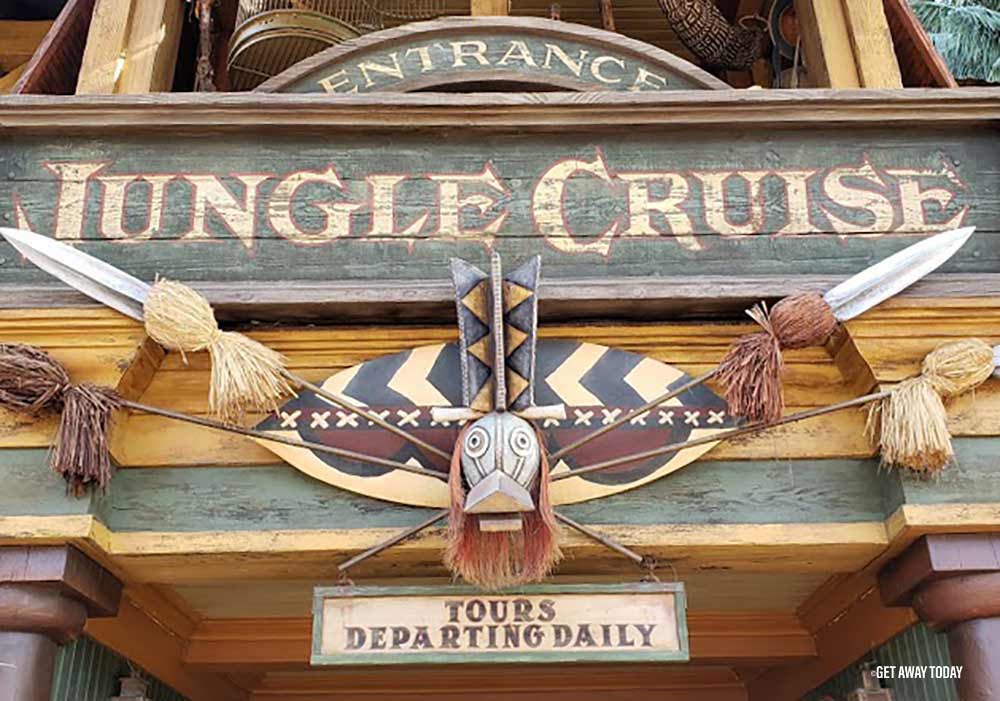 Jungle Cruise Maps (souvenirs): While the Jungle Cruise experience may not be unique to Disneyland Park, the free maps are! You can request a souvenir map from Jungle Cruise before when you dock after the ride. An original Disneyland ride, you won't want to miss the fun and puns!
Indiana Jones Adventure: Hop aboard a jeep and take a daring adventure just like Indy. The Temple is cursed, and it's your job to get out alive! There's danger at every turn, and this ride makes you feel you're truly on an excursion to retrieve treasure while avoiding deadly booby traps.
New Orleans Square
Haunted Mansion Holiday: Like the Holiday overlay for "it's a small world," Haunted Mansion Holiday is unique to Disneyland Park. The cast of The Nightmare Before Christmas has taken over the Mansion to give it a new look for the Holidays... except Christmas is still very new to them so things get interesting!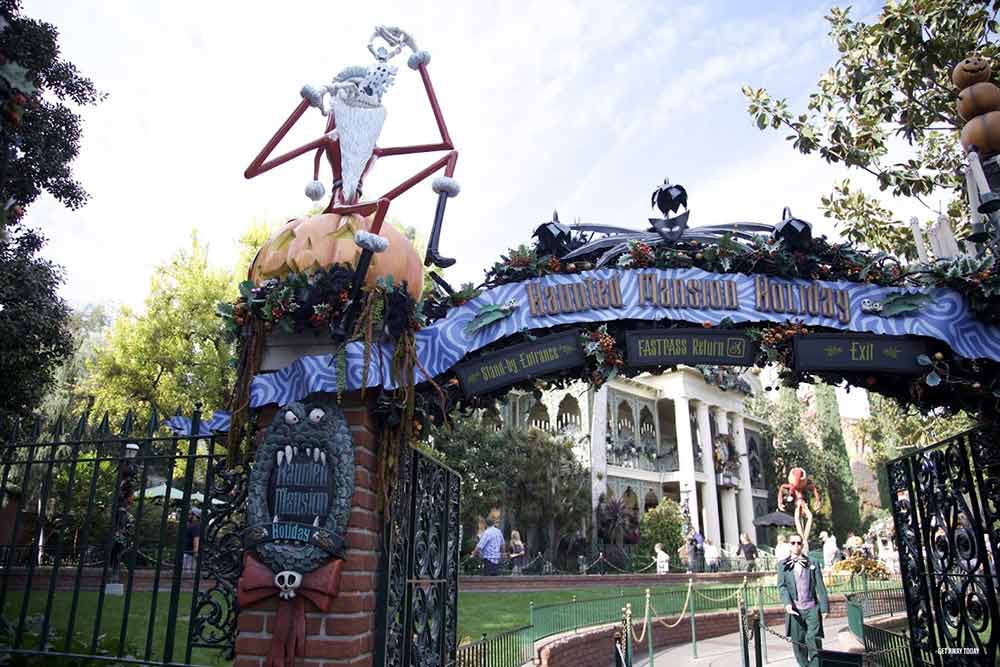 Blue Bayou Restaurant: If you're looking for unique dining experiences in Disneyland, Blue Bayou Restaurant in New Orleans Square is a great choice. Located inside Pirate of the Caribbean ride, this Cajun and Creole-inspired restaurant offers amazing ambiance and cuisine. You'll feel you're dining under the stars with the sounds of frogs and crickets softly thrumming along the river's edge. You can make reservations for this restaurant up to 60 days in advance via the Disneyland app, online or over the phone with Disney.
Mickey's Toontown
Toontown itself is unique to Disneyland Park! Located in the back of the Resort, it is more than worth exploring. You can hop aboard the Disneyland Railroad and ride right to Toontown, the entrance to which is near "it's a small world" in Fantasyland. Guests of all ages love Toontown for its interactive buildings, drinking fountains, water features and more.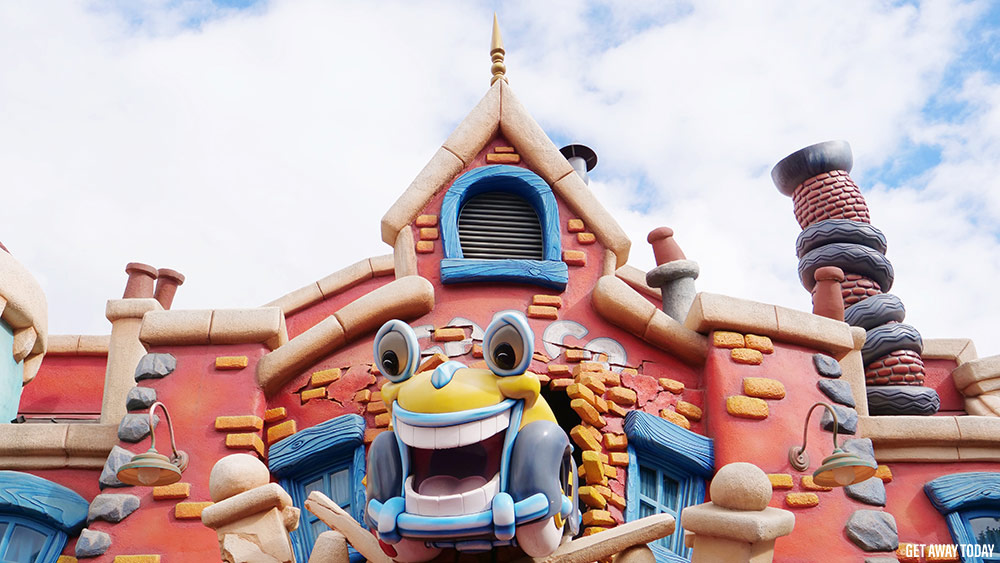 Roger Rabbit's Car Toon Spin: Hop in a taxi and make your way through Toontown behind Roger and Benny the Cab. You can control your cab, which spins 360 degrees, as you maneuver through buildings and away from the Weasels as Roger tries to get back to his wife, Jessica Rabbit.
Tour Toontown buildings: Many structures in Toontown encourage guests to explore and play. Doorbells, props and even medallions around water fountains respond to your touch with fun surprises.
Tour Disney Characters homes: You are also invited to tour the homes of some of the most beloved Disney Characters in Toontown. Refer to the Disneyland app to see if Mickey or Minnie will be home when you visit.

Mickey's House
Minnie's House
Donald's Boat
Chip 'n Dale Treehouse
Goofy's Playhouse (with shaded, outdoor playground)

Gadget's Go Coaster: This quick, kid-friendly ride is a hit with all ages! Gadget is a clever inventor and she has made great use of seemingly random supplies at her attraction. You'll feel mouse-sized as you queue for this coaster around Toon Lake.
There is also themed dining and shopping available in Toontown, all of which is as whimsical and as topsy turvy as you expect.

Things Unique to Disney California Adventure Park
Disney California Adventure Park in and of itself is pretty unique. It includes lands that no other Disney theme park has! We love it for the opportunities it has for guests to immerse themselves in Disney-Pixar stories and the world of Marvel. See what things unique to Disney California Adventure we included below:
Hollywood Land
Animation Academy: While some of the experiences in the Animation Building are found in other Disney parks, the Animation Academy is one of the things unique to Disney California Adventure that we LOVE. This 20-minute experience allows guests to draw their very own cartoon under the guidance of a Disney animator. It's no additional cost, and typically has classes every 30 minutes. It makes for a great souvenir, too!
Avengers Campus
Disney California Adventure Park welcomes the opening of Avengers Campus in 2020 (date to be determined), but there is already an anchor attraction in Hollywood Land: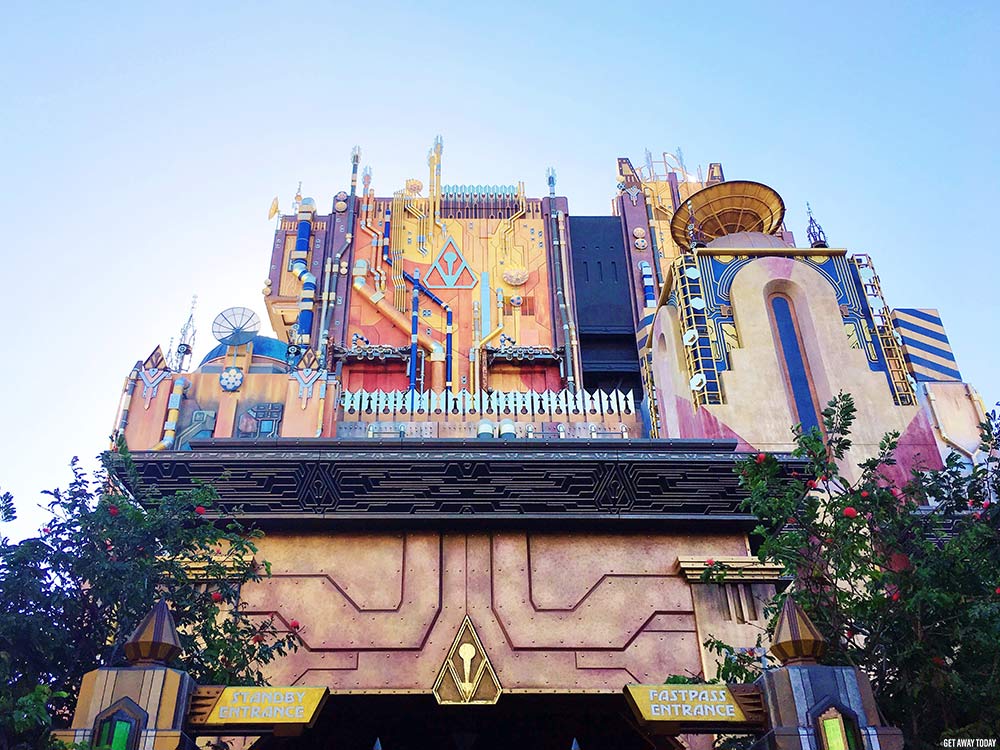 Guardians of the Galaxy - Mission: BREAKOUT!: Formerly Tower of Terror, Guardians of the Galaxy is now a mission to free the Guardians from the Collector's museum. Rocket takes you through a debriefing and then you buckle in for the ride of your life. As you rise and fall through the museum, you'll see scenes of battle between the Guardians and other creatures housed by the Collector. Will you breakout?!
Cars Land
Cars Land is another entire area of Disneyland Resort that is unique to California only. Which makes sense since Route 66 is the iconic highway that takes you through the west. In Cars Land, you feel transported to Radiator Springs and you can experience a number of rides that are unique to Disney California Adventure Park:
Mater's Junkyard Jamboree: Hop into one of Mater's tractors for a family-friendly ride around his junkyard.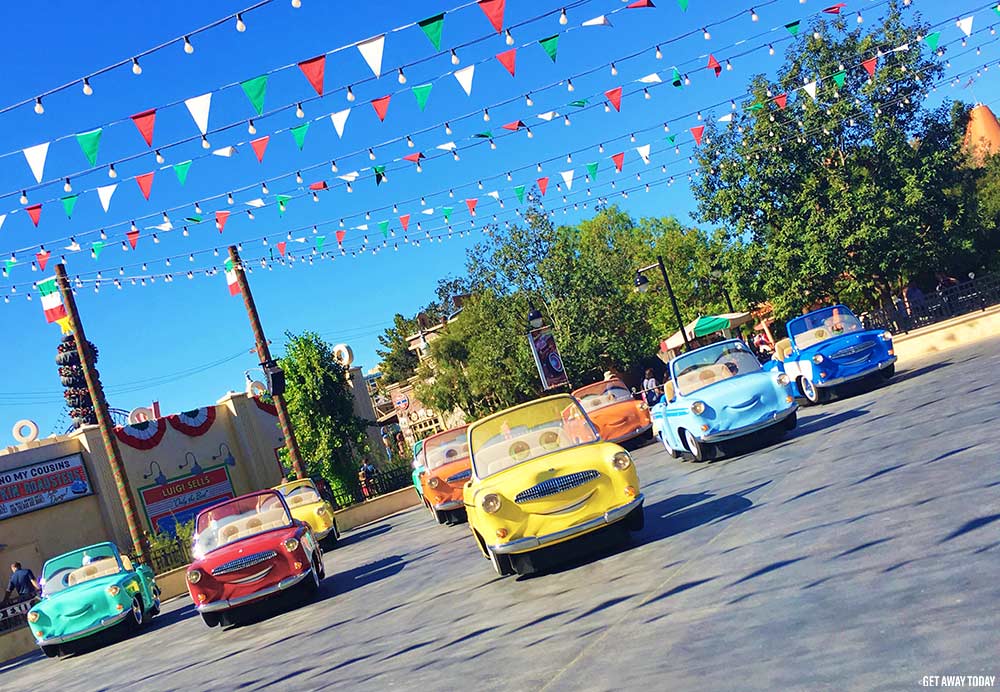 Luigi's Rollickin' Roadsters: Climb into an Italian roadster and dance to an array of songs.
Radiator Springs Racers: Possibly the most popular attraction in Cars Land is Radiator Springs Racers. Guests can take a ride in a Lightning or Cruz car through the beautiful, red landscape of Radiator Springs.
Cozy Cone Motel: There are a number of dining options in the town of Radiator Springs, but the Cozy Cone Motel is a good spot to get a bite to eat and to meet some of the Cars themselves. Look for Lightning, Mater and even Red around the bright orange cones that are parked on Route 66.
Just like in Toontown, there is shopping available in Cars Land so you can take a little piece of Radiator Springs home with you.
Pixar Pier
This newly-re-imagined area of Disney California Adventure Park brings Pixar Pals to life! Meet your favorite characters and enjoy rides and attractions based on popular Pixar films. The four neighborhoods of Pixar Pier were completed in 2019, and you're now invited to explore and experience all it has to offer!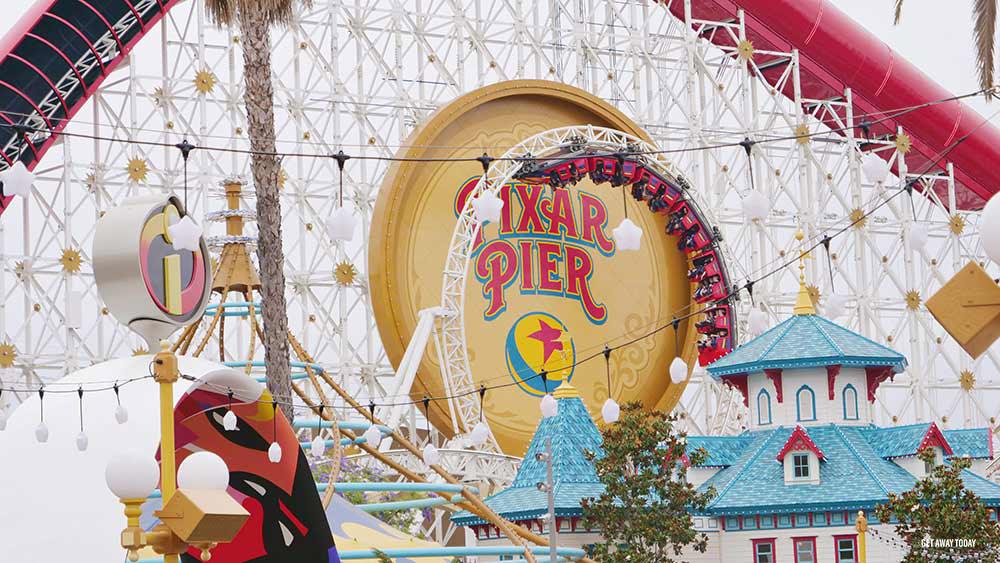 Incredicoaster: This landmark ride in Pixar Pier takes you on a race to catch baby Jack-Jack. Enjoy the sights and smells of this ride based on The Incredibles.
Jessie's Critter Carousel: Near Incredicoaster is this all-ages carousel featuring Jessie and cute critters from Toy Story. Take a spin aboard your favorite and grab a Senor Buzz Churro when you're done.
Inside Out Emotional Whirlwind: Continue down the Pier and you'll come across the all-new Inside Out Emotional Whirlwind ride. Climb into a colorful carriage and experience a whirl of emotions as you spin and twirl.
Toy Story Midway Mania!: Go 4D in Toy Story and shoot for the high score! Wearing 3D glasses, you'll aim for toys in Andy's room.
Pixar Pal-A-Round: The ferris wheel can be seen throughout the Pier, and you can choose either fixed or gliding gondolas. Enjoy the expansive view of the Park aboard this ride in a gondola themed after many favorite Pixar characters.
Games of Pixar Pier: Purchase pre-paid cards from the kiosk on the boardwalk and get your game on! Games are inspired by La Luna, Heimlich (A Bug's Life), WALL-E and Bullseye (Toy Story).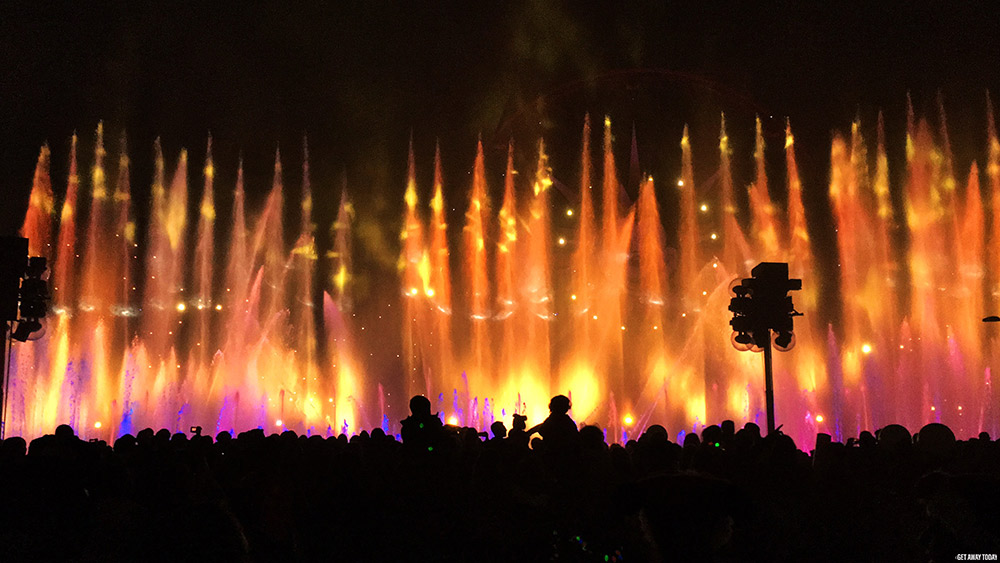 World of Color: This spectacular nighttime show is only found in Disney California Adventure Park. Visible from the Paradise Gardens Park area of California Adventure (across from Pixar Pier), it's about 22 minutes long and is fun for all ages. World of Color combines beautiful projections with water fountains, lights and music to bring some of your favorite scenes alive in a new way.
Don't forget to indulge in some of the delicious dining options also available at Pixar Pier. Like much of Disneyland, there are a number of mobile order options so you can spend less time waiting in line and more time experiencing all Disney has to offer.
Things Unique to Disneyland Resort
We hope you enjoyed this list of things unique to Disneyland Resort! Did we miss anything? Let us know and we'll be sure to add to this article. To see all these attractions and more, book Disneyland vacations online, or over the phone by calling 855-GET-AWAY.