This is the season of FALL BREAK and with so many families making memories this month, we thought it would be helpful to offer some fun ideas on how to keep a record of them. Try one of our three simple suggestions, or use a journaling method of your own. You will be so glad you took a minute or two to capture your experiences on paper. It is so fun to look back and remember your most special vacation moments!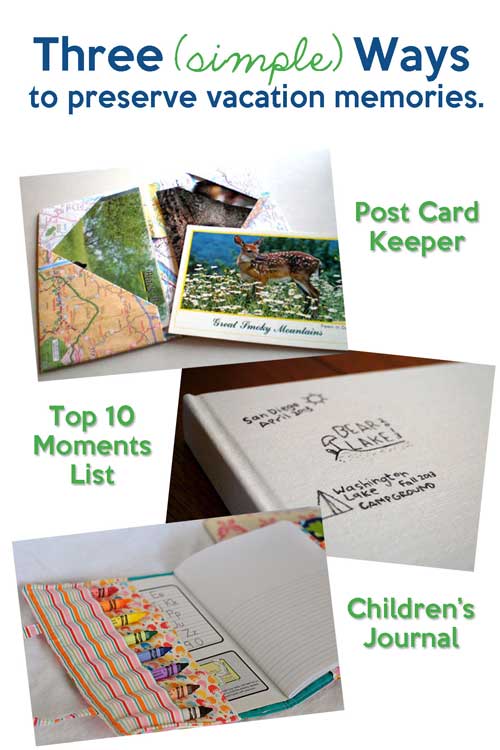 Post Card Memory Book
While you are on your vacation, find a post card that represents your activities for that day and write a short note on the back with a recap of the day's events, a cute story, or funny quote from the day. Slap a stamp on it and send it to yourself back home. When you return from your trip you will have the makings of a trip journal complete with photos, dated stamps, and a run down of each day's events! Simply bind the edges together, slip them in a photo book, or store them in a photo envelope, and you are done.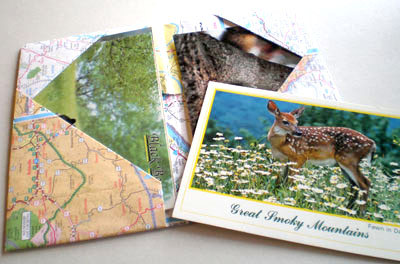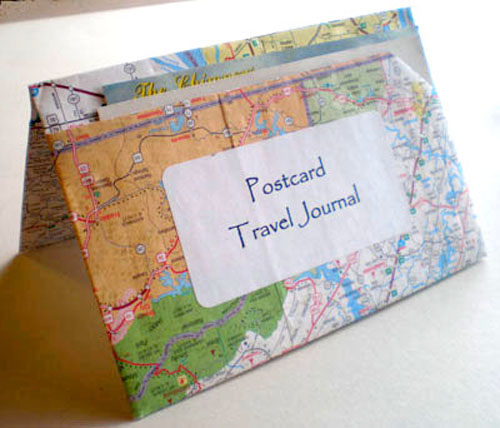 (photo credit YUCANDU Art Studio)
I like the idea of making the cute Postcard Envelope showcased above. You could catalog all your vacations in their own separate envelopes to keep them organized. Want to make one yourself?
There are step-by-step folding instructions by clicking here.
Top Ten Vacation Moments List
If you have ever felt overwhelmed with journaling every detail of your vacation, simplify your record-keeping with this fun Top Ten Vacation Moments List. This is a great activity to do with your entire family on the way home from a vacation. Use it as a conversation starter! Let everyone express his or her favorite moment of the trip, a funny incident, or a little mishap. Perhaps it is a moment of tenderness or of closeness. Be specific. For example one of the moments that make the Top Ten List might be:
• When the plane was taking off on the runway, and tiny Natalie yelled out for the whole plane to hear, "Hold on for your life!"
• When we surprised Grandma and Grandma at their house and they both started to cry and Grandma had to sit down because she was so overcome with joy.
• When Gage got knocked over by a giant wave at the beach and took a tumble under the water. He stood up, looked at us and said, "Mom, I just saw three sharks."
• When Dad agreed to buy a $4 box of popcorn and Libby said, "Seriously! Dad you're smokin' awesome!"
Talking about specific moments from the vacation is a fun way to reminisce. It also creates a strong family bond. It is almost impossible not to laugh about all of the crazy things that happened during the holiday. Don't worry about including a play-by-play of every waking hour. Just record ten things--ten memories that will last on your record books and in your hearts forever.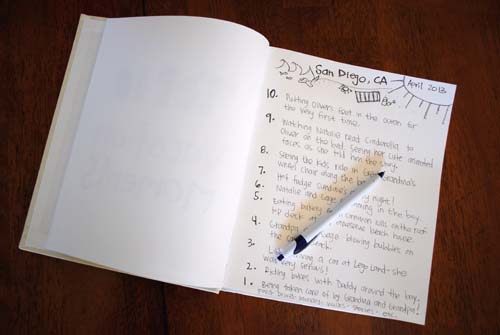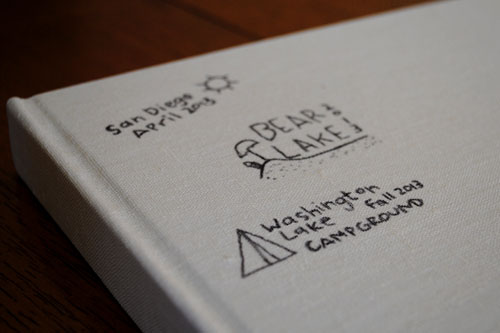 You might want to buy a nice notebook with quality paper to use as your dedicated Top Ten Vacation Moments journal. Mine has a canvas front that allows me to write on and add a little doodle about the places we have traveled. This high quality book will keep all your trip memories organized. You can revisit them over and over again.
Children's Travel Journal
Don't you love seeing the world through your children's eyes? Let them record their own travel memories with a Kid's Travel Journal. Before you leave on your vacation buy each child his or her own notebook and pen, crayons or markers. Encourage them to write about their trip along the way. They can draw pictures of things they see out the car window if you are driving. You can suggest writing topics like:
• What was your favorite thing you ate today?
• Did you see something today for the very first time?
• What made you happy?
• Did you do anything new today?
• What did you think about the ocean?
• Draw a picture of your hotel room. What do you like most about your hotel?
• Talk about how you chose your souvenir from the gift shop. What did you choose and why?
Let your kids be in charge! They might want to tape a ticket stub into their book or include a picture from a brochure or theme park map. Maybe they had a great meal at a restaurant and they want to include the receipt. There are lots of ways to make their journal special! If your kids are missing school, journaling is a great way to keep them reading and writing as well. Their teacher will love you! These journals will become a priceless treasure that your children will surely value when they grow up.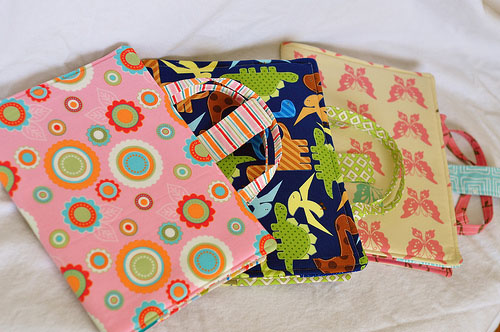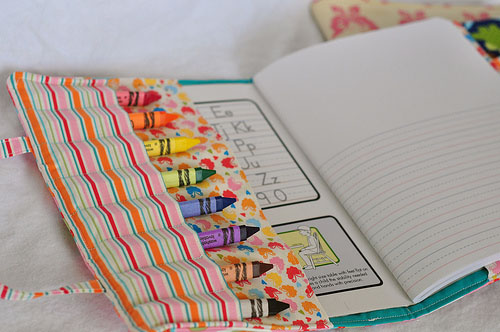 (Photo Credit Goddess in Progress)
If you are feeling extra crafty, you might want to sew one of these fun journal covers. They slide over a standard sized composition notebook. Mead makes an awesome Primary Journal version of the composition notebook that has a spot on each page for artwork and increased space between the lines for beginning writers.
If you need help getting your travel plans set, book online or call one of our vacation specialists at 855-GET-AWAY. They can work out all of the details for your trip so you can focus on having fun and recording your amazing memories!
Check out these other great blogs and ideas:
Disneyland Vacation: Souvenir Surprises
Disneyland Vacation: Paper Chain Countdown
Disneyland Vacation: Memory Box