The Disneyland Resort is one of the most memorable adventures that any family can take. There is something for everybody. Walt Disney himself said it best in his dedicatory speech: "Here, age relives fond memories of the past, and here youth may savor the challenge and promise of the future."
For those that like to ride the attractions, Disneyland can be conquered. It is actually possible to ride every ride that you want to experience in one day. It takes some magic and a little bit of pixie dust, but with our information, it can be done. Use these 15 tips to make your get away at the park an adventurous tour with minimum wait times.
1. Get your tickets before you go to the park.
If your package qualifies for hardstock tickets, they'll be mailed to you prior to your trip. If your package includes electronic tickets (these will be noted as E-tickets), plan to pick up your tickets from Disneyland the night before you plan to go to the park. Ticket lines are longest in the morning and you want to be "armed" and ready to go on your day at the park. If you're staying at one of the three Disney hotels, you can pick up your tickets when you check-in.
2. Be there before the published opening time.
Typically, Disneyland opens Main Street USA and Disney California Adventure opens Buena Vista Street ½ hour prior to the published time and then opens up the rest of the park at the appointed hour, this gives you a great head start!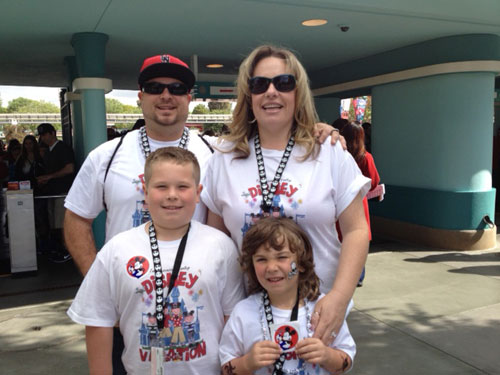 3. Stay at a Disney property and get into the park an hour early.
If you stay in one of the three Disney hotels, you can enjoy an extra magic hour in Disneyland or Disney California Adventure with early admission to certain rides each day of your stay (you must have a valid ticket for park entry). This gives you an hour to enjoy the parks before the public arrives.
4. Buy at least a three day ticket and get a free "Magic Morning."
We recommend at least a three day ticket purchase for your family. Regardless of where you stay, you'll get the opportunity to enjoy one "Magic Morning," which allows you Disneyland Park entrance one hour before the general public available on select days. Ask your Get Away Today expert for details.
5. Theme your day.
Plan a day just to ride the attractions, then another day to play with the characters and see the shows. Taking the time to theme your day can allow for short wait times and maximum fun. As you're walking by, you can say, "I'll catch your autograph tomorrow, Mickey, we are riding the rides today!"
6. Appoint a family "Fastpass Czar!"
Disneyland has created a way to go to the front of the line on some of its most popular rides. Give all of the tickets to one family member (the "Czar") and let him or her run to keep the family in Fast Passes. This is one of the biggest time savers and using it can reduce your wait times dramatically. Make sure that you get another Fastpass for the family as soon as the next one is available (see photo below). Get a Fastpass for the next ride before you even ride the previous one and then time is on your side! Disney's Fastpass service saves your place in line for some of your favorite attractions while you enjoy the rest of the park. The "Fastpass Czar's" job is to always have a Fastpass for the entire family in hand. But don't plan to do the park in linear fashion, jumping around can save time by allowing the Fastpass service to direct where you go next.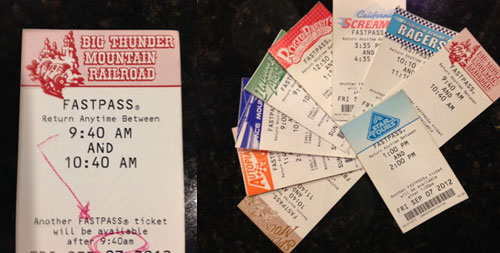 There are 14 Fastpass attractions at the Disneyland Resort.
7. Rider Switch pass.
The Disneyland Resort understands that some children may not be able to ride the bigger rides. If this is the case, keep the child with you and send the rest of the family on the ride. Before the family gets in line, they'll ask the cast member at the ride entrance for a rider switch pass. The rest of the family waits in the line and rides the attraction normally. Then when they are done, give your little person to the rest of the family, and you and up to two guests get to go to the front of the line! It's magical and allows you time to enjoy a churro or another ride while you're waiting.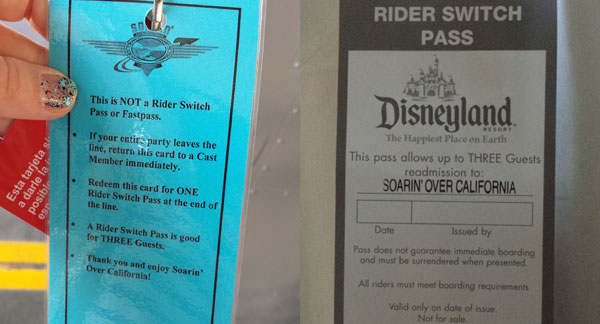 8. Use the single rider lines.
Disneyland is dedicated to reducing wait times just as much as you are, so they want every ride to be filled to capacity. If you have older riders, take advantage of the single rider line. This option offers guests a chance to wait for a shorter length of time in exchange for not necessarily being able to experience the attraction with others in your party. If you don't mind sitting next to a stranger or placed in a random seat, you can turn an hour wait into a 10 minute wait. Most times if you have a ride buddy, they will be only a seat or two behind.
9. Have fun in line.
Every ride queue has an adventure to experience. Create a game and enjoy the time. For example, you can decode the secret messages on the walls of the Indiana Jones and the Temple of the Forbidden Eye by using this decoder card. Every single ride has at least one "Hidden Mickey" see if you can find them all or ask a cast member to point them out. You may even find that you're disappointed when the wait is over…


10. Take advantage of the morning hours.
Ride lines are the shortest in the morning. Don't sleep in… If you need a nap, enjoy it in the late afternoon when lines start to get longer.
11. Get to know Disneyland's "Otto" or the wait-line app.
Disneyland's own robot host will give you wait times at attractions, or what time the parade will march down Main Street, USA. Give him a call right now and ask him a Disneyland related question, he will even answer questions about where to get a corn dog or where to find a baby changing station. Give Otto a try at 714-520-7090. The information can be a time saver when you are at the park and on the fly. In addition, there are many apps you can download on your smart phone with wait times. MouseWait is one of our favorites.
12. Minimize park hopping.
Park hopping can take a while to go back and forth and eat up valuable play time. Plan your day well and do all activities in one park before enjoying the other.
13. Go to the park on weekdays.
Weekends are often a busier time at the parks, weekdays frequently have smaller crowds. If you can go while the kids are in school, even better.
14. Take advantage of the fireworks, the parade and evening shows.
If you have themed your day as a ride day, enjoy shorter lines while others are watching the parade or other shows!
15. Plan well.
Web sites like www.isitpacked.com or www.touringplans.com predict crowds at the park based upon historical data. There are certainly days that are less crowded than others.
Any day at Disneyland is magical, make your day fun! You can focus on reducing wait times and get a lot done, or take a leisurely stroll. Whatever you choose, you will be enjoying the Happiest Place on Earth your way and we would love to help get you there with our
Disneyland packages
!  Our Disney experts will make your getaway magical. Book any of our
Disneyland tickets
online or call us at 855-GET-AWAY.

Chris Dallin is a Disneyland fanatic. He travels to Disney parks several times a year and continues to find hidden gems, joy, and magic in the Happiest Place on Earth. Tune into future blogs for additional ways to experience the Disneyland Resort.
Check out these other great articles:
Disneyland: 20 Things to Make the Most Out of a Summer Day
The Disney Hotels ARE Worth It
Disneyland Resort Hotels: Video Highlights