Are you looking for a way give your family a vacation this Easter? Surprise your kids with one of these three egg-cellent ways to announce a trip this holiday.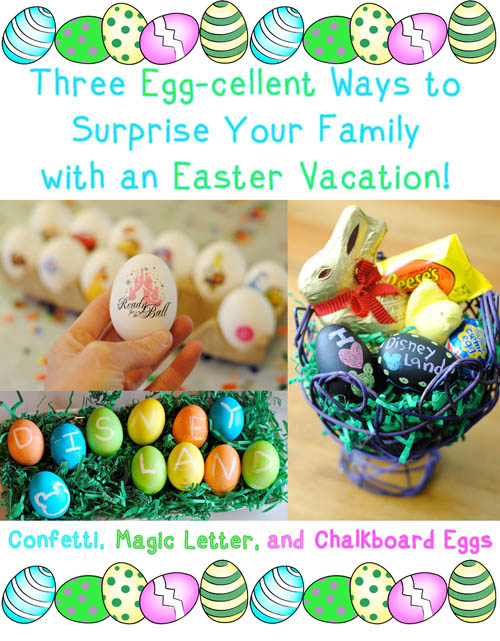 Magic Letter Eggs

Magic Letter Eggs add an extra element of fun to a favorite Easter tradition - dying eggs! Before your kids dip their eggs into colored Easter egg dye, secretly write an invisible message onto the shell. When the eggs are dipped into the dye, the magic letters will appear! We wrote DISNEYLAND. It was a magic reveal to the most magical place on Earth.
Write on eggs with a white crayon.




There is a hidden message on these eggs. Can you see it? No? Neither will your kids!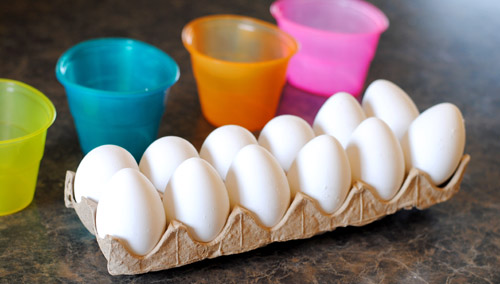 The letters appear when the eggs are dipped into the dye.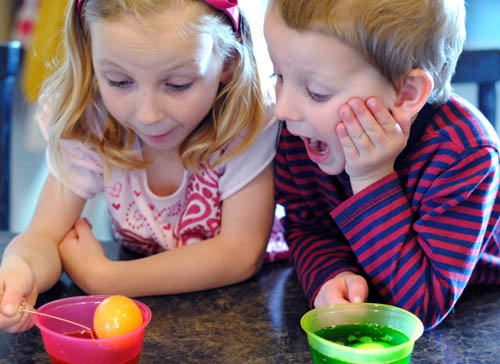 This easy way to announce a vacation is sure to make your family egg-static!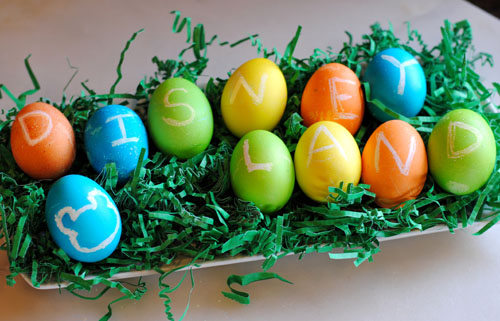 Chalkboard Paint Eggs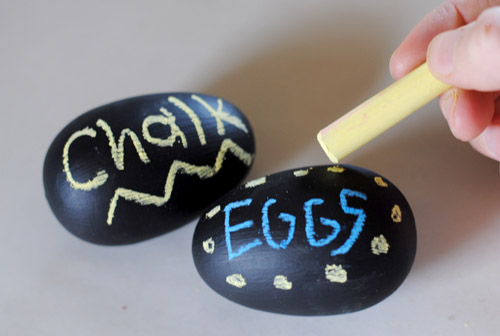 Chalkboard Paint Eggs are a fun addition to any Easter Basket or Egg Hunt. Reveal a chalk written vacation surprise! Then, let the fun continue with endless decorating and doodling on these reusable eggs. They could even provide coloring fun in the car on a road trip!

You need chalkboard paint, a foam brush, and wooden eggs. You can use chalkboard paint on regular hard boiled eggs, but I thought it would be more fun to use wooden eggs from the craft store. That way, they can be used countless times. They might even become part of your Easter family traditions.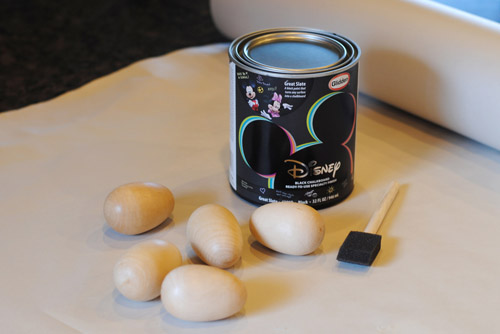 Prop eggs in an empty egg carton. Paint a thin layer of chalkboard paint onto the top half of the eggs.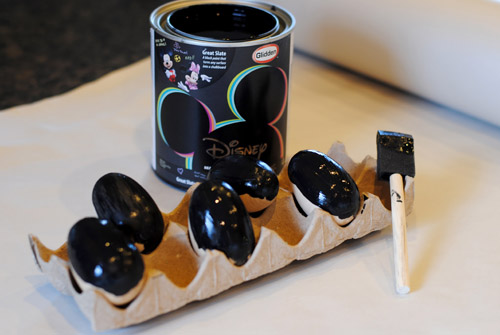 Let the eggs dry completely. Then turn them over and paint a thin layer of paint onto the other half. Repeat this process until the egg is completely covered with at least two coats of paint. I did three coats.

Write your vacation surprise onto the eggs with chalk. You could hide the eggs around the house, or include them in your children's Easter Baskets.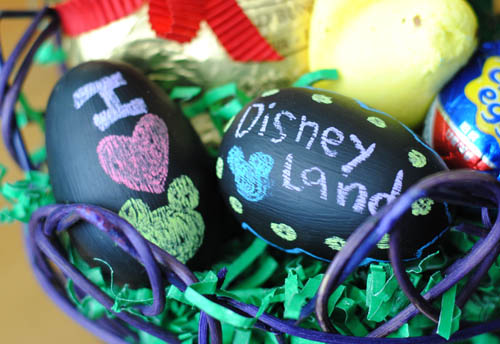 Confetti Eggs with Hidden Letters

Add a twist to the festive and fun Mexican Easter tradition of Cascarones by hiding a message inside the confetti-filled eggs. When your family cracks open the eggs, a vacation surprise will shower over their heads along with the colorful confetti! It is said that when a confetti filled egg is cracked over your head, a wish comes true. When your family discovers a fun-filled family vacation is in their immediate future, they won't have to wait long to have their wish granted!

Start by poking a small hole in the end of the raw egg with a pointy object. We used corn on the cob holders.




Shake the eggs over the sink or a bowl to remove the filling. Then, rinse the eggs with hot water so they are clean and all of the egg white and yolk are removed.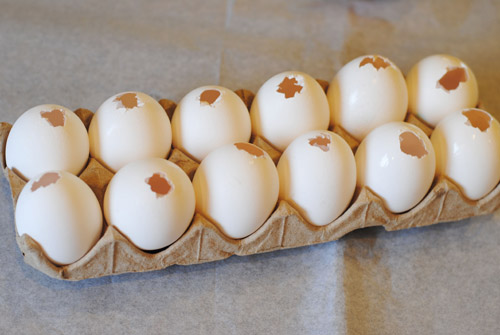 At this point, you can decorate the outside of the eggs however you want! Dye them in traditional egg eye, color with a Sharpie marker, or paint them. We chose to decorate them with Disney temporary tattoos. I thought it would be the perfect way to get them ready for the surprise inside of the eggs!

You'll put the tattoo on the egg just like you would put it on skin. Cut out the picture that you want and place it on the egg. Use a damp cloth to gently transfer the tattoo onto the shell.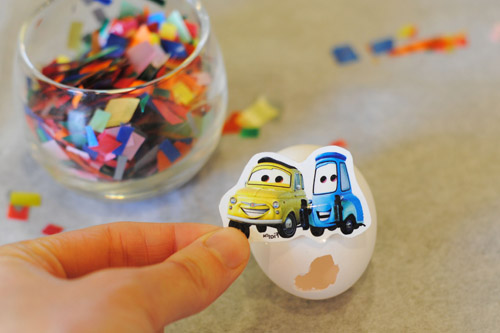 Try not to let the tattoo wiggle or slip so that the picture turns out clearly. I found that it worked out okay, even if they weren't perfect. Kids aren't picky! Don't they look cool?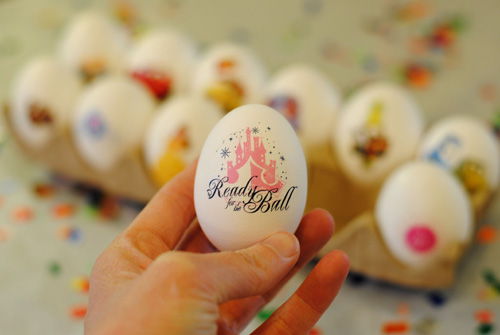 After the eggs are decorated, fill them with confetti. If you are going to surprise your family with a vacation, add the secret letters into the eggs at this point. I put the letters in the eggs to spell DISNEYLAND.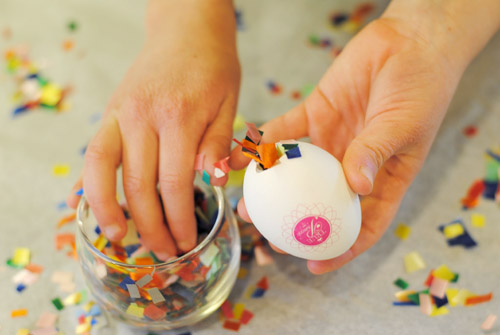 Then, use a small square of tissue paper to cover the opening. Just lightly wet the edges of the tissue paper to adhere it to the shell.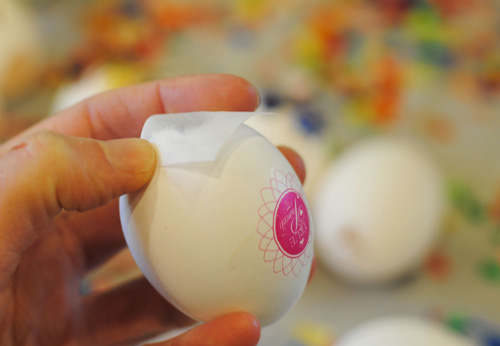 When you are ready to have some serious silly fun, let your kids gently crack the eggs on each others heads. The confetti will shower down on them, and they will soon discover there is something much more exciting to look forward to than chocolate bunnies, Peeps, and jelly beans...a DISNEYLAND vacation!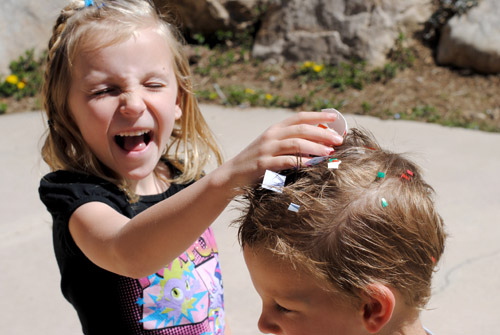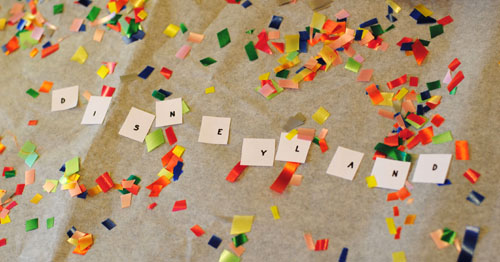 If you still need help planning your Easter vacation surprise (whether you're leaving on Easter or later), we'd love to help! Check out our 3rd, 4th and 5th Night Free specials, discount tickets, and extra freebies. Book online or call our Disney Experts at 855-GET-AWAY!


Check out these other great articles:

Spring Break Specials from Disneyland on Studio 5
Walt Disney World Resort: International Flower and Garden Festival 2014
Minion Inspired Lollipops