Surprise your family with a Disney Vacation with this fun buried treasure Disney vacation reveal! Use our free printable to make this Disney vacation announcement easy and fun.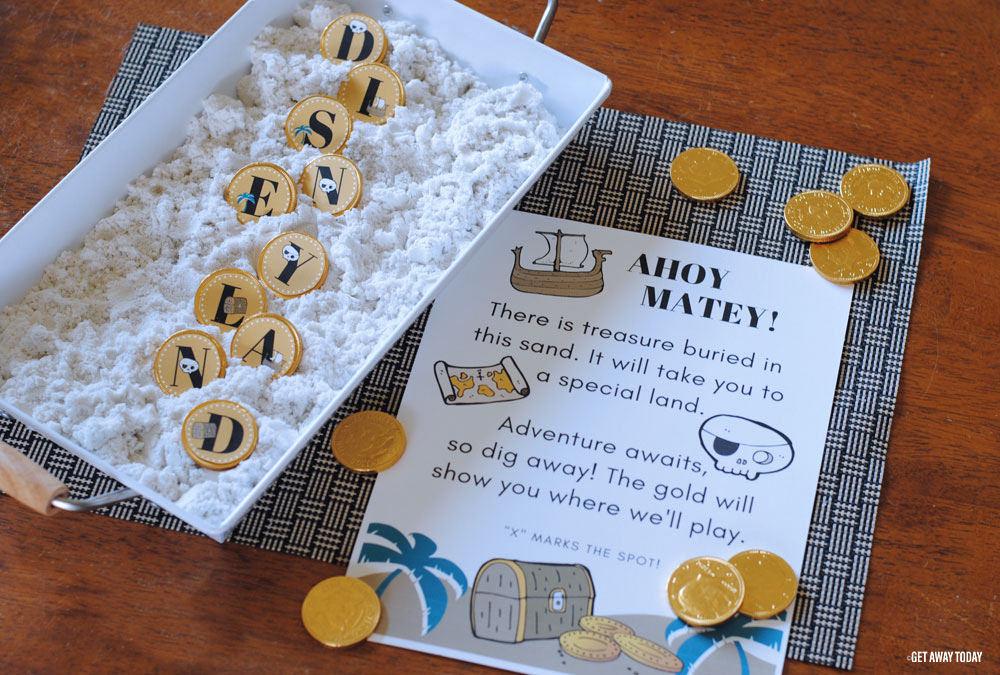 Buried Treasure Disney Vacation Reveal
You don't have to be a pirate to enjoy a treasure hunt. Surprise your family with the best buried treasure ever...a Disney Vacation! If you are looking for the perfect way to announce to your crew that a Disney Vacation is in your future, then look no further. There won't be any mutiny on deck when your family uncovers that they are heading to the Happiest Place on Earth!
Plus, with the savings you get when traveling with Get Away Today, you won't even need to spend all your gold doubloons to get there.

To put together this fun buried treasure Disney vacation surprise you will need to gather up a few supplies. Start by downloading and printing the gold coin letters HERE and vacation announcement HERE. I printed them onto cardstock paper using color ink.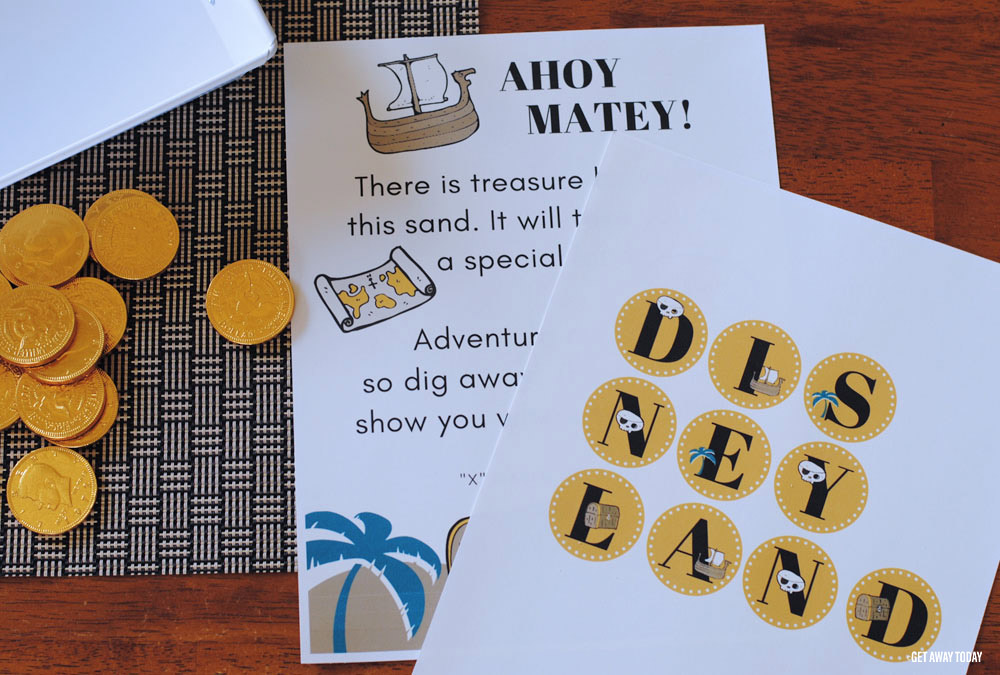 The buried treasure Disney vacation surprise letter says, "Ahoy Matey! There is treasure buried in this sand. It will take you to a special land. Adventure awaits, so dig away. The gold will show you where we'll play." The special land is, of course, Disneyland!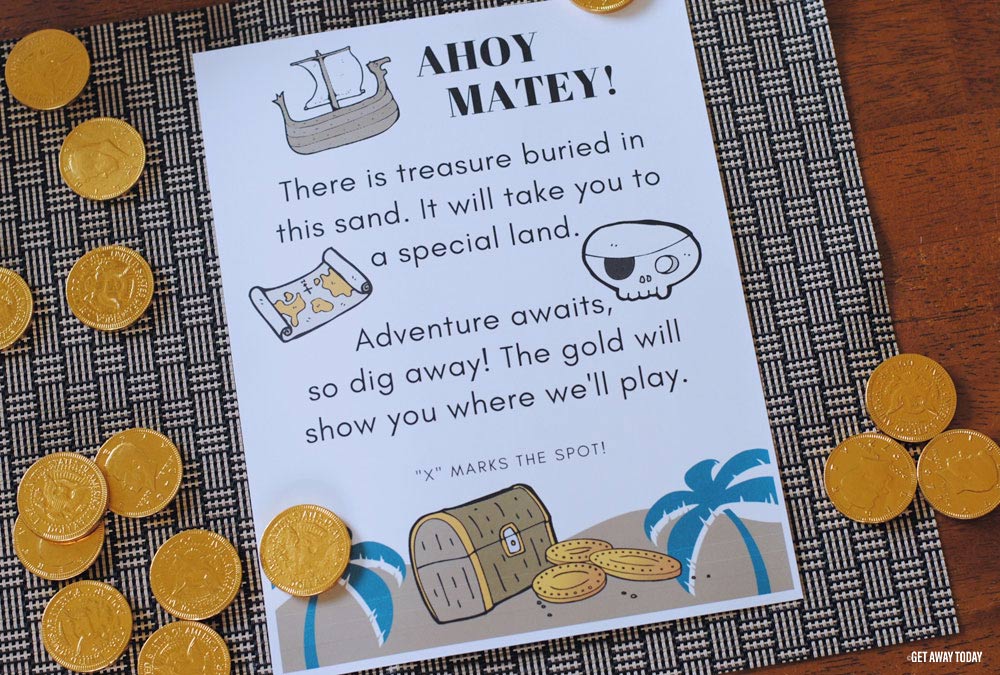 You can roll the letter up and tie it with a string or just give it to your kids in an envelope.
The Disney Vacation Surprise letter is ready, but you have to bury your treasure before it can be delivered. I bought a stack of chocolate golden coins from the bulk section of the grocery store to use as pirate booty! They are half dollar sized. Gold coins are one of my favorite special treats for so many occasions. They are just so festive!

Cut out the circle letters that spell D-I-S-N-E-Y-L-A-N-D. Just do a quick bubble cut around the edges.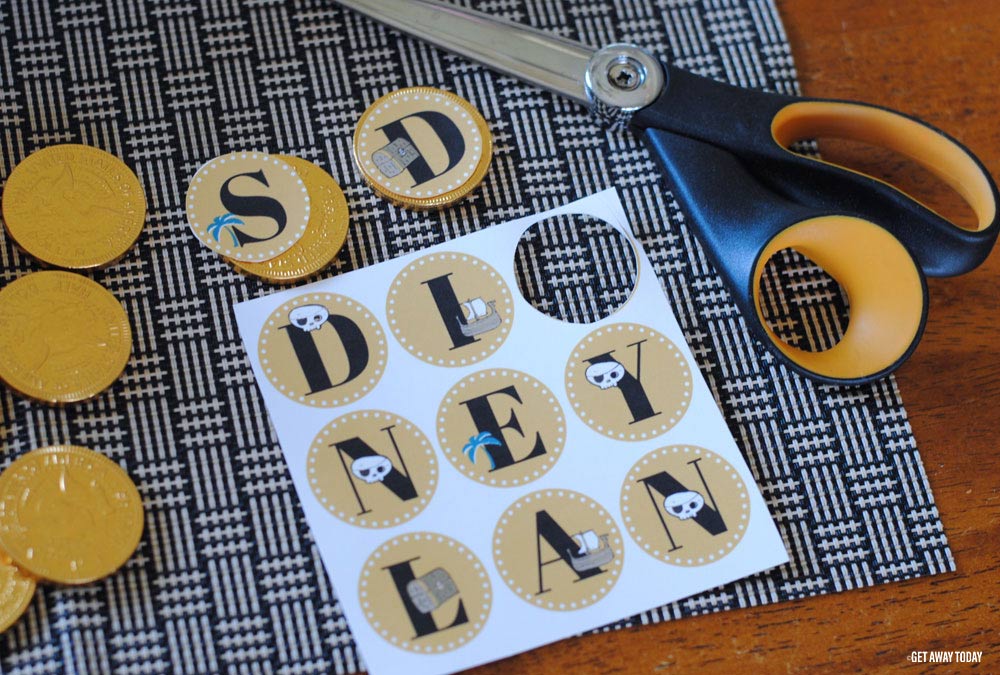 Then, tape the letters onto the front of the chocolate gold coins. They paper letters should fit really well on the chocolate circles. I just used regular scotch tape and made a loop. Double-sided tape is also a great option!
Bury the Disney treasure in the sand! My favorite sand ever is kinetic sand. It is super soft and moldable. My kids play in their kinetic sand for hours. They love to build things and just let it run through their fingers. I even get addicted to it! You can find it at the craft store or on Amazon.
You can put the sand and gold coins in a cute sand bucket or in any other fun container. I liked my white tray because it was flat and open...both good hunting qualities.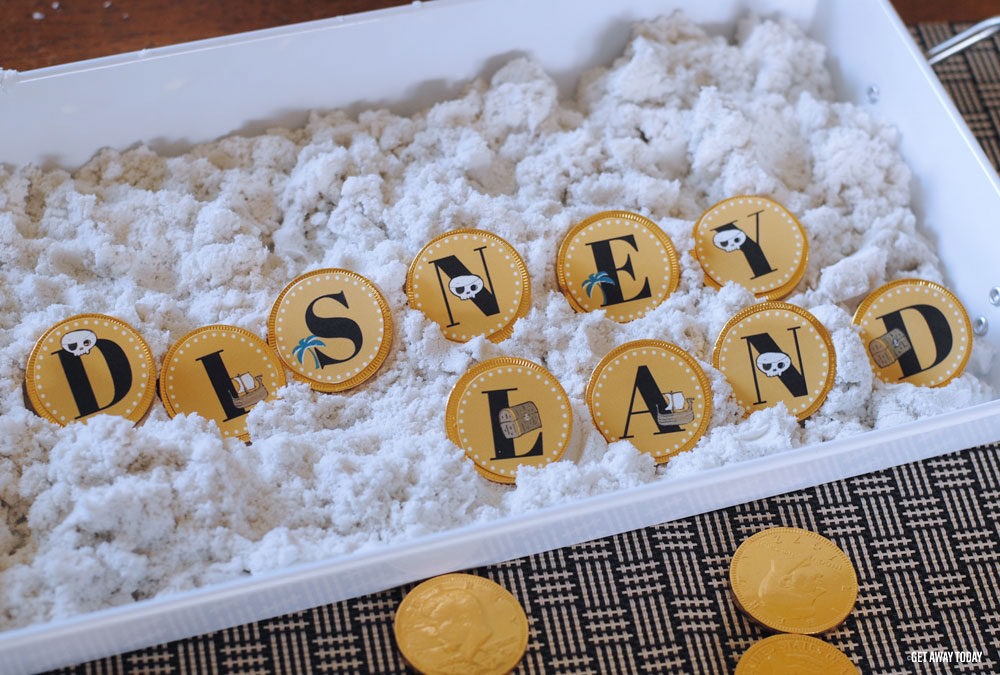 Cover the coins and then let the fun begin! Your little pirates are going to scream for joy when they find out their treasure map takes them all the way to Disneyland.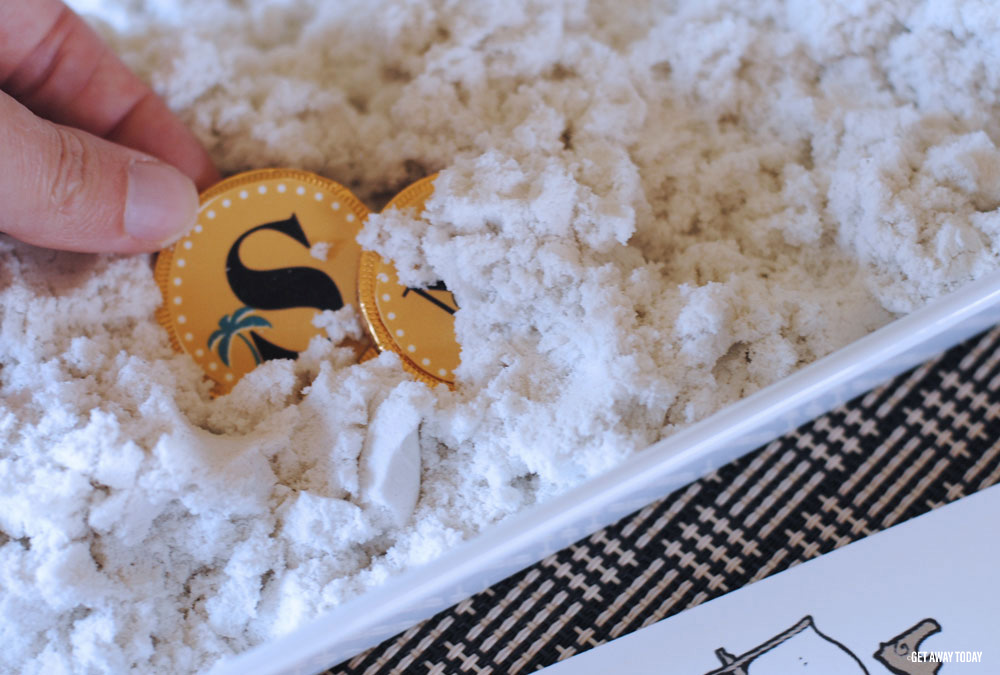 Book Your Vacation Today and Save
Before you use this buried treasure Disney vacation reveal, you should book your vacation! We recently released Disneyland 2020 ticket packages, so you can start planning for next year. See all our discount Disneyland packages for this year and next online, or give one of our agents a call at 855-GET-AWAY.