Use this Disney Fortune Cookie Template to create the perfect Disney Vacation Surprise. Fill the printable fortune cookies with Disney vacation prophecies that will reveal a special trip to Disneyland or Walt Disney World. How fortunate!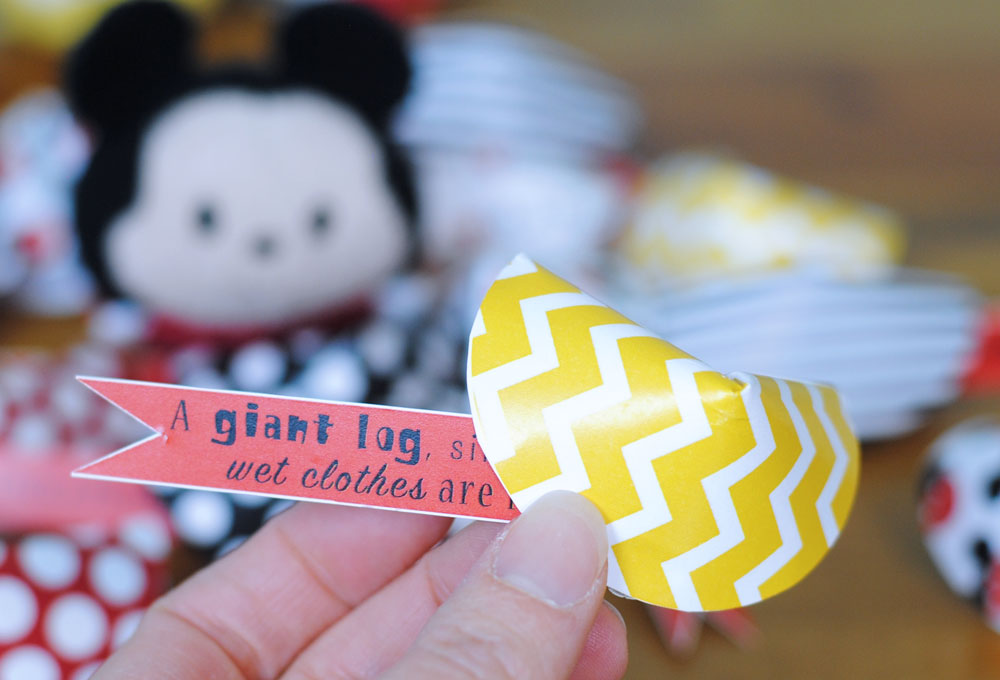 It is almost time to celebrate the New Year! I know what you are thinking, "Wait? I thought we did that a few weeks ago." You are right. I bet you did ring in the new year already and hopefully you did it with a true love's kiss at midnight! Sparklers, sparkling beverages, a falling ball, and a few verses of Auld Lang Syne and your New Year's celebrations were complete.
But, now we get to celebrate again with the start of the Chinese New Year. Did you know that the Chinese New Year for 2017 is on January 28? The holiday is not on the same date every year because it rotates with the Lunar Calendar. China really knows how to celebrate because the Spring Festival in China lasts for several weeks. That is my kind of party!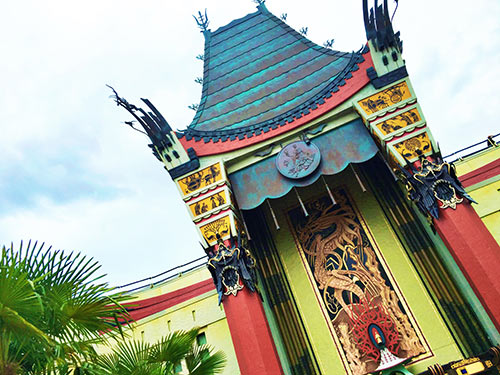 It is also Disney's kind of party. Disney California Adventure Park is hosting its biggest and longest Lunar New Year Celebration in park history. The event increases in popularity each year and this year the festivities run from January 20 to February 5.
The Lunar New Year Celebration has special entertainment including a brand new nighttime water show called Hurry Home. It features Mulan and Mushu the dragon. You can catch this show at Paradise Bay, where the viewing is similar to the World of Color production.
Certain areas of the park are decked out in traditional Chinese New Year decorations. Look up to see ornamental lanterns and flags hung in special colors for the year of the Rooster. Also, be on the lookout for Disney characters dressed in their Lunar New Year best. You will want to have your camera ready!
Park visitors can sample a variety of tasty Asian cuisine, too. The Disney bakers have special treats and sweets they prepare just for this event. It is always a tasty celebration! But, my favorite part is the New Year's Wishing Wall. You can add your own special wish to the Wall of Wishes. If I could wish for anything, it would be a Disney vacation! They are the best. I wonder if wishes made at Disneyland are more likely to come true? It is a magical place after all.
The Lunar New Year festival is a grand time to visit Disney California Adventure Park. If you are fortunate enough to be heading to Disneyland soon, you might want to incorporate this fun activity into your family's Disney vacation surprise. I created a free printable Disney Vacation Surprise Fortune Cookie template to help reveal to your family the exciting vacation that is in their future. The clues on the fortunes all point to the Happiest Place on Earth.
Here are the templates you will need for this fun craft:
To get started, print your templates of choice from above. You will need the page with the Disney fortunes that go inside of the paper fortune cookies. There are 16 different fortunes consisting of phrases like, "Beware of the 3-D Grasshopper" and "You will find laughter at the giant potato head" and "The truly wise hop between parks." You can pick and choose what fortunes to include in your batch.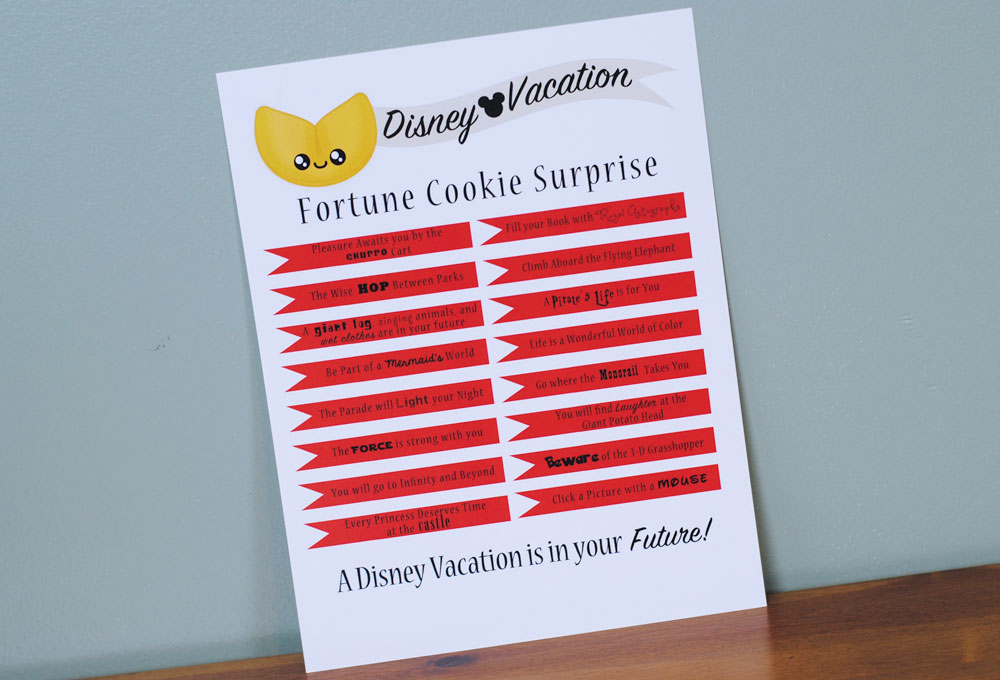 The second set of templates are for the cookie portion of the project. They are circles with Disney themed prints. There are six different paper options to choose from. I printed a page of each onto cardstock paper.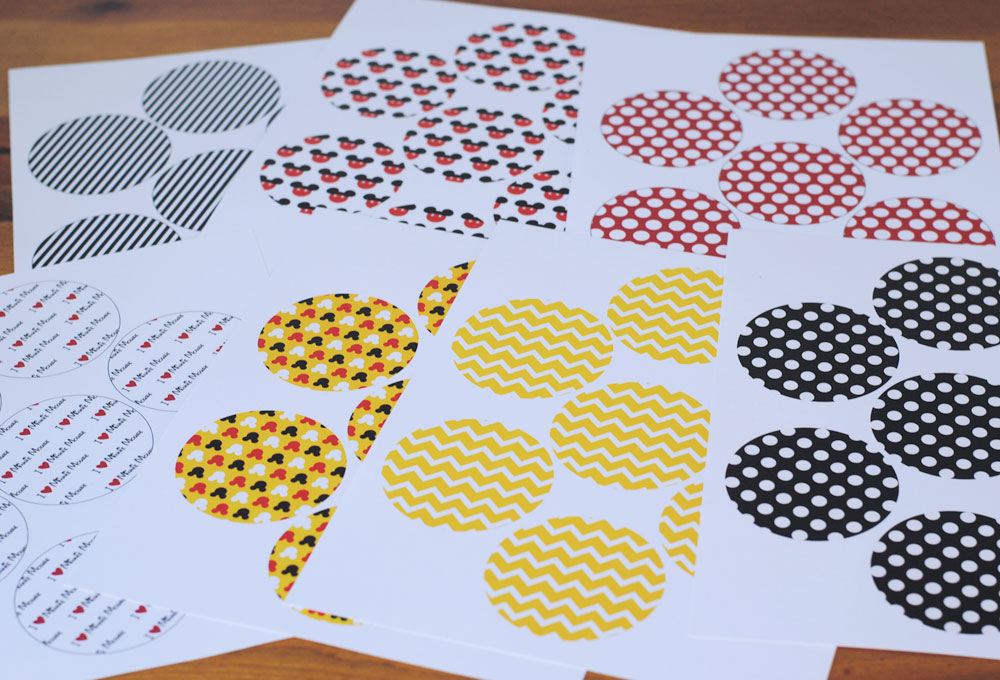 Cut out the circles. There are typically a few causalities when you make the cookies, so cut a few more than you actually plan to use.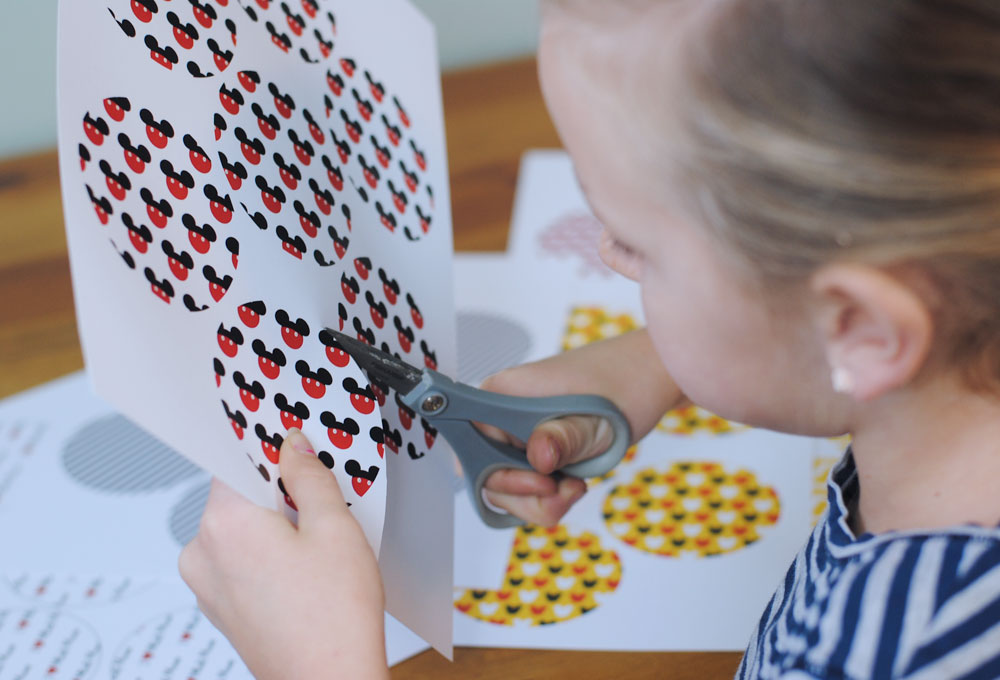 Plug in a hot glue gun and get it warming up. Then, cut out all of the red Disney vacation fortune tags.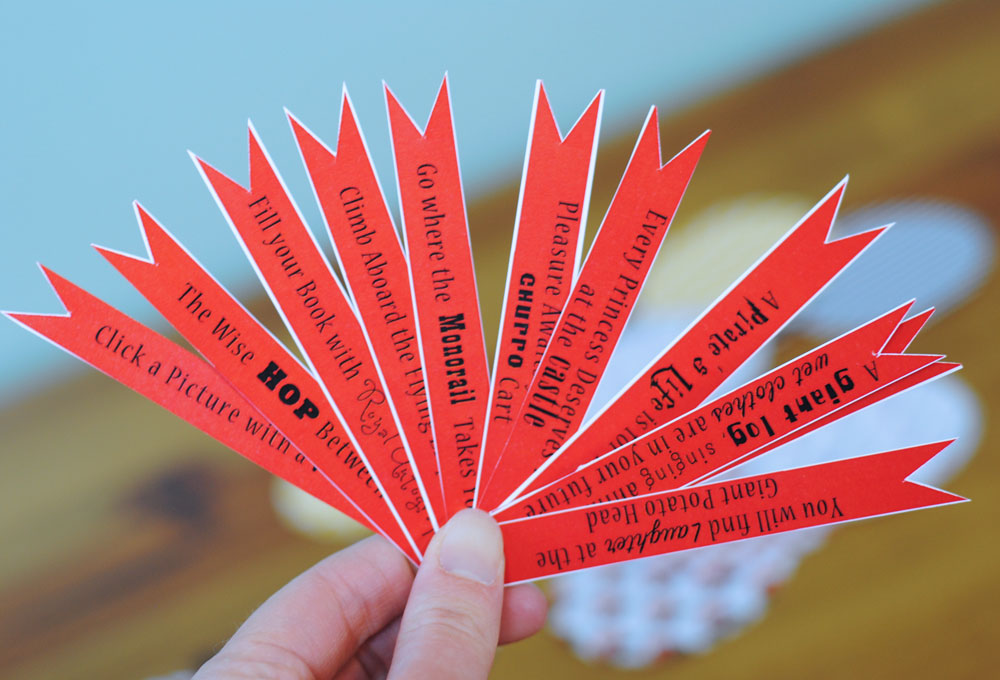 Now it is time to start making cookies! Disney fortune cookies have to be the best kind of cookies in the world. Place a small dot of hot glue along the top edge of the paper circle.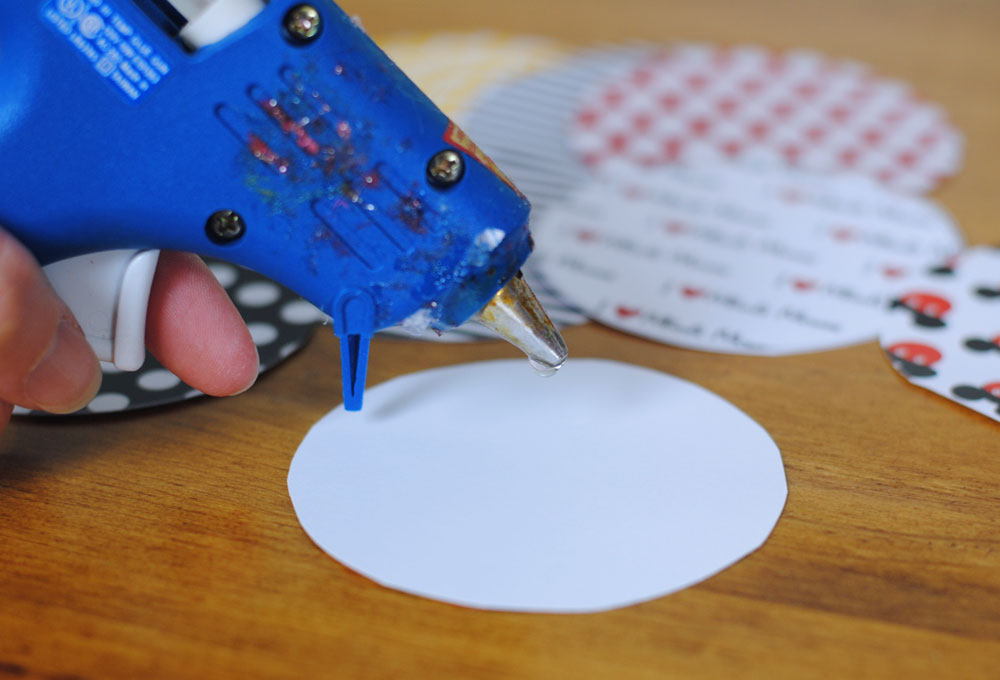 Fold the circle in half and press down on the dot of glue.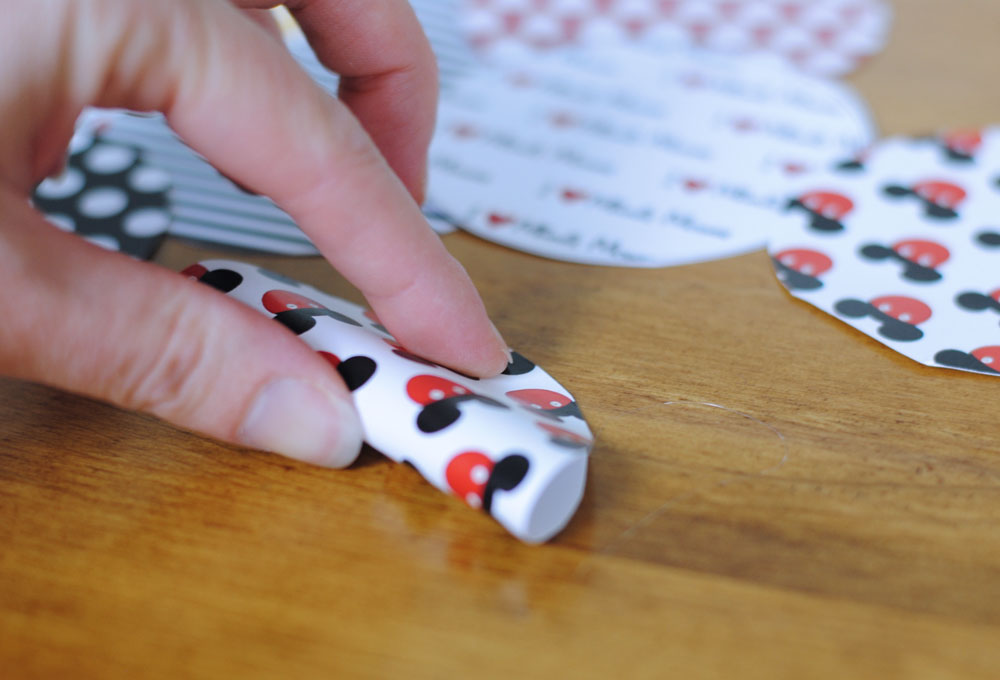 It will take about 45 seconds for the glue to dry. When it feels solid, slide the red Disney fortune into the fortune cookie's center. I like having the edge of the fortune tag sticking out of the cookie. You could also hide it inside completely if you want to go a more traditional route.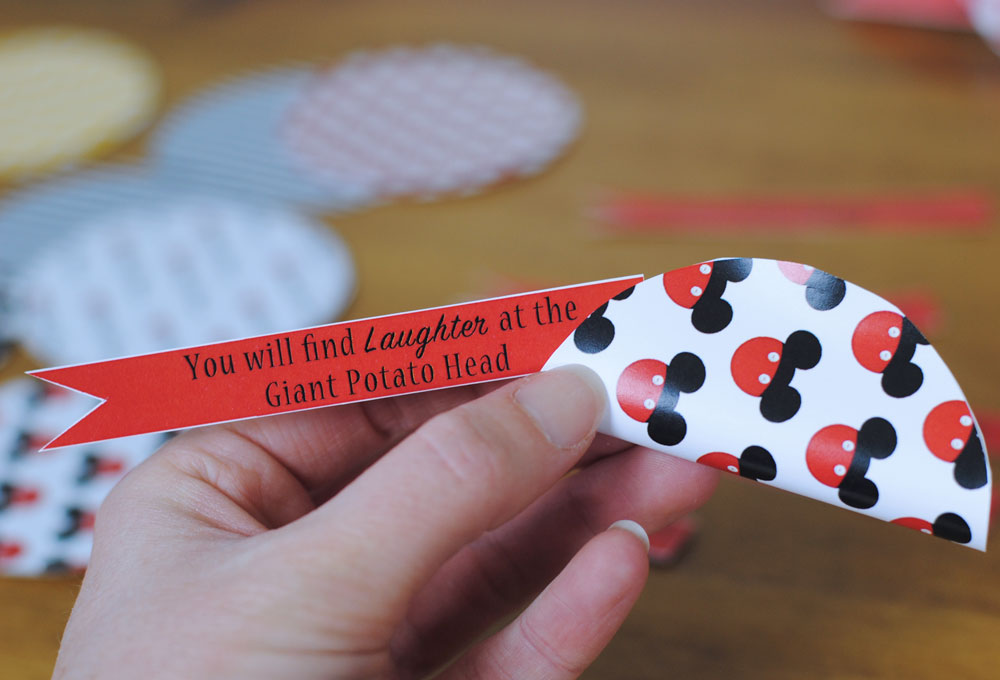 Then, with the rounded edge facing away from your hand, pull the two edges of the cookie down towards your hand. The back end of the cookie will fold a bit and the top should stay rounded. Place a blob of hot glue in the back to help the cookie keep it's shape. I watched a video on YouTube to help get the idea before I started making mine. You could check it out if you are having trouble.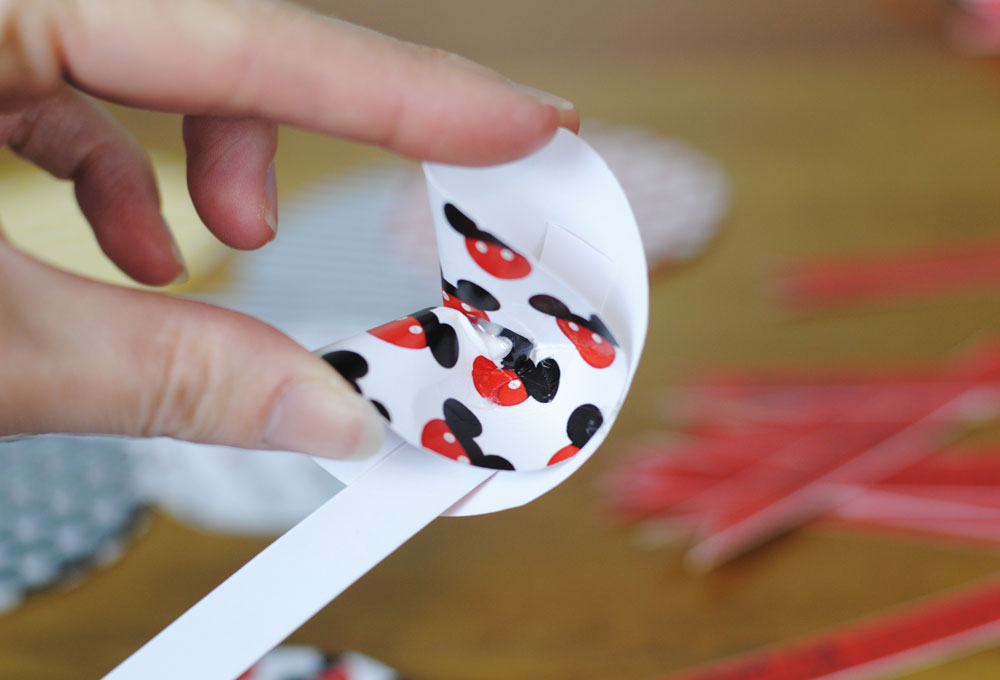 Hold it in place while the glue dries.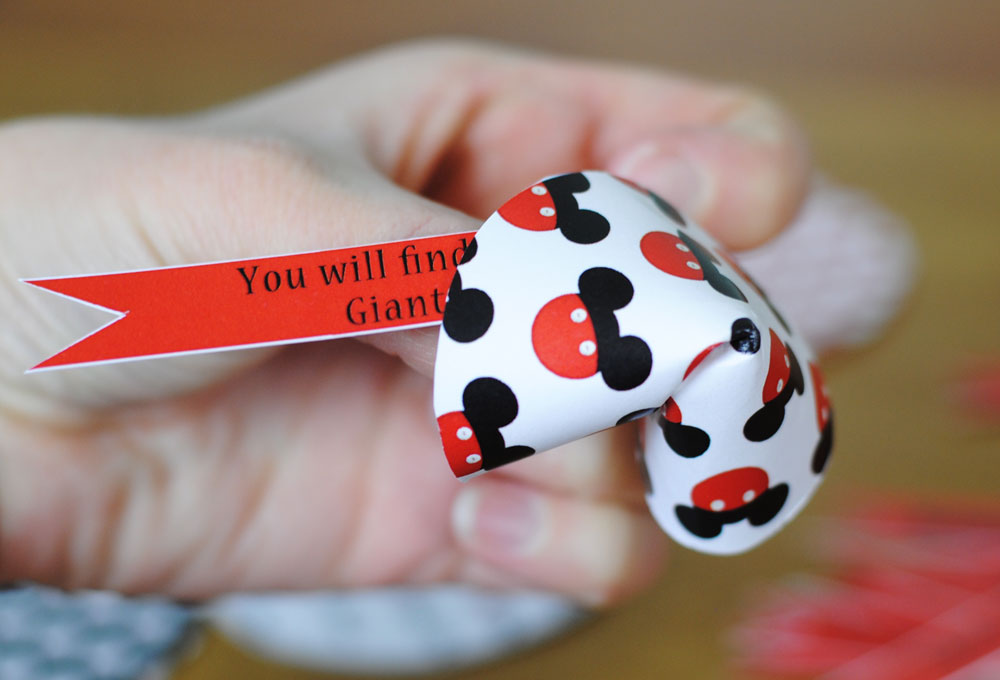 Then, your cookie is ready to deliver it's special message. It took me about 20 minutes to make all 16 cookies.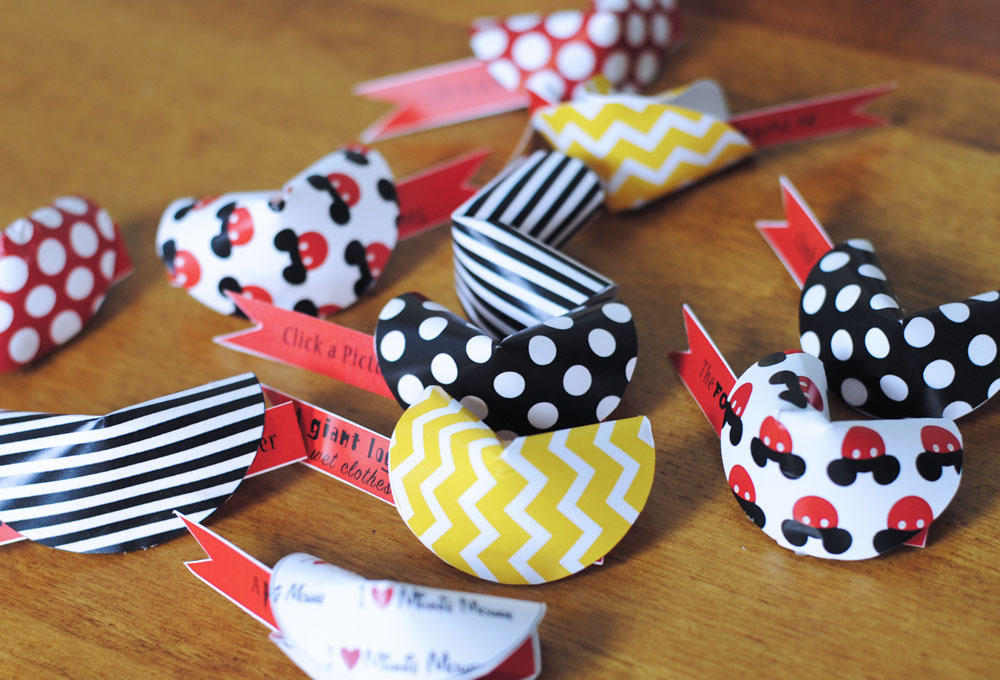 You could present the Disney Vacation Surprise Cookies to your family after a Chinese dinner. Or, give them to your kids "wrapped" in a takeout box. It might take a few minutes for them to figure out that all of the fortunes are leading them to a real place--Disneyland or Walt Disney World. Either way, they are going to feel fortunate indeed.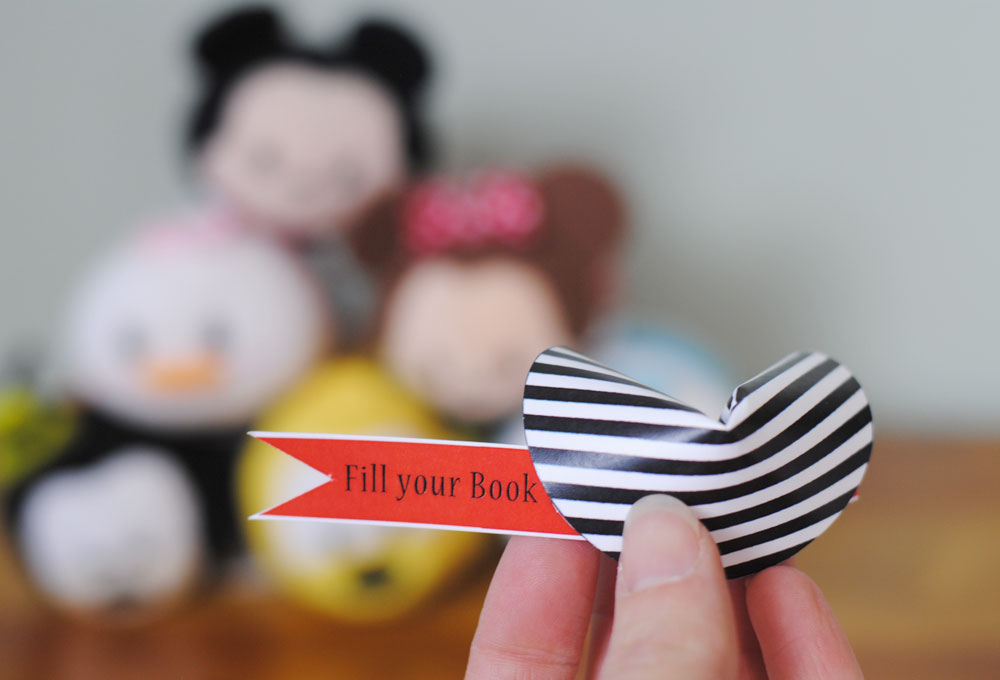 There's no better way to celebrate your fortune during the Lunar New Year than a trip to Disney! Make sure to book your vacation now while there is still availability. Book our
Disneyland packages
online or give our travel experts a call at 855-GET-AWAY. We can't wait to help you plan a spectacular Lunar New Year vacation!

Check out these other great articles: