We have your comprehensive guide to everything you need to know about the Disney World Dining Plan. One of the best things about Walt Disney World has to be the incredible food! And we know how to get the best bang for your buck.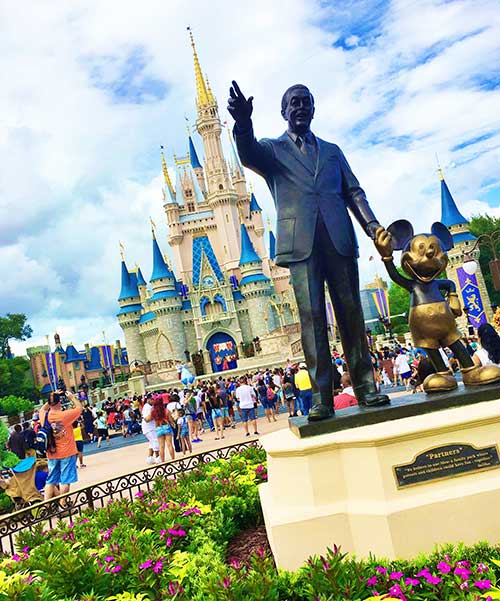 I know a lot of you might find this crazy, but I really love Disney World – even more than I love Disneyland. (What?!) I just love that there are four separate parks with a touch of everything and the benefits of staying on property seem like an even better deal to me! Today, I'm going to go over one of my favorite benefits staying on property at Disney World offers; the Disney World Dining Plan.
When you book a Disney World on-property hotel with tickets, you have the option to add on the Disney World Dining Plan. This essentially pre-pays for your meals at various restaurant locations both inside each park and Disney Springs (the Disney World version of Downtown Disney). There are three options for the Disney World Dining Plan: Quick Service Dining Plan, Regular Dining Plan, and Deluxe Dining Plan. Don't worry – I'm going to break each one down for you and go over the types of restaurants they include as well as the changes coming with 2017!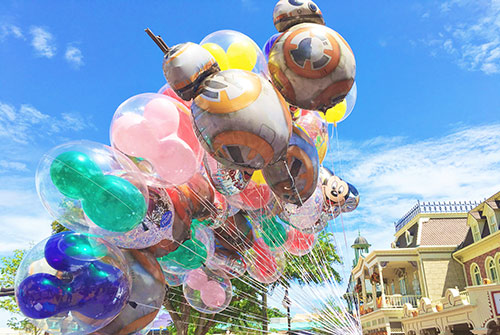 Currently, the Disney World Quick Service Dining Plan consists of two quick service meals and one snack per person per night of your stay. A quick service meal is defined as any meal where you order at a counter and then take the food to your own table – examples include Casey's Corner (amazing hot dogs!) in Magic Kingdom and the ABC Commissary in Disney's Hollywood Studios. Each meal includes an entrée, non-alcoholic drink and dessert. The snack includes anything that doesn't come in a souvenir container and is a single serving. Some of my favorites are the Dole Whips from Animal Kingdom and the turkey legs in Epcot. Coming in 2017, the quick service plan will evolve to include two quick service meals that include entrée and drink only, but two snacks instead of the one. I actually really like this because the dessert always seems too much after I've finished my meal – it makes more sense for me to be able to enjoy a churro or pretzel later on between meals!
The Disney World Regular Dining Plan is the next option. This plan currently includes one table service meal, one quick service meal and one snack per person per night of your stay. The table service meal includes any restaurant where you are seated and served by wait staff. The great thing is that all character dining also falls under this category. Crystal Palace Inn with Pooh and Friends and Chip and Dale's Garden Grill are two of my favorites. Just like the quick service meal, it includes an entrée, nonalcoholic drink and dessert. The quick service meal and snack are the same as above, plus the 2017 changes are similar. Next year, the table service will still include a dessert, but the quick service meal will lose its dessert and be replaced by a second snack. A bonus tip for this plan is that a lot of the table service restaurants will actually let you switch your dessert for an appetizer if you want!
The last option for dining is the Disney World Deluxe Dining Plan. This meal plan includes three meals and two snacks per person per night. How many of those are table service? You get to choose! The Disney World Deluxe Dining Plan lets you choose if you want to do a table service or quick service for each of your meals. Plus, with this plan any table service meal includes an appetizer as well as a dessert along with your entrée and drink. It is a great option if you know you are going to want to experience more character dining and more Disney cuisine! This is the only plan that will stay the same for 2017.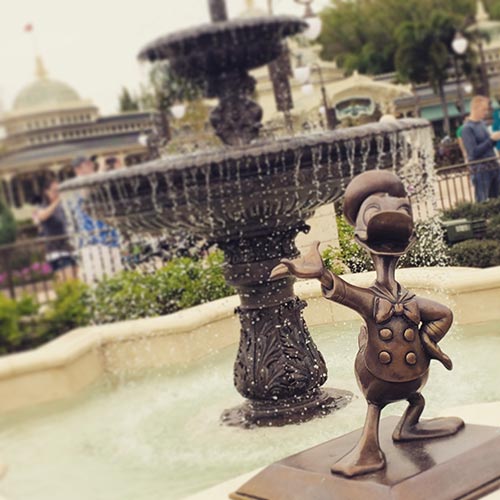 All of the Disney World Dining Plans, both in 2016 and 2017, include a mug for guests 3 years and older that can actually be refilled at any of the quick service locations within your Disney World hotel! It was great to be able to fill mine up on my way out to the parks and fill it up again on my way back to my room. Lots of families take advantage of this when they come back to their hotel for that mid-day nap (or swim!) as well as in the mornings and evenings. I can't tell you how many parents I would see juggling four or more mugs on their way back to the room each morning to help the kids start getting up! They are a no-brainer benefit when you consider that drinks usually cost $3 or more per person.
Now, let's talk about tips – I'm referring to gratuities, but I'll get to some tips on how to get the most out of the dining plan as well! Gratuities are not included for the dining plan meals, except for dinner shows and Cinderella's Royal Table. Quick service meals and snacks do not require tipping, but the table service meals do. Most of the receipts will show that your dining plan covered the cost of your meal and have a spot to add the tip. Your receipt will also include helpful calculations of what 15% and 20% would be. There are some restaurants that do not add that spot for the tip, but you can just write a tip in below your total.
The number one question I am asked about dining plans (besides what they are) is if they are worth it. I will be honest and tell you that it depends on the person. If you aren't planning on doing any character dining and want to have your family share meals, then probably not. If you are planning on character dining, I say absolutely! Not only does it pay for itself when you do the regular plan that includes a table service, but it has provided some of my favorite memories. My family always talks with the cast members and have gotten to know so much about where they come from and learn more about behind the scenes. Plus, it is one of the best way to get up close with some of your favorite characters. I still remember meeting Belle at a character dining when I was 16 and crying because I was so happy. She's my favorite Disney princess; don't laugh at me. If you're not sure about the plan, here's a breakdown based on 2016 prices. 2017 prices haven't been cemented, although they are averaged to be about $10 more.
2016 Disney World Dining Plan Prices:
Quick Service - $45 per adult per day, $20 per child per day
Regular - $65 per adult per day, $23 per child per day
Deluxe - $116 per adult per day, $36 per child per day
If you aren't convinced that you are going to spend that much per person, I've included some pictures so you can have an idea of how much a meal is and what you would spend on a character dining type meal if you didn't have the plan. The great thing is that the receipts all show the total of what you would have been charged, but then have that great little number of $0.00 for your total payment needed. Here are examples of quick service prices as well as a character dining meal price for two:
The Lunching Pad is at Magic Kingdom in Tomorrowland. A simple hot dog is $7.49 and then if you add a drink, you are looking at $10-$15 per person.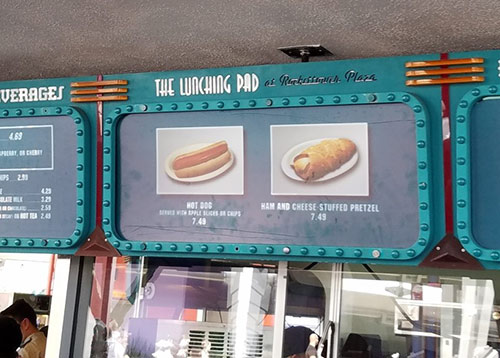 This is from Casey's Corner in Magic Kingdom on Main Street. These meals consist of a specialty hot dog and fries. If you did a foot-long barbecue slaw dog – my favorite item on the menu – and a drink, you are looking at roughly $15 - $20 per person. The great thing about the quick service credit is that it will cover any entrée, regular or foot-long, and any drink, even slushies!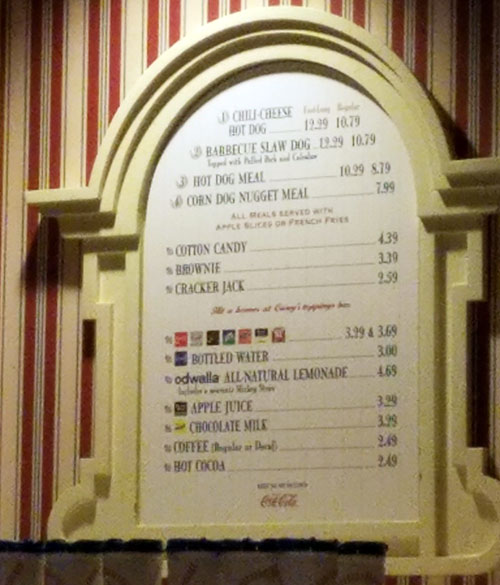 This is the receipt from when we dined at Be Our Guest restaurant – absolutely worth the hype – and our total. We did choose to purchase a few specialty goblets and wine at this restaurant. This is the only restaurant in Magic Kingdom that serves alcohol and has three specialty wines only available when dining there! Plus, it's themed after Beauty and the Beast so I HAD to buy a few souvenirs. Even taking those purchases off our receipt, we are still at about $110 total, or $55 per person.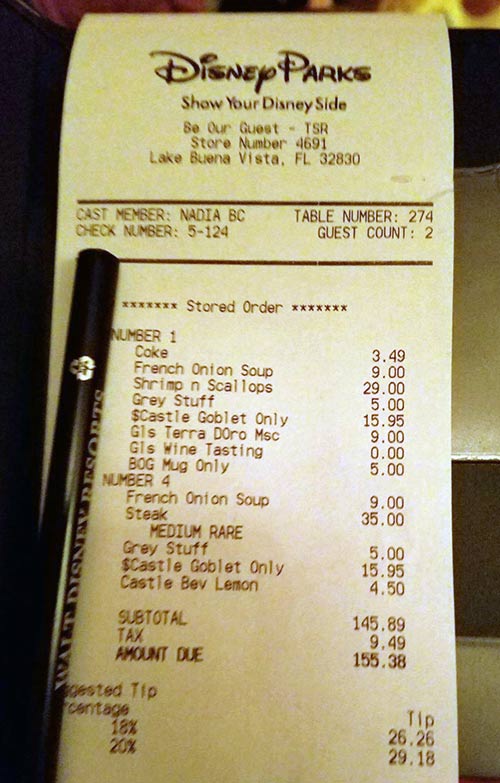 This is the Yak and Yeti restaurant in Animal Kingdom. Since our drinks were non-alcoholic they were covered under the plan, even though they are usually considered "specialty." Here, I chose to have a dessert while my husband chose to do an appetizer. This one broke down to what would have been about $38 per person, even when we didn't get the most expensive items on the menu.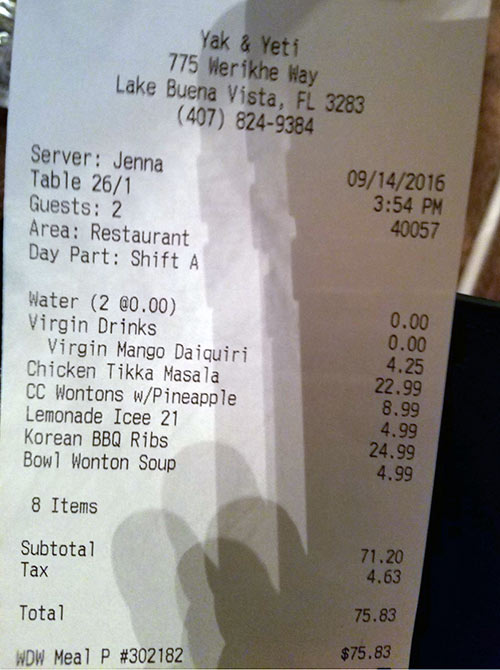 Based on those numbers, we spent anywhere from $60 - $90 per person per day (including snacks that ranged anywhere from $5 to $8) while on the Disney World Regular Dining Plan. Since that plan averages at about $65 per person per day, I felt that the savings and convenience made it incredibly worth it to us. As you can see, the deluxe might be a bit much for the average family, but I have guests who love the ability to choose whatever they would like three times a day. Personally, I didn't ever feel hungry on the plan with the two meals and snack. My husband, who is known to sometimes eat three times his weight in a day, didn't feel hungry on it either! Each meal has enough food (sometimes even a bit too much) to satisfy you for a few hours, and the snack just makes it the perfect amount! All in all, it is up to you about whether or not your family will benefit from a dining plan. I personally think the plans are a great idea because of the convenience and the savings you can take advantage of. Plus, you may be able to have it added to your package for free!
Free? Yep, you heard me right. Disney World holds a sale about once a year where they offer the dining plan for free. The free Disney World Dining Plan sale is usually for specific dates in September through November or January through February. The free dining is always Disney World's most popular offer of the year. A great benefit is that you can always book for close to those dates with a deposit now and then look at adding the offer once it is released. Just be aware that it is for specific dates and properties, so you might have to change your reservation around a little bit. With the offer, value properties receive the quick service dining plan for free and moderate and deluxe properties receive the regular dining plan for free. It is a great offer to watch for, although the dining plan is worth it even if your dates don't qualify for it. And of course, be sure to follow us on Facebook because we will let you know as soon as it hits!
Here are my top tips for you to consider when using any of the Disney World Dining Plans:
1. Know that you aren't required to use the credits any certain way. The total amount of quick service meals, table service meals, and snacks will simply be added to your account for you to use as you wish. That means that if you want to use two table services one day and two quick services the next, you can! Technically, you can even use all your meals within the first few days. That doesn't really save you anything, but guests like knowing they have the flexibility.
2. Be aware that some table service restaurants require two credits per meal. Restaurants that are considered a signature restaurant include both an appetizer and dessert, but use two table service credits instead of one. Examples include Jiko, The Cooking Place in the Animal Kingdom Lodge's Jambo House and The Hollywood Brown Derby in Disney's Hollywood Studios. The only character dining that requires two credits is Cinderella's Royal Table in Magic Kingdom. This one does not include both an appetizer and dessert – just one or the other – but it does include gratuities with those two credits. Dinner shows also require two credits, but include gratuities. Dinner shows are subject to availability and certain showings, so make sure to reserve these ones as soon as you can! In-room dining is the last option that takes up two credits, but includes gratuities. Only certain resorts offer in-room dining while others offer pizza delivery, so make sure to check availability at your resort.
3. Get the most bang for your buck! The dining plans are not worth it if you are going to eat the lightest meals and least expensive snacks. Shocked that a caramel apple costs you $8? That's okay, you have the dining plan and don't have to worry about that charge! I'm not saying to only choose the most expensive items on the menu, but price is something to take into consideration when you really want to get the most savings out of your Disney World Dining Plan.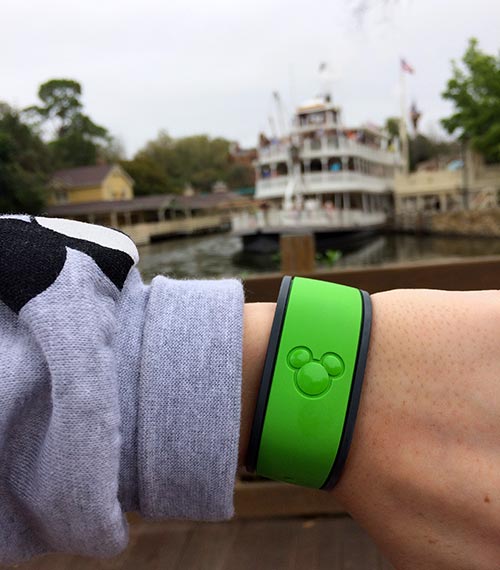 4. Plan! Disney World requires more planning than Disneyland. Dining reservations open 180 days in advance and fill up fast. Make sure to call the dining line to make reservations as well – they often have more reservation times open compared to what you see online. When I was planning for my last trip, I was so heartbroken because Be Our Guest wasn't showing available. I gave the reservation line a call and they found an open spot for my family. It was so great! Be Our Guest, Jungle Navigation Co., Litd. Skipper Canteen, Tusker House, Biergarten Restaurant, Sci-Fi Dine-In Theater Restaurant, and The Diamond Horseshoe are some of the restaurants known to fill up as soon as they open. So, if you are considering any of these or any others, make sure to start planning your reservations as soon as you can!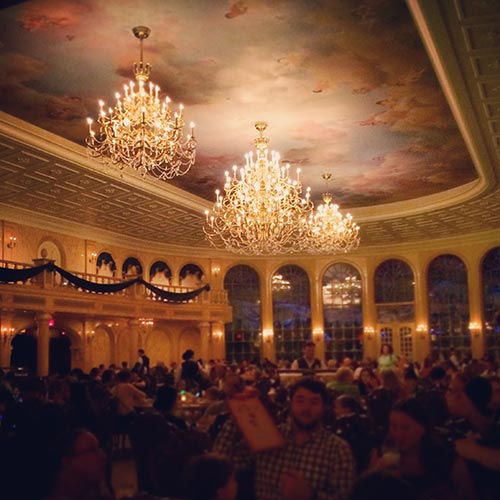 5. Ask questions! This may sound a little strange, but my family always makes it a point to talk with our waiter as much as possible during the table service meals. Why? Well, Disney World employs cast members from all around the world. On our last trip alone, we talked to cast members from Germany, Spain, Haiti, Mexico, Sweden, and Russia! We've found that we always get a great story from them about their homeland and some insights into the behind-the-scenes of Disney World. Plus, the more you talk, the more the cast members are going to interact and throw in a bit more Disney magic. One of our waiters overheard my husband and me talking about how close to our anniversary we were and brought out the cutest Mickey shaped cupcake with candles for us to celebrate. Things like that are why I love Disney World so much!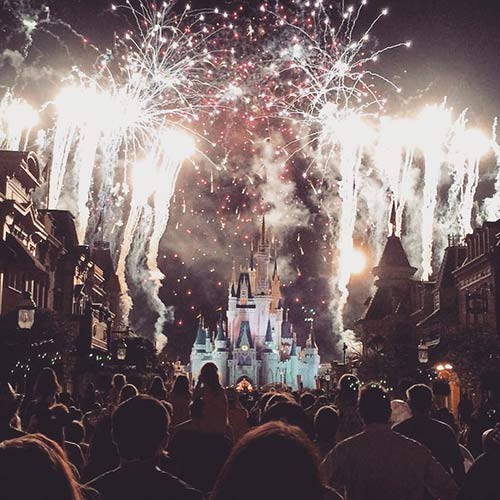 The Disney World Dining Plan options are something every family should consider when planning their Disney World vacation. I love Disney World, good food, and when things are easy. The Disney World Dining Plans combine all of these loves and make my Disney World trips even better. Give us a call at 855-GET-AWAY so we can plan your next Disney World vacation and help you choose the best dining option for your family. Plus, you can book your Disney World vacation for only $200 down and make payments up to 45 days before travel.