Today's blog focuses on two things in regards to your family's Disneyland vacation: saving money and having well behaved kids. That sounds pretty good, right? We all know that when your kids see the Mickey Mouse ears, giant lollypops and princess dresses you're going to be asked (again and again) "Can I have that?" Souvenirs are always more expensive inside the theme parks and can add up really quickly. Plus, a long day in the sun, no matter how much fun it is, is bound to have some potential behavioral issues arise. I have figured out a creative way to combat both of these potential vacation problems.

First, I buy all of my souvenirs before we even go on vacation. By picking up little Disney themed toys and treats at the dollar store, I save a ton of money and the kids still get fun surprises.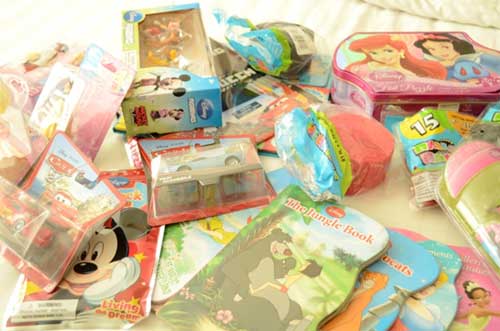 So, here is where the behavior part comes in. We used the same idea as Santa Claus, but instead of Santa leaving gifts, we tell the kids that Mickey, the Princesses, and/or your child's favorite Disney Character will leave them a surprise if they're good at the Parks.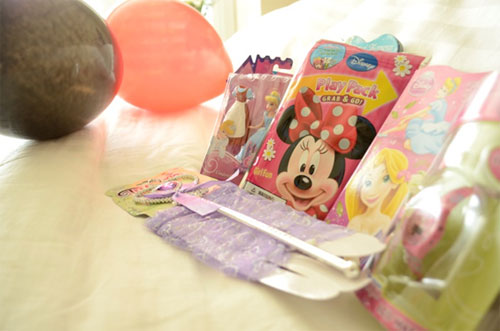 Above is a sample of what would be perfect for your little princess.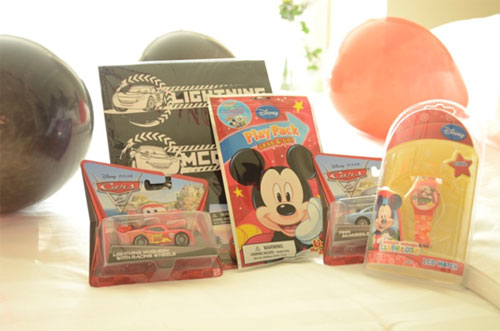 This one would be perfect for a boy -especially for the day you visit Cars Land!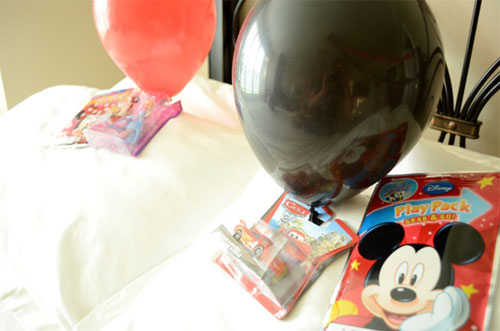 If you want to do something each day, you can just do one or two small things. We just set the gifts on the bed and brought a small bag of balloons and some crepe paper to make it look a little more exciting.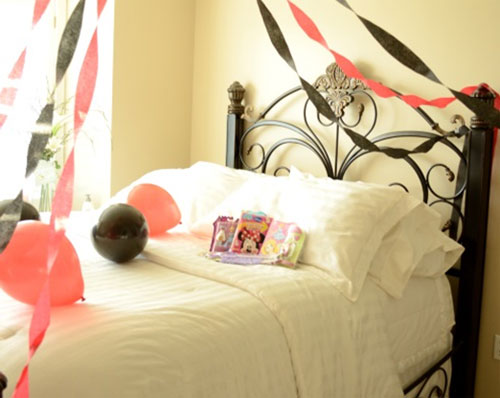 You can even decorate the room inexpensively to make it look like a party! Just make sure one parent gets the kids out of the room in the morning and the other parent can stay behind for a minute or two to get everything set up. You'll want to do as much beforehand as possible so you don't spend too much time getting everything ready as you're leaving the room. If you do this, you will want to leave a note for housekeeping with your plans so they don't disturb anything. Another option is to have one parent run up to the room when you get back from the Parks while the other parent distracts the kids for just a few minutes. Your kids will be so surprised and will love it!

Of course the best way to save money on your Disneyland trip is by booking with Get Away Today in the first place. Our hotel rates are discounted and we've negotiated lots of extras like free nights, free breakfast, free parking and other freebies. Our tickets are also discounted and come with a $10 ESPN Zone Game Card that you can use in Downtown Disney. Book your Disneyland vacation with Get Away Today and see how much your family will save!





Check out these other great blog articles and ideas:

Disney Movie Night: Cars
Disneyland Vacation: Let the Countdown Begin
Disneyland Vacation Memory Box
How to Make Disney Princess Crowns