How do I surprise my family with a trip to Disneyland? With Mickey donuts! Use this free printable and tutorial to turn a yummy donut into a Disney vacation announcement. It is a "hole" lot of fun.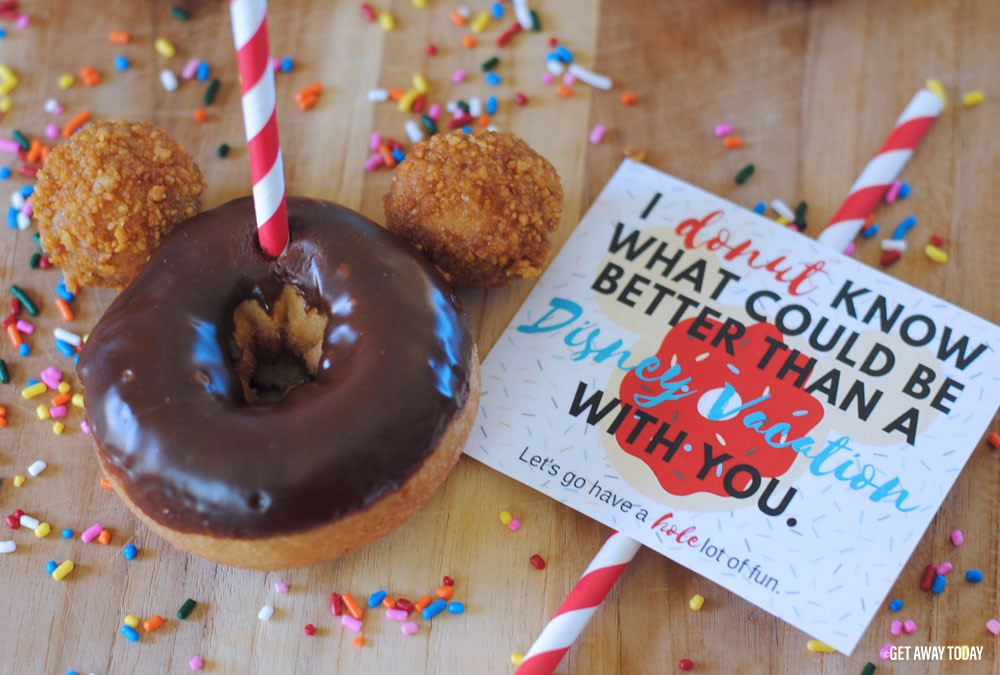 Are you planning a Disney vacation? There are so many fun elements to a magical family trip to the Disney Parks. Deciding where to say and how many days to play is always an adventure. Are you going to make matching shirts or coordinate your Minnie Ears? What are you going to pack and how are you planning to entertain kids in the car or on your flight? What desserts or special treats are you going to sample while you are at Disneyland? That is one of the biggest decisions! Am I right?
Our Packed with Fun blog helps with ALL of those questions and makes the whole process magical and exciting! Today's post will help you surprise your family with a trip to Disneyland or Walt Disney World. It starts the whole vacation adventure off in a special Disney way. This Disney vacation announcement is extremely inexpensive and only takes a few minutes to put together. Plus, who doesn't like donuts? They are such a yummy dessert.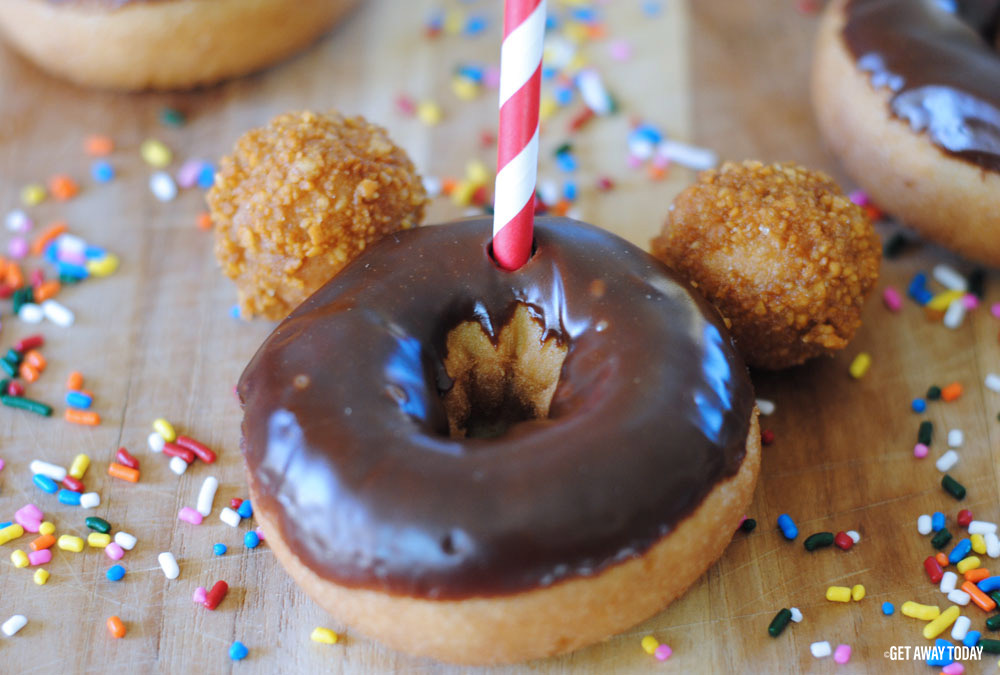 Mickey Donut Disney Vacation Announcement
You will need:
Donuts
Donut Holes (2 per donut)
Tooth Picks
Scissors
Start by printing the free donut Disney vacation announcement. The template has two size options on it, so you can decide what size works best for your family. I like the small size for attaching the note to each individual Mickey Donut. The larger size is perfect for one announcement on a plate of Mickey Donuts. You can totally play around with them to make it fit your crew. It says, "I DONUT Know What Could Be Better Than a Disney Vacation with You! Let's go have a HOLE lot of fun!"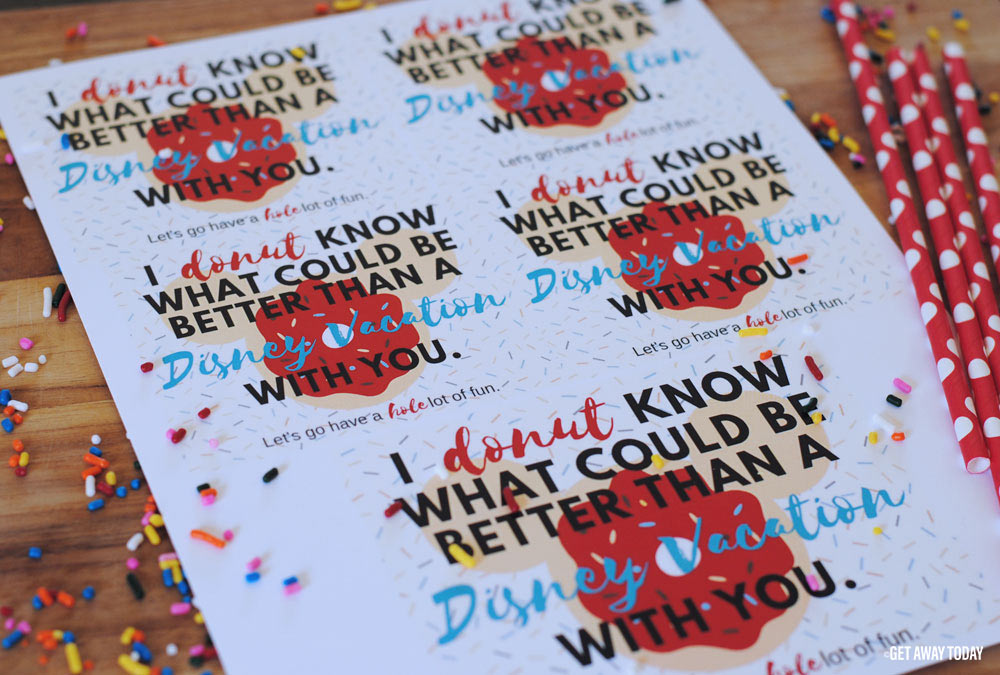 Cut out the note you want to use and then you can personalize the back with details about your trip if you want. Or, you could just tell them when you plan to hit the road or take to the sky!
Next, prepare your donuts. We have a bakery by our house that makes the best donuts. My kids ask for them on every special occasion. They seem to find lots of special occasions! Buy a donut for each person that is traveling to Disneyland or Walt Disney World with you.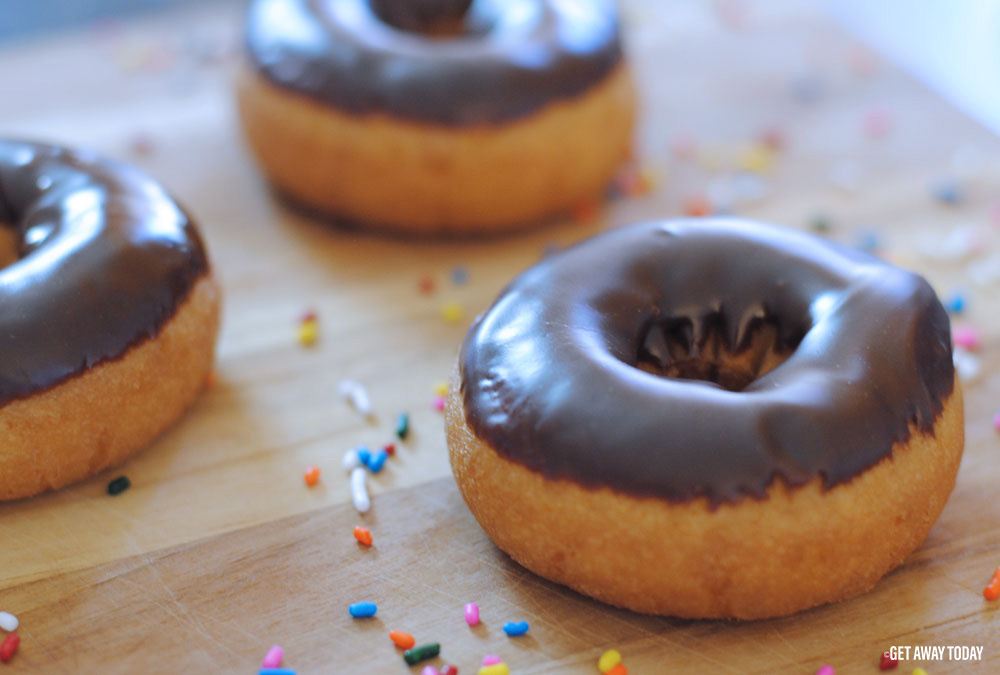 You also need donut holes. Most places that sell donuts also sell the holes. You will need two donut holes for every Mickey Donut you plan to create. I would also plan for some extras. A few may break, and a few may end up in your tummy! I know that tends to happen in my kitchen.
Slide a donut hole on a toothpick and then poke the other end of the toothpick into the donut. It goes to the area that 11:00 o'clock would be on a clock.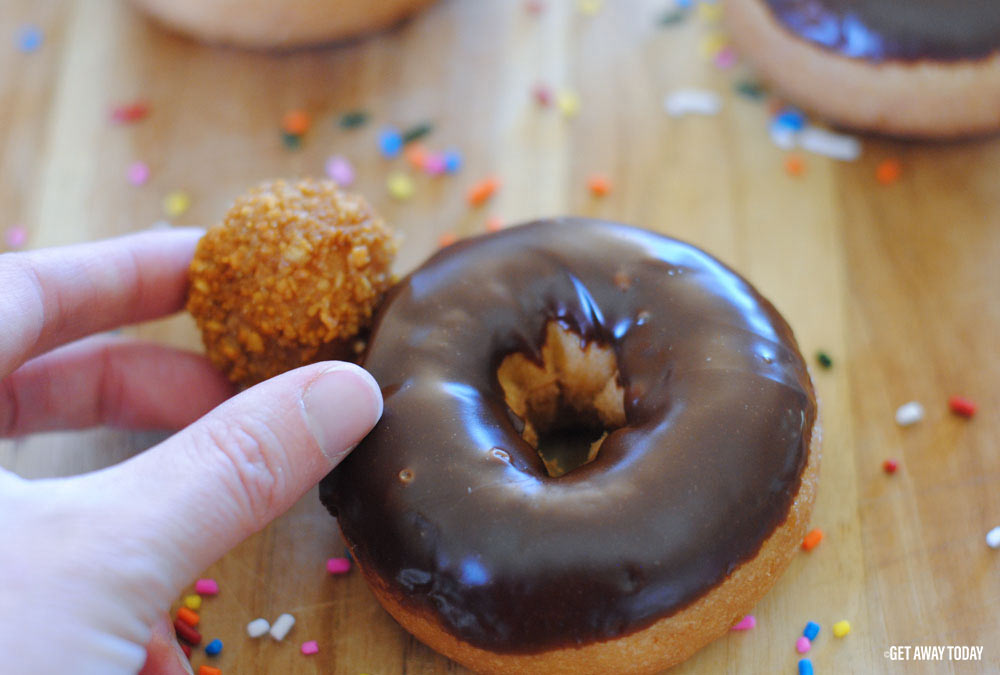 Repeat the process with the second donut hole (A.K.A. Mickey Mouse Ear). Stick it onto the toothpick and then place it just opposite the other donut hole at about 1:00 o'clock.
Just like that your donut has ears and it can say cheers!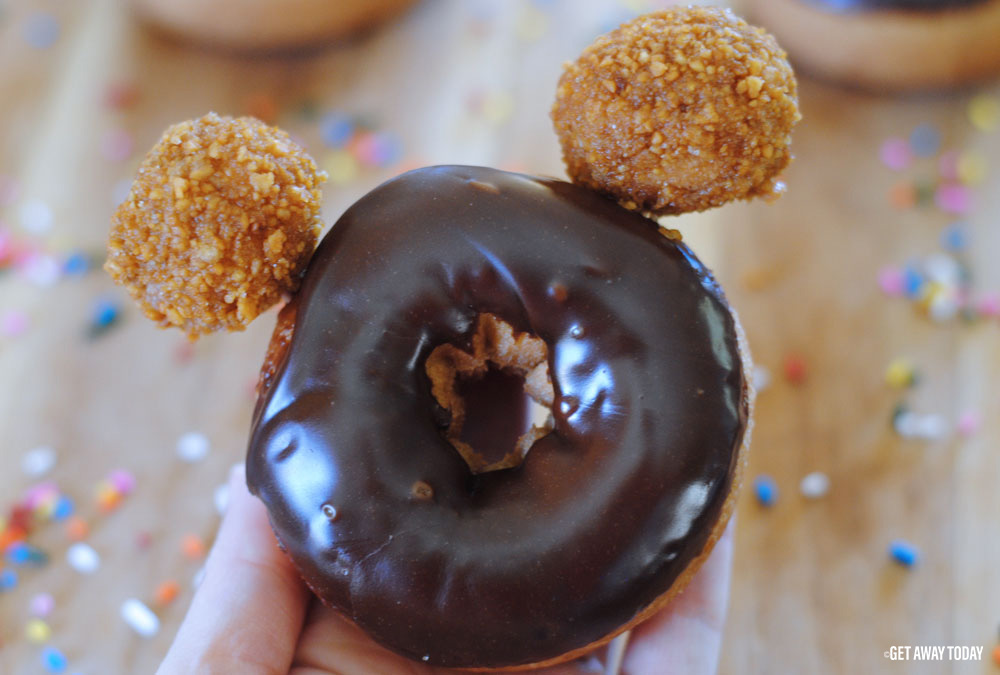 I think just setting the donut on a little plate with the note beside it is the easiest presentation. It literally takes less than five minutes.
If you want to get a bit fancier, you can tape the note onto a paper straw.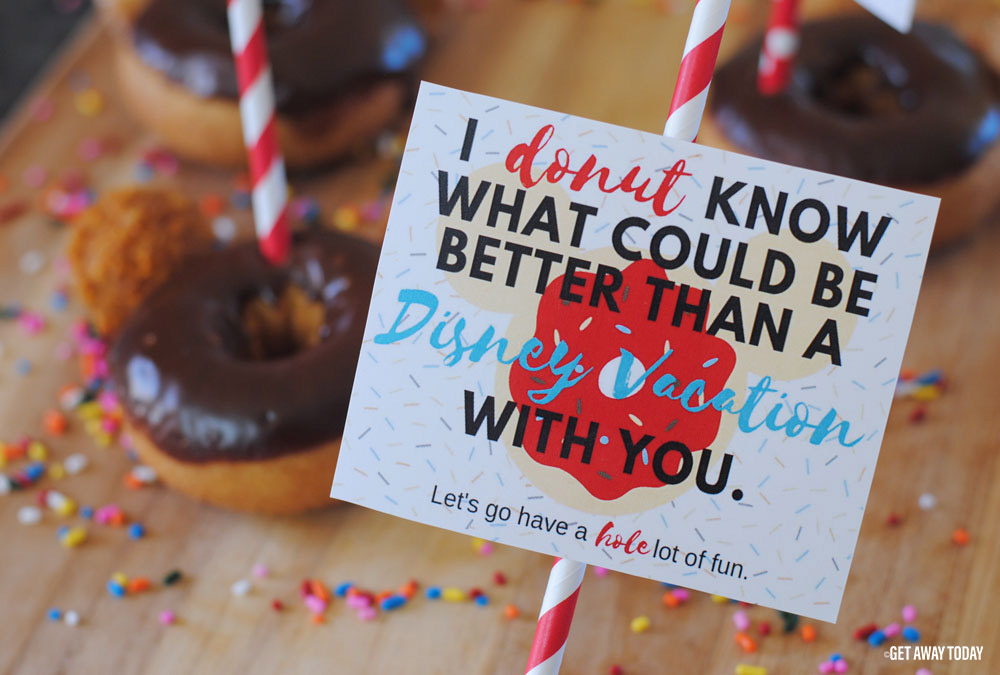 Poke the stick into the donut and you have a nice Disney vacation announcement!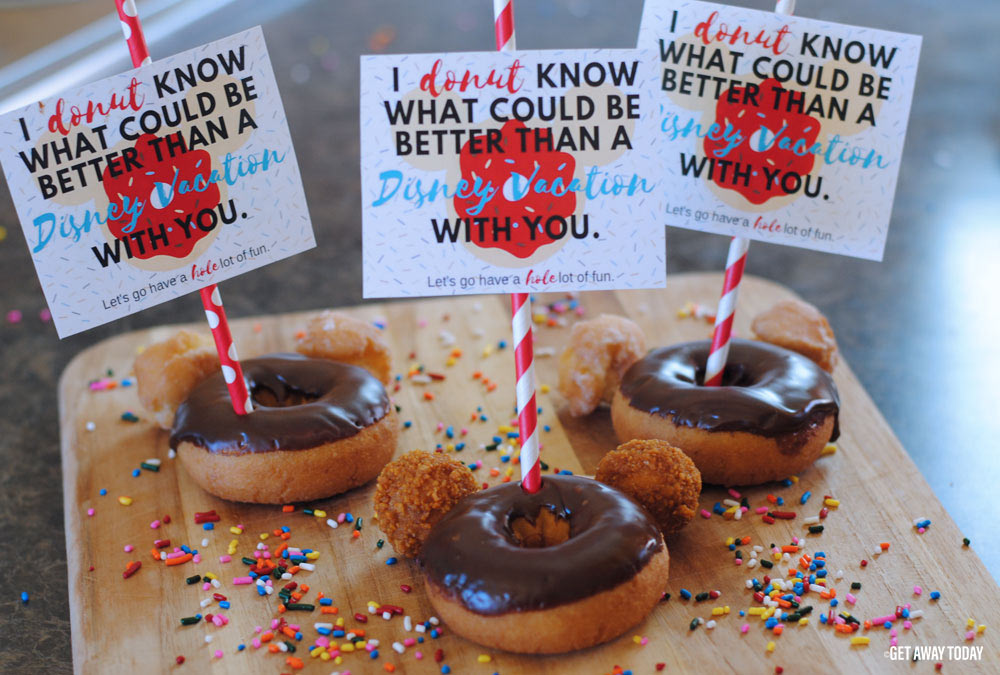 No matter what you decide, the message of your Disney vacation announcement is the very best part! It is also true. Can you think of anyone you would rather take to the Happiest Place on Earth than your family? Some of my best family memories are the adventures we have shared together at Disneyland. They are moments I will never forget. I hope your Disney vacation is full of happiness, love, and excitement.
If you need help getting your Disney trip planned, check out the other articles on our blog or call our agents. We can plan with you, so you feel confident your vacation is going to be your best one yet! Book any of our Disney packages online or give our travel experts a call at 855-GET-AWAY.Then start planning your own Disney vacation announcement!