You know how the old saying goes, "The grass is always greener when it grows on top of a Chocolate Covered Mickey Mouse Rice Krispy Treat!" Or, something like that. Winter is saying its frosty goodbyes and Easter is drawing near. Tasty seasonal desserts are springing up in bakeries and sweet shoppes all across the Disney Parks. It is always a treat to see what cute Mickey themed goodies will be for sale. Luckily, you don't have to wait until you are at Disneyland to sample one of the most popular selections. Whip up a batch of the famous Mickey Easter Grass Rice Krispy Treats at home. Your taste buds will wish they were always in season. And now that you have the recipe, they can be!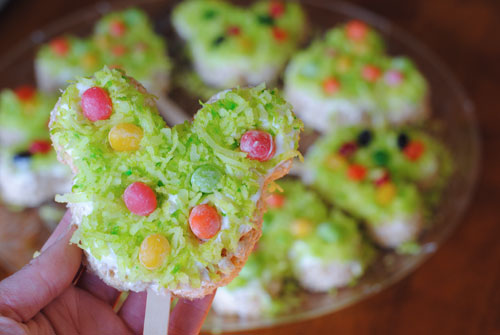 I tried to make my recipe fit as closely to what you would experience if you bought your treat at Marceline's in Downtown Disney or on Main Street U.S.A..
Here is what you will need:
1 Stick of Butter
(This is more butter than the "actual recipe" calls for, but really, more butter is always better.)
To start, make a batch of Rice Krispy Treats. You can use your standard recipe from the box. I melt a stick of butter in a large bowl in the microwave. Then, add a whole pack of marshmallows. Melt them in two or three 45 second intervals and stir well between each one. You don't want to over-melt the mallows. They work best when they are still keeping their form ever so slightly. Then, pour in the cereal. Mix it around until the marshmallow coating is spread evenly over the rice krispies.
Plop the treats onto a cookie sheet that has been lined with wax paper.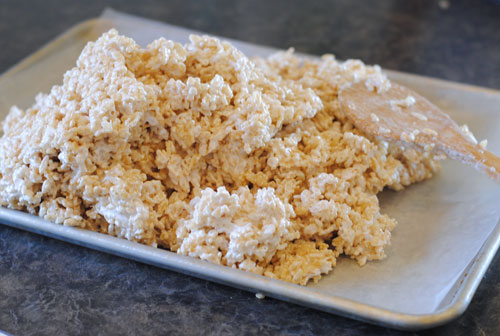 Then, press it firmly until the treats are flat and tight. You might want to put a little bit of butter on your finger tips to keep the marshmallows from sticking to your hands like crazy. Although, it is kind of fun to lick all the sticky stuff off of your fingers, so I'll leave that decision up to you!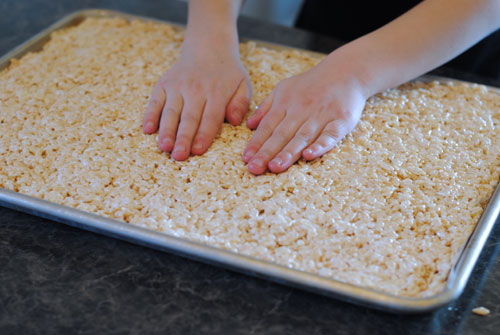 Place the entire cookie sheet into the refrigerator for 15 minutes to let them set. While you wait, place a cup of shredded coconut into a bowl. Add about 10 to 15 drops of green food coloring to the bowl and mix it around. Keep mixing until all of the coconut is green and grass-like. I only had fluorescent food coloring, so my grass is kind of a yellow green. I think it adds a nice spring touch.
Next, get your jelly beans ready. Taste test a few to make sure they are acceptable for the project. We take quality control very seriously around these parts.
Then, you'll cut the Rice Krispy Treats into the Mickey shape with a Mickey Mouse Cookie Cutter. I got mine in Disneyland a few years ago and have used it more times than I can count! You can also order them online. Place the cut shapes onto a new cookie sheet with wax paper lining.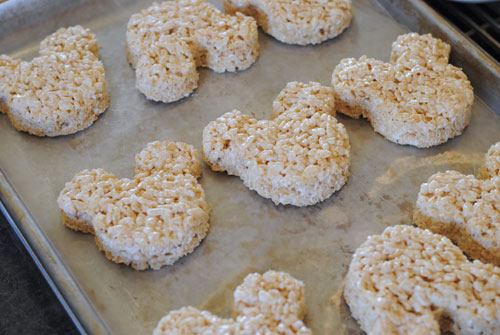 Insert a popsicle stick into each one of the Mickeys. Then, place the Mickeys back in the fridge for about 10 minutes to set.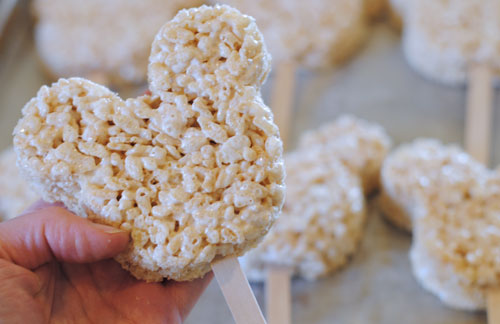 While the Mickeys are setting up in the fridge, melt the dipping chocolate in the microwave. Set the time for 30 seconds at a time. Stir. Then repeat until the chocolate is melted. Do not over melt chocolate or it makes it lumpy and yucky.
Once it's nice and smooth, spread the chocolate over the top of the Mickey.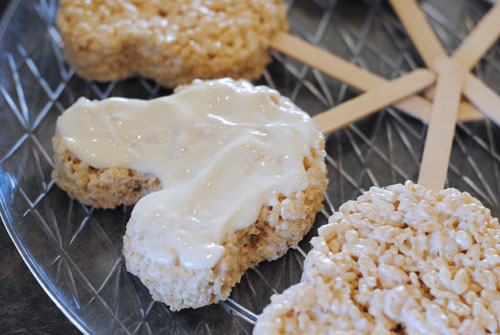 Sprinkle the chocolate with the coconut grass before the chocolate sets. My kids thought this was lettuce and it totally freaked them out for a second. HaHa. It made me laugh!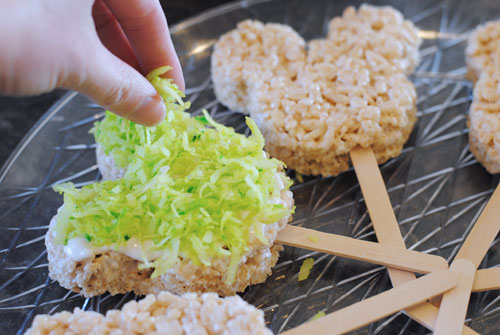 Add a scattering of Easter Eggs to the nice green lawn. Repeat the process until all of your treats are complete!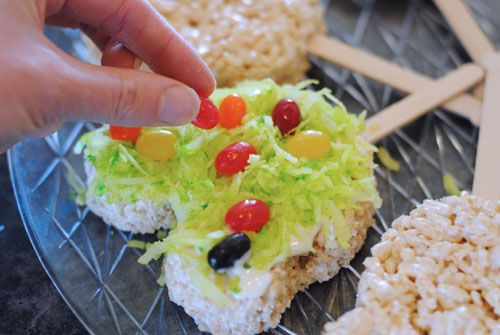 I had no idea how good these were actually going to be. The combination of the Rice Krispy Treat with white chocolate and coconut was seriously genius. Those Disney folks really know how to whip up some culinary magic. I hope this recipe adds a little bit of fun to your Easter holiday! I predict it will become an annual tradition around our house.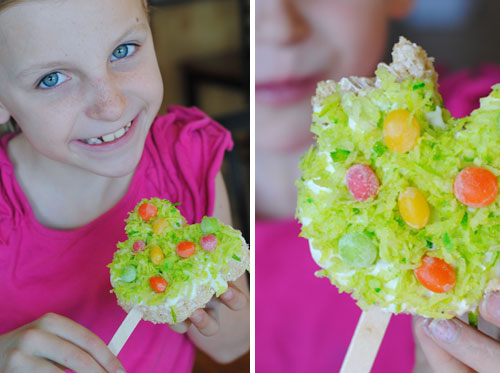 If you'd like to try the real thing at Disneyland this year, there's still time! Book any of our Disneyland vacation packages online, or call our Disney Experts at 855-GET-AWAY!

Check out these other great articles: