"Thank you Get Away Today for making our trip an affordable and memorable one! It was my fiance's first visit and everything went smoothly for us including the park tickets and hotel stay. We stayed at the Fairfield Inn by Marriott which was great! It was within walking distance to the parks and the beds gave us a really great sleep for each of the six nights we stayed there. The distance to the parks couldn't have been more perfect because although we were just as excited as the little kids were at the parks, we definitely needed a mid-day break every day to stay energized. My fiance proposed to me in Downtown Disney and we spent the next days having the best engagement trip possible! Get Away Today even left us a sweet voicemail at our hotel asking how things were going during our visit. All in all, it was a great trip!! Thanks again!
-Vanessa D."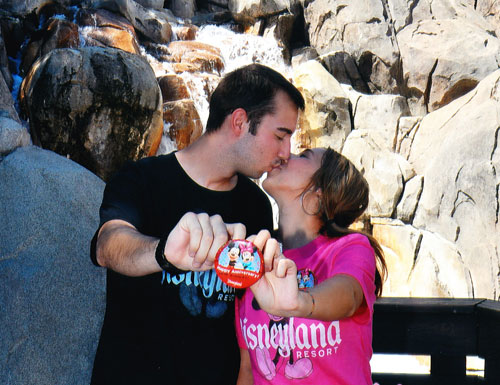 "I wanted to send this email to give a major thank you to Christy! She has helped my family plan vacations for several years and we always think of asking her first when we decide to go on a vacation. Christy definitely gives us the "Disney magic" that everyone talks about. She helped us plan many family vacations including a graduation trip. She gave us tips to see the California Adventure's World of Color Show when it first started. We always have such a great time exploring the sights of Disney.
Christy and Get Away Today have been so important to our vacation planning. She recently helped me plan a trip to Disneyworld in Orlando. My boyfriend was planning something special for the two of us and Christy coordinated with him and my mom for the vacation plans. It's great to get a terrific deal so that we can fully enjoy the experience that Disney has to offer. She called, emailed, and even sent us a card to wish us happy travels and to make sure that everything was set for the trip. This was an amazing trip especially since we got engaged at the happiest place in the world. It was one of the most magical moments of my life, thus far! He proposed to me at Cinderella's Castle during dinner at the Royal Table Restaurant. It was perfection with a beautiful glass slipper, rose petals, princesses, and of course, words of love from my fiancé. To top off the evening, we enjoyed the Wishes fireworks from the best seat in the restaurant. Christy was so kind and even called us after hearing the news from my mom, to personally congratulate us on our engagement. The rest of the trip was just as amazing as we explored the Disney parks, including taking lots of magic shots with the Disney Photopass Service. Now I know that dreams really do come true, especially with the outstanding and caring service from Christy and Get Away Today!
Thank you!
Michelle Y."
We loved being a part of these love stories and the beginning of their "Happily Ever Afters!" Let us help you plan your next vacation with the ones you love. Book online or call our agents at 855-GET-AWAY.

Read these other "love"-ly articles:
5 Romantic Things to do at Disneyland
10 Romantic Beach Resorts
10 Reasons to Stay at Disney's Grand Californian Hotel & Spa