How do we celebrate special events? Special days like the Fourth of July? New Year's Day? Or even special events like homecoming in high school or university? Special days are typically celebrated with fanfare, great food, parades and fireworks! That is what is so special about Disneyland; the Resort does its best to ensure that every day at the Happiest Place on Earth is a special day. If you can, consider celebrating special events at Disneyland using our guide to amazing fun!
?
Special Events at Disneyland - A Guide To Amazing Fun!
In addition to celebrating many days with parades, fireworks, and fun, there are special events at Disneyland that are not necessarily advertised but shouldn't be missed! They are inside secrets and fun to plan. Join us today as we share special events at Disneyland - a guide to amazing fun.
Special Events at Disneyland - A Guide to Amazing Fun for Birthdays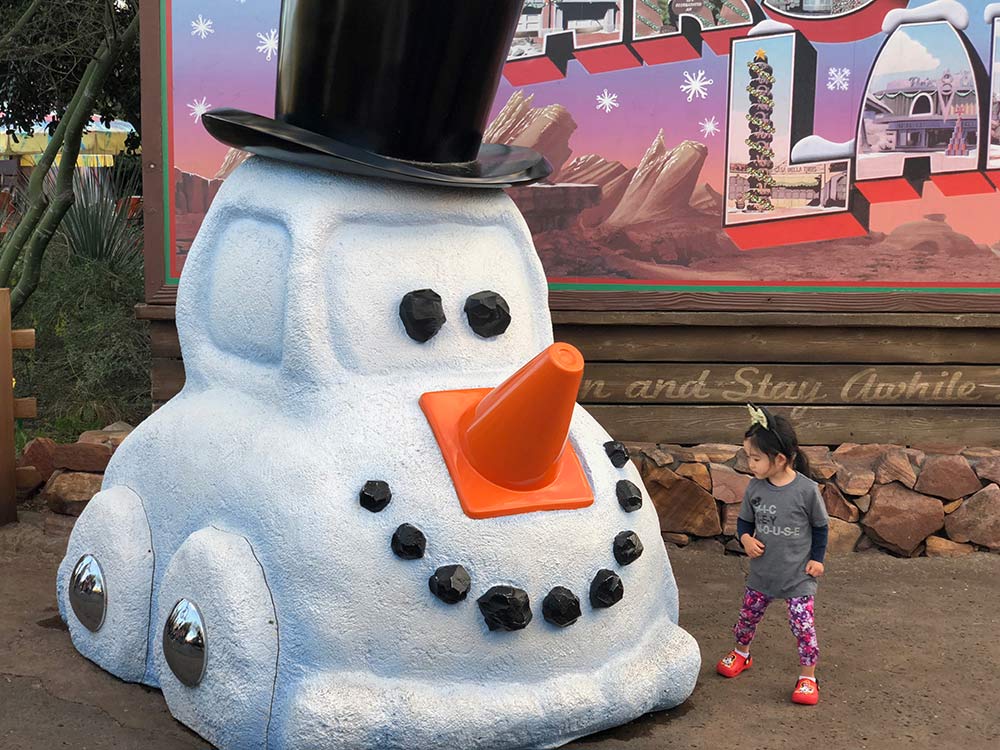 ?
Disneyland celebrates birthday in style! If it's your birthday, stop by any ticket booth or at City Hall for a special button. Cast members will wish you a Happy Birthday throughout the day! In addition, if you will be at the park on July 17, Disneyland Resort celebrates its very own birthday. Also, catch a special celebration for Mickey Mouse's birthday on November 18th, usually with special pins and a unique celebration! Even if it's not your birthday, you can celebrate a Very Merry Unbirthday with your friends in Alice in Wonderland.
Special Events at Disneyland - A Guide to Amazing Fun for Holidays
As you may know, each holiday at Disneyland Resort is celebrated with Disney flare. Unique food offerings, parades, fireworks and special pop-ups are just a few ways Disney celebrates special events in style. Keep reading for more insider info.
?
Halloween Time at Disneyland is such fun time! Complete with themed decorations and the ability to dress up, Halloween Time is one of the most popular seasons at Disneyland. This year, check out the all-new Oogie Boogie Bash - A Disney Halloween Party hosted at California Adventure. There are many special overlays throughout the park during Halloween Time, including the following:
Space Mountain transforms to Ghost Galaxy
Guardians of the Galaxy - Mission: BREAKOUT! transforms to Monsters After Dark.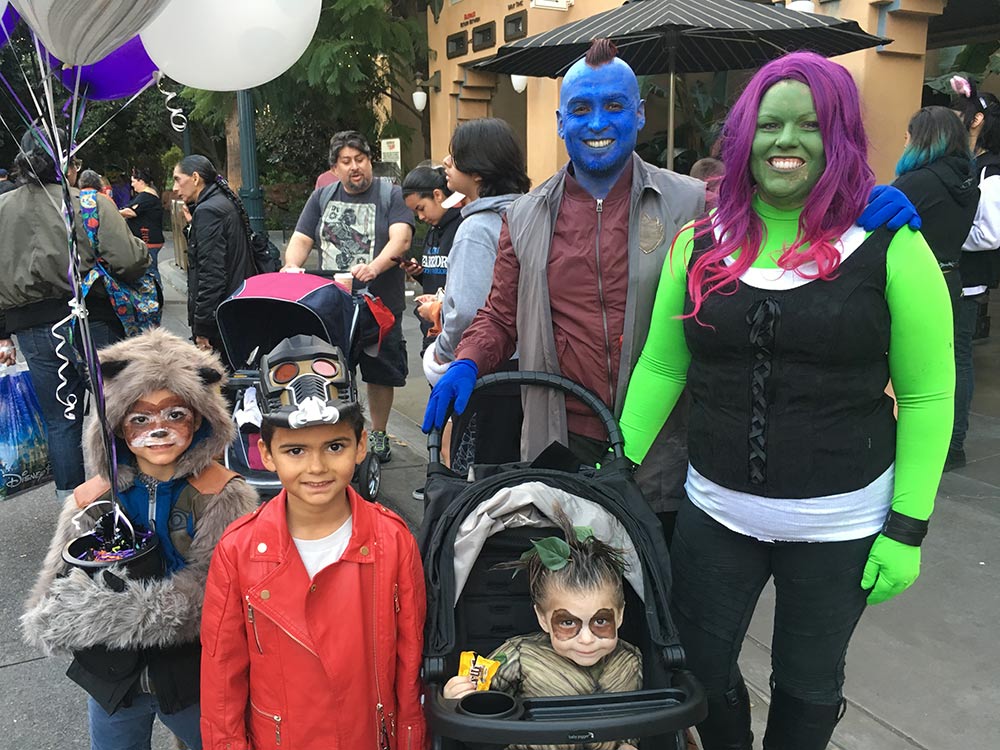 ?
The Festival of the Holidays is a culinary experience at Disney California Adventure Park that celebrates all different kinds of cultures during the holiday season. Stop by the all the kiosks and get a taste of the amazing food and culture from other parts of the world! With a wide variety of options you will be sure to find a treat that you and your family love. One way to enjoy the event is to purchase a Sip and Savor Pass; it allows guests to pre-purchase eight menu selections. To redeem, pick a menu item and the vendor will remove one of the tabs on the Sip and Savor Pass.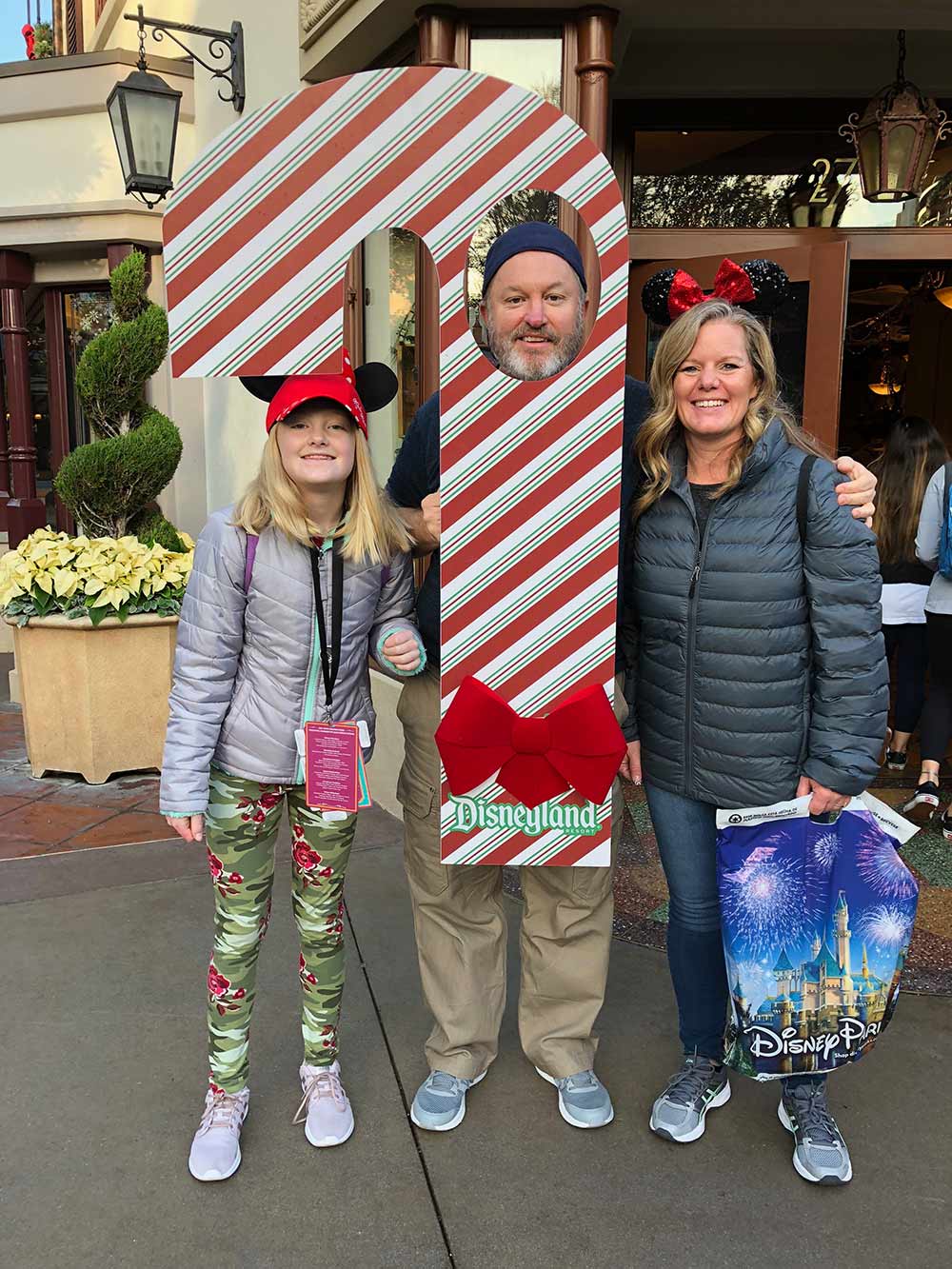 ?
Candy Cane Days at Disneyland Resort is hosted in late November and early December. The art of hand making candy seems to be leaving our culture, but Disneyland is dedicated preserving some of America's traditions. Candy makers in Disneyland and California Adventure hand make candy canes the old fashion way! They use coloring, sugar, and a little bit of magic to make perfect twists. Each year, Disneyland announces Candy Cane days and the Disney faithful show up to take advantage of the special treat.
Insider secrets:
In order to plan a successful candy cane run at Disneyland we have prepared a fun list of list things to think about in order to jump in on the fun.
Disneyland posts candy cane dates each year on its website. The dates alternate back and forth between Disneyland Park and Disney California Adventure Park. Candy chefs create the canes at the Candy Palace in Disneyland and Trolley Treats in California Adventure.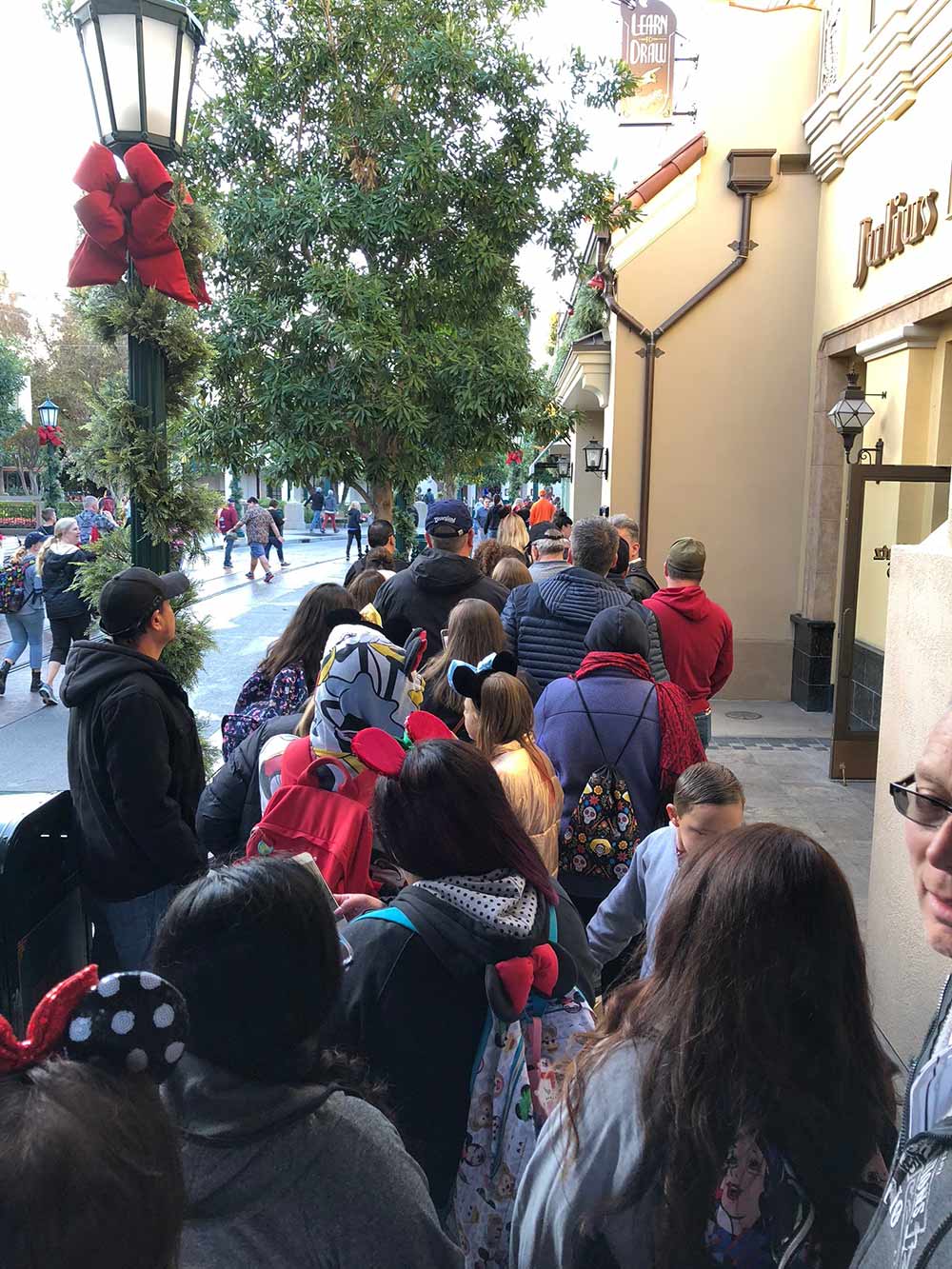 ?
Pick your day and arrive early. In order to limit lines, Disneyland cast members give out wrist bands with a time to purchase your candy cane. This limits the wait time and creates a better experience for everyone.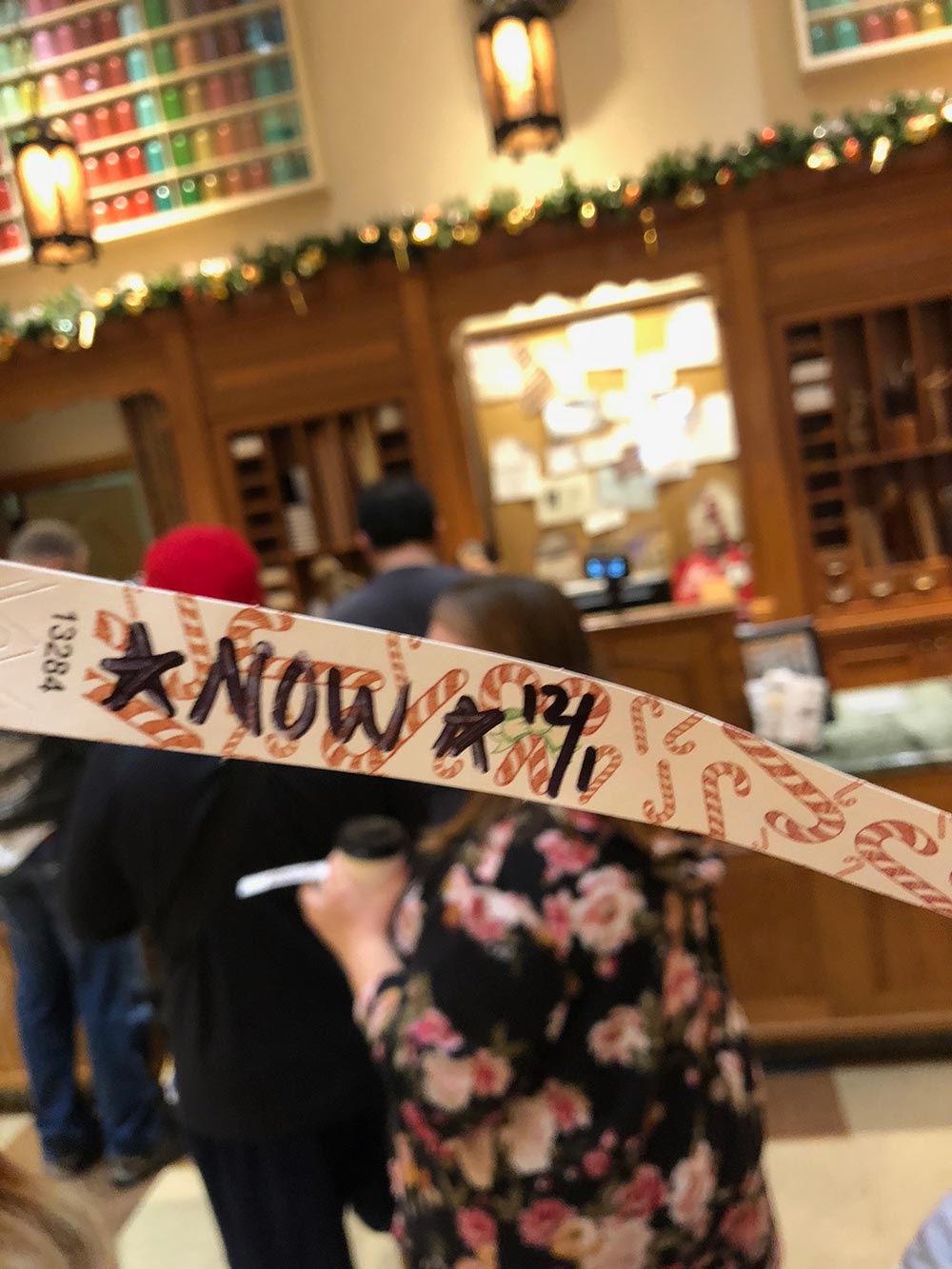 ?
Insider secret: Candy cane purchases are limited, but you can pick one up for a friend or two. Once you purchase your candy cane, it comes down to an age-old dilemma, eat it or save it for later? The taste is light, flavorful, different, and wonderful
Make sure that you watch the magic happen. No doubt, Disney could make the candy off-site, but being able to watch the candy makers make the sweet treat is amazing. They take large blocks of candy, layer them together and hand roll them under a candy warmer. Once the twists, the curls and the thickness is just perfect, they cut the candy cane to length with scissors. They take the piece of candy that is still "moldable" and put it in a mold to bend the top. The candy canes then need to cool and harden.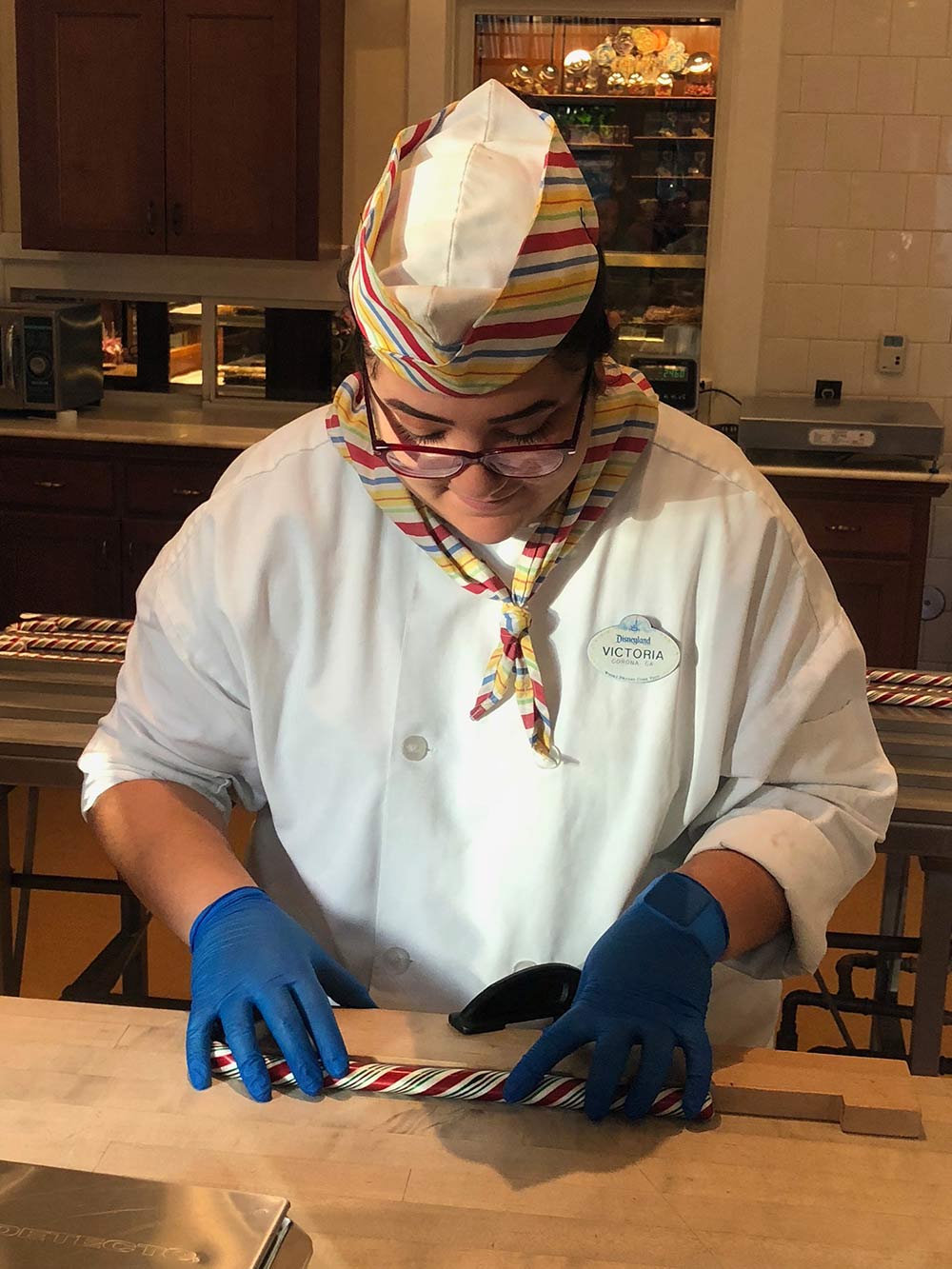 ?
Insider Secret: Even when they are not making candy canes, the amazing candy chefs at Disneyland are making candy and old-school treats. It is fun to grab a few minutes of nostalgia by putting your nose up to the window and watching one of the lost arts of hand making candy, dipping candy apples, or rolling your favorite treats in chocolate. Check out the magic at the mentioned candy locations in the park or at the Marceline Confectionary in Downtown Disney!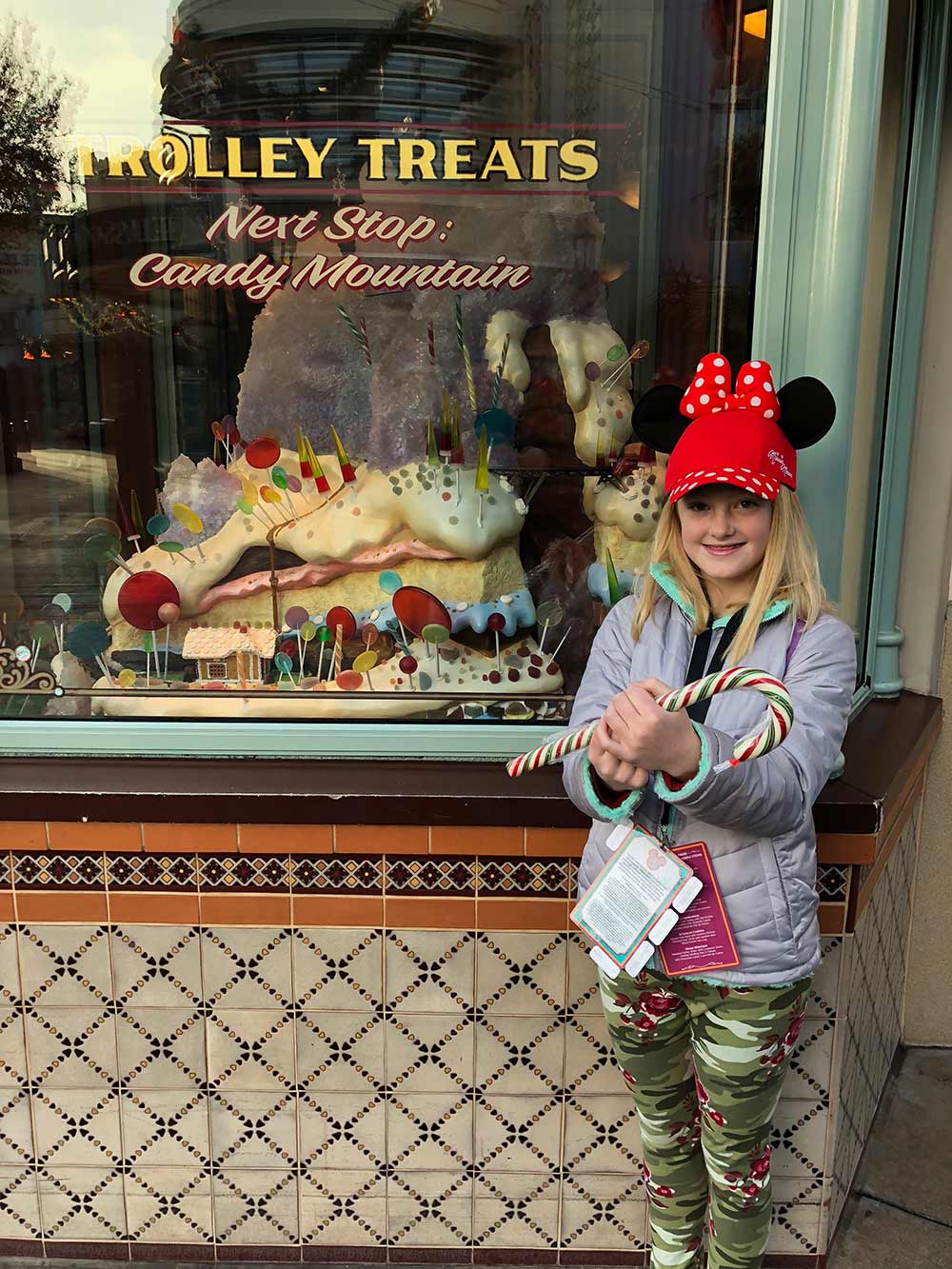 ?
Candlelight Ceremony and Processional at the Disneyland Resort: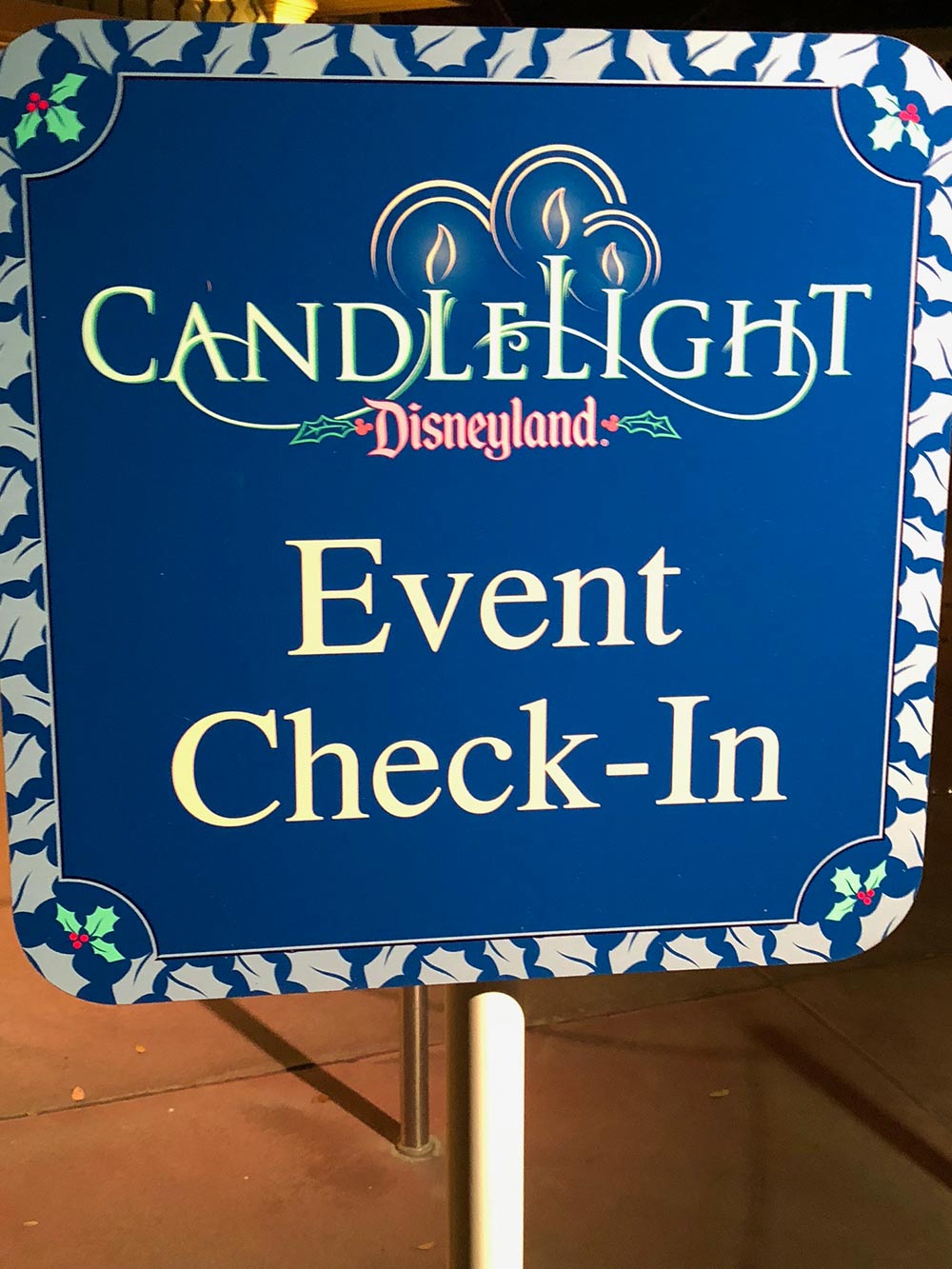 ?
Imagine the hustle and bustle of Main Street, U.S.A., lights, noise and crowds. Then the music goes quiet, the lights go off, and a rare hush falls over all of Main Street, U.S.A.. At the end of Main Street, near the castle, choir members appear, each holding a single candle. They walk reverently down the venerable street, their angelic voices echoing off the quiet buildings. Choir members slowly make their way to their places at the Main Street Train Station, where they are accompanied by the Disneyland Orchestra. Top talent singers perform, A-list actors narrate and the spirit of the holiday season flows into the Happiest Place on earth as they tell the story of the first Christmas.
?
As holiday-time approaches, Disneyland organizes a special event on Main Street, U.S.A.. Walt Disney himself created the Candlelight Processional beginning in 1958. The event is not advertised; however, Disney cast members can tell you the dates and times once they have been put on the calendar.
Known only as "Candlelight" to Disney insiders, it typically occurs over two days with two shows per day. The event lasts approximately 45 minutes to one hour.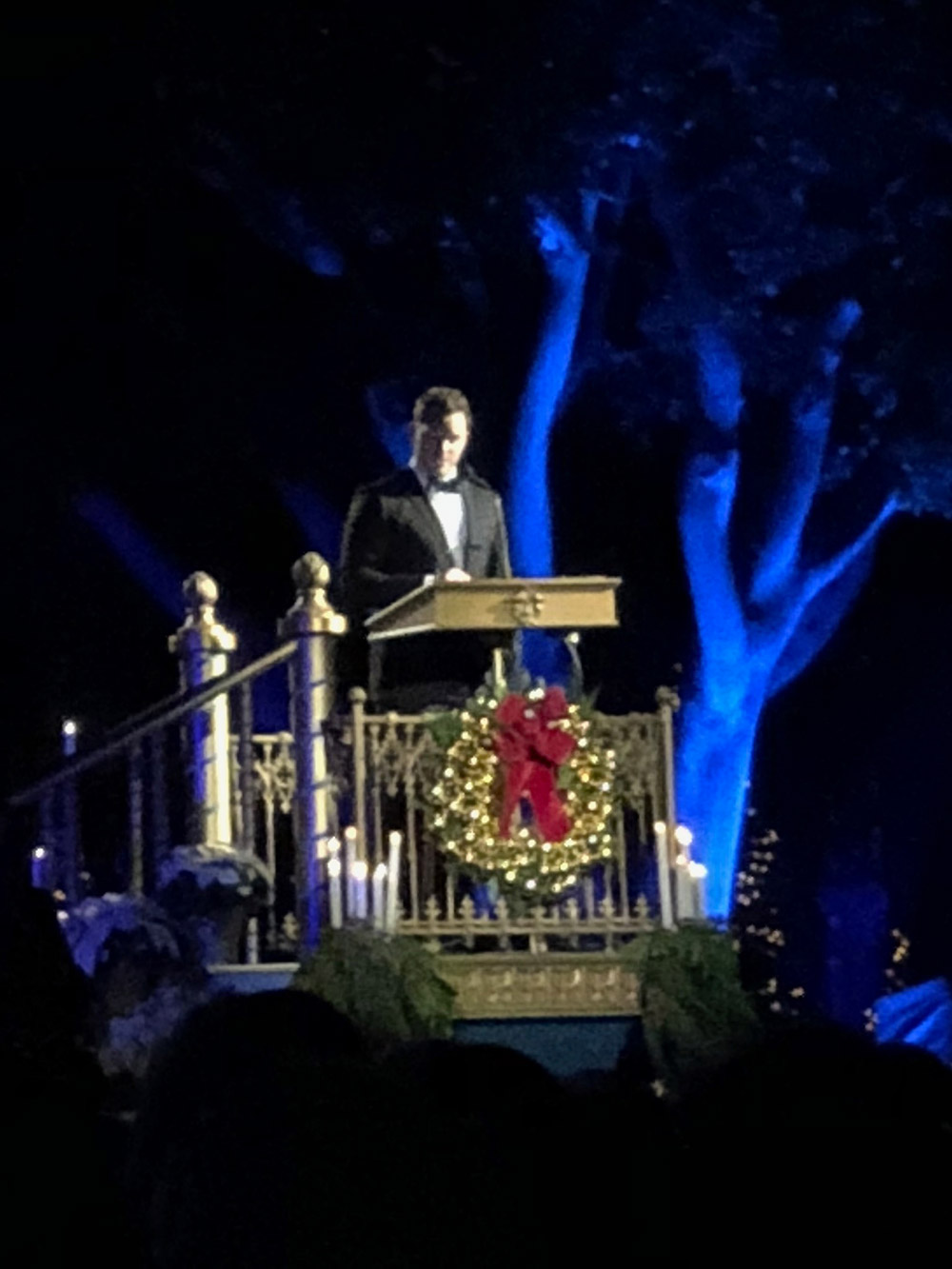 ?
Chris Pratt, narrates the Candlelight Processional in 2018.
Candlelight was a way for Walt Disney to thank partners in the nearby community for their support throughout the year. As part of the celebration, celebrity narrators are invited to participate. Luminaries like John Wayne, Dick Van Dyke, Kurt Russell, Morgan Freeman, Charlton Heston, Chris Hemsworth and many others have narrated the Christmas story as part of Candlelight. Chris Pratt, also known as "Star Lord" from Guardians of the Galaxy, narrated in 2018. In addition, many Disney legends make it a point to attend Candlelight.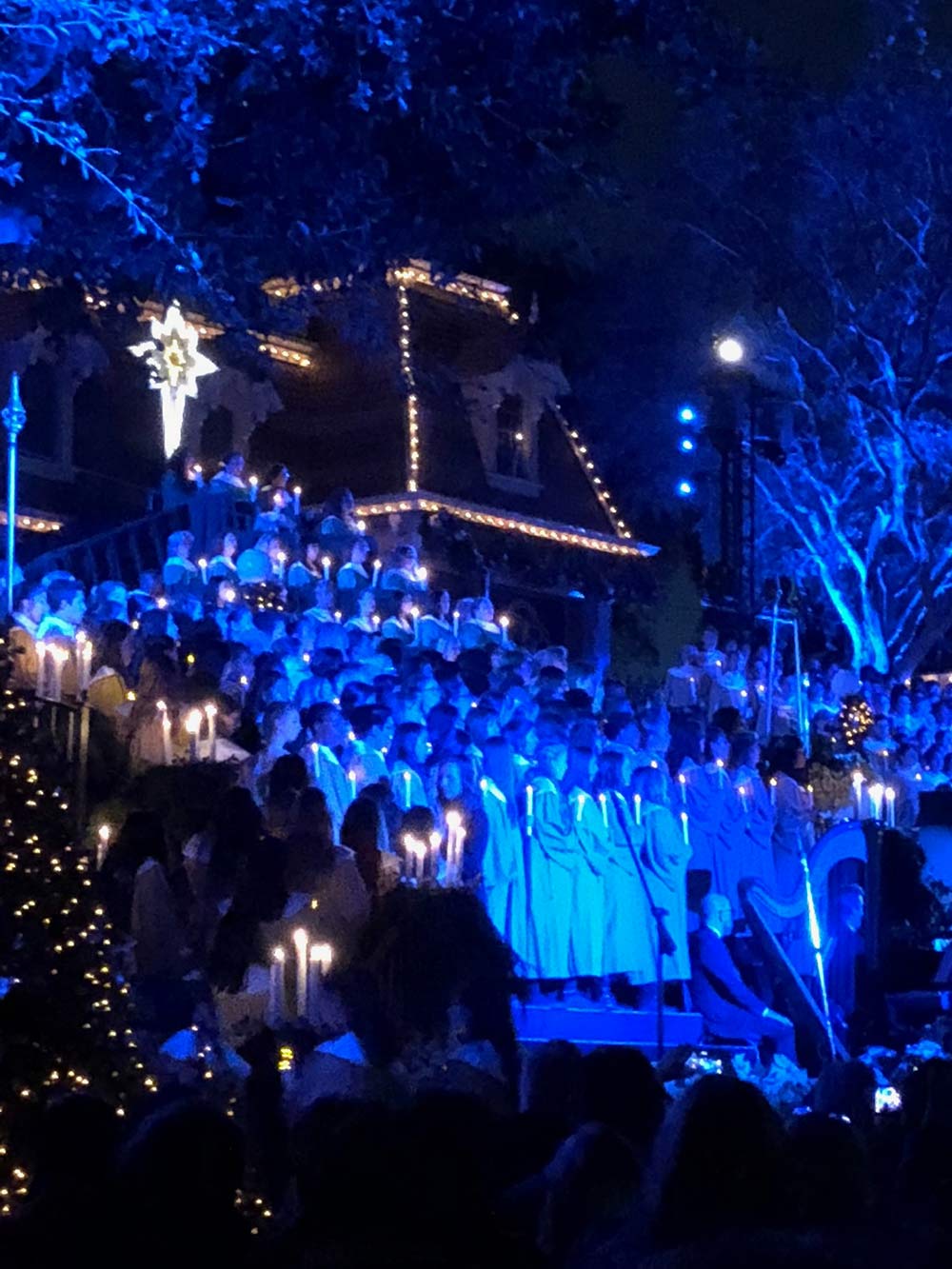 ?
Special Events at Disneyland - A Guide to Amazing Fun!
Every day at Disneyland is special. There is a celebration or a special way to connect. For example, each and every day at Sunset check out the flag retreat at Disneyland's Town Square to honor the flag and all of the Veterans in attendance. At the same time, the neon lighting ceremony happens in Cars Land!
Celebrate Special Events at Disneyland
Choose your adventure and make lasting memories! Get Away Today would love to help you plan for special events at Disneyland, whether they're personal or for holidays on the calendar. Get Away Today is dedicated to making sure you have the best insider information and details to enjoy your trip to the Happiest Place on Earth. See Disneyland discount vacation packages online, or call an agent at 855-GET-AWAY.
Chris Dallin is a Disneyland fanatic. He travels to Disney parks several times a year and continues to find hidden gems, adventure, joy, and magic in the Happiest Place on Earth. Tune into future blogs for additional ways to experience the magic of Disney Parks.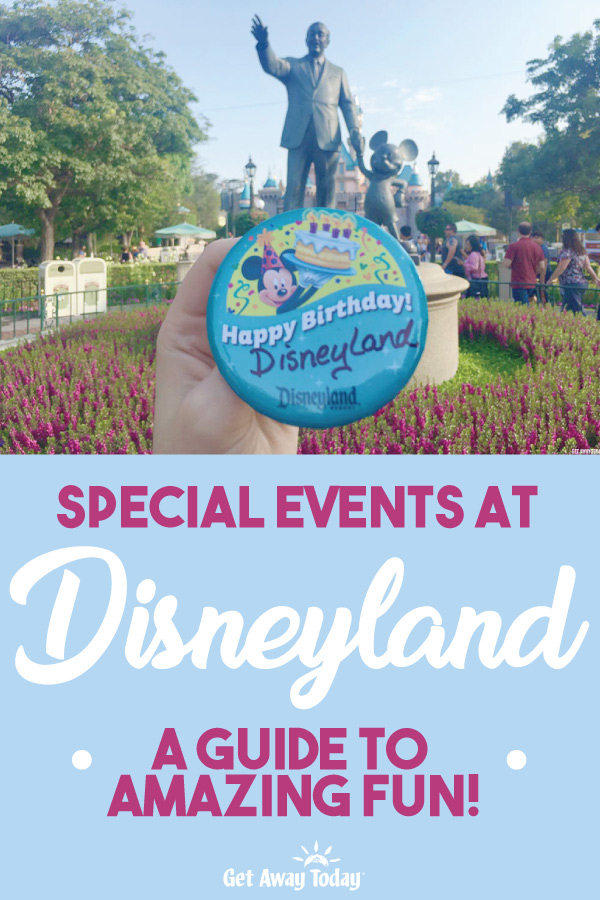 ?