Disneyland is a place where dreams come true and it truly was made for everyone. However, as a mom of boys, I have to say, Disneyland is full of adventures that just seem like a right of passage in a young boy's life. A few weeks ago we shared 10 Things Every Princess Must Do at Disneyland. So, to even it out, we came up with 10 Adventures at Disneyland for Boys. We have a feeling your girls will like the list too!

1. Ride Pirates of the Caribbean. What young lad doesn't dream of swashbuckling pirates and finding buried treasure? Wait for a seat in the front for an up-close view.

2. Explore Tom Sawyer's Island. First of all, your son gets to ride a raft over to an island, and that's pretty cool in and of itself. But that island is packed with treasure and nooks and crannies to explore. It is an explorer's dream come true.

3. Race like Lightning McQueen in Cars Land. If your boys are anything like mine, they are obsessed with cars. Last time we visited Disney California Adventure Park, my son was too short to ride Radiator Springs Racers, but loved to watch the cars zoom past. Needless to say, we spent a lot of time in Cars Land. But, if your kids are too short to ride in Cars Land or want to "really" drive their own car, you can always head over to Autopia.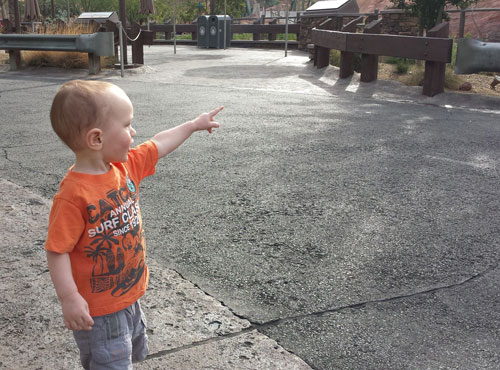 Watching cars race in Cars Land.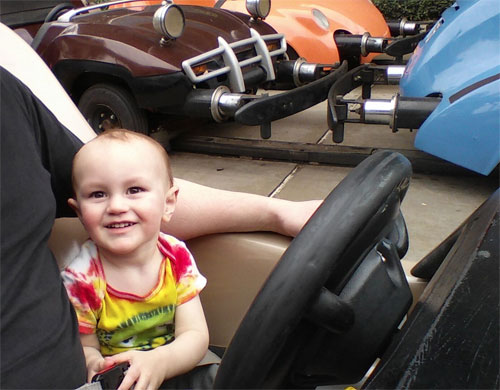 Riding Autopia in Tomorrowland.

4. Help stop the Evil Emperor Zurg and save the Universe in Buzz Lightyear's Astroblasters. Each rider gets their very own astroblaster and shoots lasers at targets throughout the attraction. This is one of those rides you may find yourself riding again and again to beat your previous score.

5. The Jungle Cruise is a must for any boy who loves animals and has ever wanted to visit the jungles of Africa, Asia or even the Americas. Your little explorer can get his own map of the Jungle Cruise as you disembark. Just ask a Cast Member.

6. Ride a roller coaster. If your boys are younger, Goofy's Go Coaster in Toon Town is the perfect first roller coaster. If your crew is a little bit older, California Screamin' is sure to get their adrenaline pumping.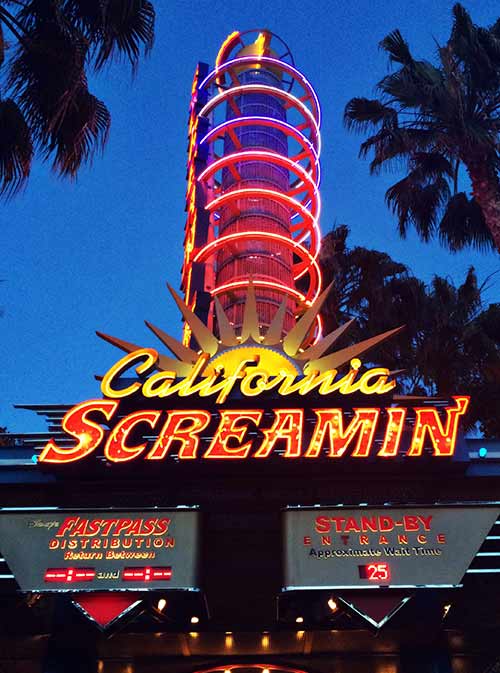 7. Take a ride on the wildest ride in the west. I have never met a boy who didn't at least once dream of living the life of a cowboy. If your kids are big enough for Thunder Mountain Railroad, they'll have a wild time. Smaller kids will love to visit the Big Thunder Ranch Petting Zoo where your boys will come face-to-face with real farm animals. Finish off your time in Frontierland with a finger-lickin', all-you-care-to-eat barbecue picnic at the Big Thunder Ranch BBQ.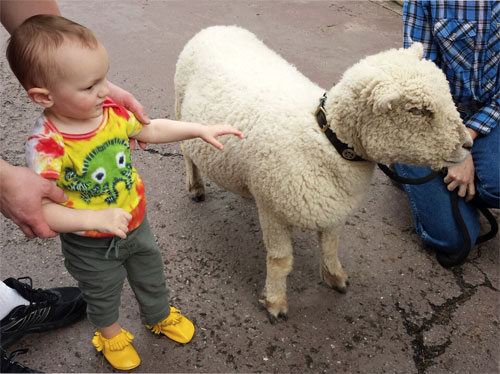 8. Become immersed in Star Wars. Which (or how many) of the 50+ possible versions of Star Tours - The Adventures Continue will your boys get to experience? Is your son a rebel spy? You won't know until you're already on board. For a truly memorable experience, watch the interactive Jedi Training Academy show held multiple times throughout the day in Tomorrowland. Your kids could be selected as one of the young padawans to fight against the Dark Side. And, always keep your eyes open for Storm Troopers.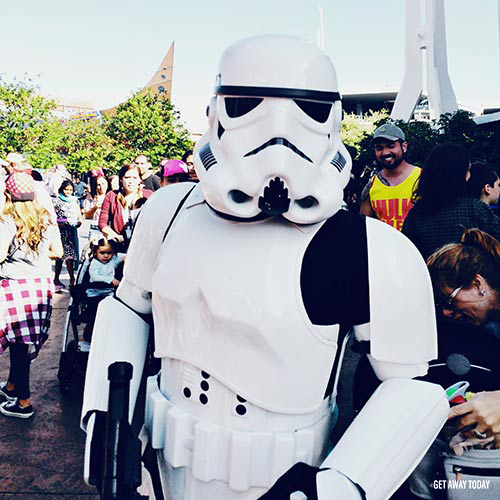 9. Visit The LEGO Store in Downtown Disney. Don't let the giant LEGO fire-breathing Maleficent dragon perched atop the building scare you away, The LEGO Store is full of fun for everyone. There are interactive areas, as well as huge LEGO creations featuring Beauty and the Beast, Toy Story and more. It's a LEGO fan's paradise.

10. Ride the Disneyland Railroad around the entire park. A little boy and his "choo-choo" is a special thing. Being able to ride one around Disneyland is something special, plus it's a great way to rest tired feet. You'll get a great tour of the perimeter of the park, and see everything from the inside of Splash Mountain, to animatronic dinosaurs to Toon Town.

And, just for fun, I had to throw in a bonus adventure...

11. Eat a giant turkey leg. Your boy will feel like a caveman, I promise.

Well, I hope that gives you some fun ideas for your boys (and girls for that matter). It definitely makes me want to go back! When you're ready to book your next adventure to Disneyland, be sure to check out our Disneyland packages online or call our Disney Experts at 855-GET-AWAY. We'd love to help!


Check out these other great articles:

10 Things Every Princess Must Do at Disneyland
25 Tips for the Disneyland Diamond Celebration
Disneyland Time Saving Tips (Video)