There is always so much to see and do at Disneyland, but with the Diamond Celebration going on now and the different holiday celebrations, we are happy to be your guide on how to have the best Disneyland vacation possible. Our amazing contact from Disneyland, David, recently stopped by our office and gave us all the insider information for what our guests need to know and do at the Disneyland Resort. From new entertainment to must try treats, h
ere are our top 12 reasons to visit Disneyland in the next 12 months:
Sleeping Beauty Castle: Shimmering and glimmering both day and night, Sleeping Beauty Castle is a sight to behold. Completely covered from top to bottom, the castle is a perfect representation of the Diamond Celebration. Every inch of the roof is encrusted with individual diamonds and shingles that sparkle unlike anything you have ever seen. Absolutely breathtaking and the perfect backdrop for the classic Disneyland photo.
Carthay Circle: Equally as dazzling, Carthay Circle shines with massive banners and diamonds that pull the iconic building right into the celebration.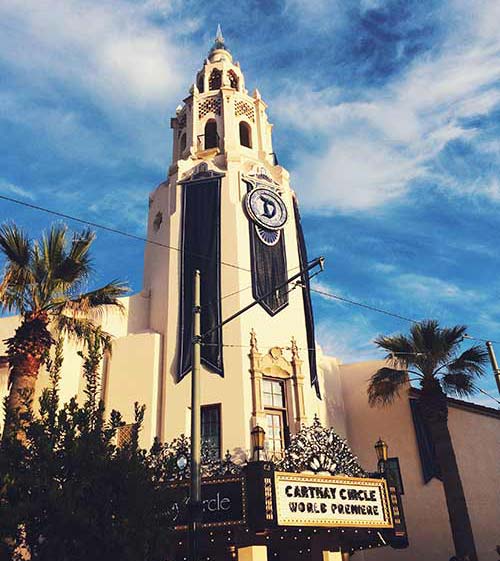 All around the resort for the Disneyland Diamond Celebration, nothing was left untouched for immaculate and beautiful decorations. From diamond covered "Disneyland Ds" to the royal blue bunting all throughout the resort. As a fun activity, as you are walking through the parks, you'll notice that each of the Disneyland Ds has a diamond placed in the center, however, not all of the Disneyland D diamonds are the same color. Can you find all of the different color diamonds? But even more special, there is one single white diamond hidden somewhere in the resort. If you find it, let us know!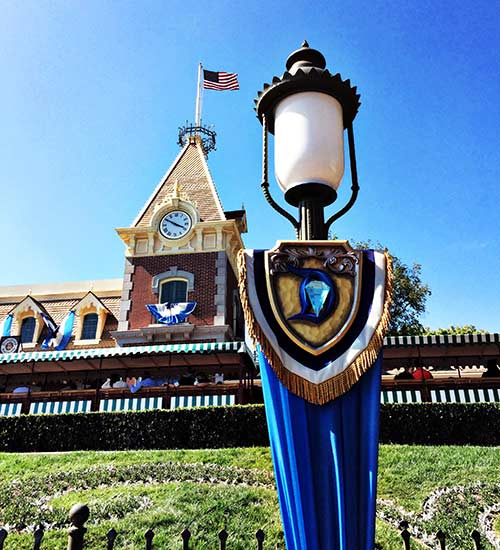 Every character you meet at Disneyland is dressed to the nines in their new diamondized outfits! You favorite character is now just as dazzling as the rest of the Disneyland decor.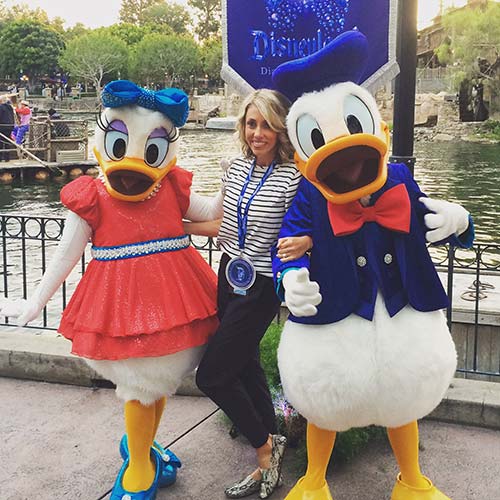 4.

New Photopass Locations
:
Put yourself in right in the middle of a photo postcard! Climb up the Matterhorn mountain or be a talking head in the Haunted Mansion - there are so many different fun and memorable photos to be taken. Every Photopass Cast Member will even take pictures with your own camera!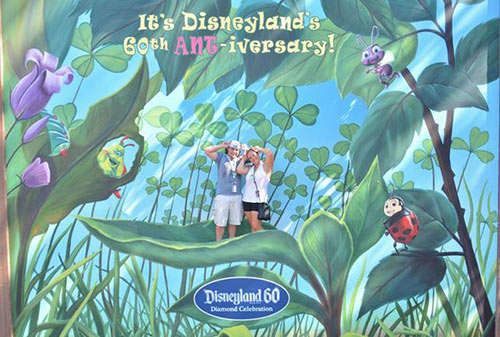 Red Car Trolley News Tour: A fun surprise awaits if you run into the Red Car Trolley News Tour in Disney California Adventure Park. There are no scheduled show times, but is guaranteed to show at least six times a day. Completely revamped for the Diamond Celebration, Red Car Trolley News Tour is full of singing and dancing with Mickey and his tour, and for the first time ever, Minnie is a part of the show too!
Diamond Mad Tea Party: The Mad Tea Party is back and better than ever for the Diamond Celebration! A fun dance party specifically geared towards teens and adults is a great way to end your night.
In our previous article, Disney 60th Attraction Highlights, you can check out our behind the scenes look at some of the exciting updates and new magic added to three classic Disneyland attractions; the Matterhorn, Peter Pan's Flight and the Haunted Mansion.
7.

Food, Beverage and Merchandise
:
Some of the most important parts of any Disney vacation are the food, treats and souvenirs, and the Diamond Celebration does not disappoint in any category. Amazing diamond themed desserts are around every corner - David's favorite are the Lemon Diamond Cupcakes (which are incredible!) New souvenir cups like Oil Cans from Cars Land and Fantasmic light up sippers are a fun way to stay hydrated in the parks and at home. And what better way to eat popcorn than out of a Mickey Mouse Balloon bucket? There approximately 500 specialty items, but you can check out some of the hightlights in our article, Disneyland Diamond Celebration Merchandise.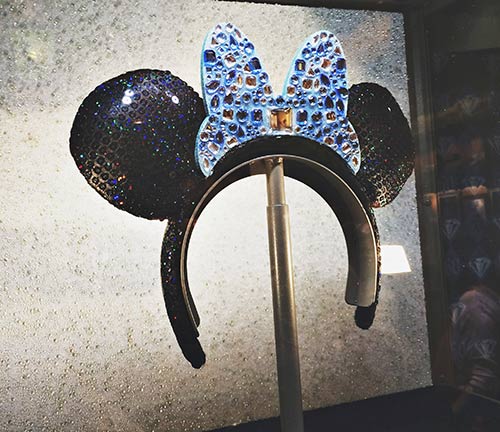 8.

Nighttime Spectaculars
:
Paint the Night: David's personal favorite, Paint the Night has become the smash hit of the Disneyland Diamond Celebration. This incredibly fun and massive parade . It is impossible to describe the unimaginable scale and scope of this magnificent parade. Paint the Night is a must see and David just so happened to give us his recommendations on the two best viewing areas:

For the people who want to be in the middle of everything, need to watch the parade right in the middle of Main Street U.S.A. In scale with the buildings make the floats look larger than life and feels louder and bigger. If you are going to either showing (usually 8 pm and 11 pm), you will most likely need to camp out for these seats.

If you are lucky enough to catch the first parade from Main Street, consider watching the show from "it's a small world" for a completely unique experience.
If you are looking for a less crowded area, "it's a small world" pavilion is the perfect place for you. With less people and a more wide open space, you won't have to worry about saving a seat!
Disneyland Forever: Right after the first run Paint the Night has concluded, Disneyland Forever fireworks spectacular begins! It is highly recommended you stay exactly where you are after watching the parade. In this new fireworks show, Disneyland has opened up the possibilities of fantastic viewings of the show to five prime locations: Main Street U.S.A, Matterhorn mountain, Sleeping Beauty Castle, Rivers of America, and "it's a small world."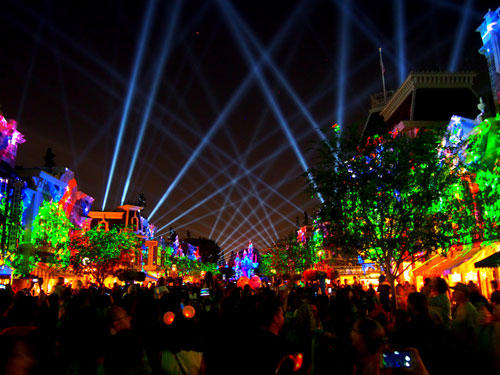 World of Color - Celebrate: Bigger and grander than ever before, World of Color - Celebrate honors everything we all love about Disneyland and how it came to be. Hosted by Mickey Mouse and Neil Patrick Harris, guests go on a journey through Disneyland in the most innovative and beautiful way possible. It is highly recommended to do the World of Color dining with a FASTPASS option to enjoy a delicious meal and ensure the best viewing areas for this breathtaking show.
Fantasmic: Same as World of Color, it is encouraged you get a FASTPASS dining package for Fantasmic. The best value here is the River Bell Terrace. The food is fantastic (it has been recently been upgraded) and the view of the show is equal to the view you receive with the Blue Bayou dining, which is another spectacular option.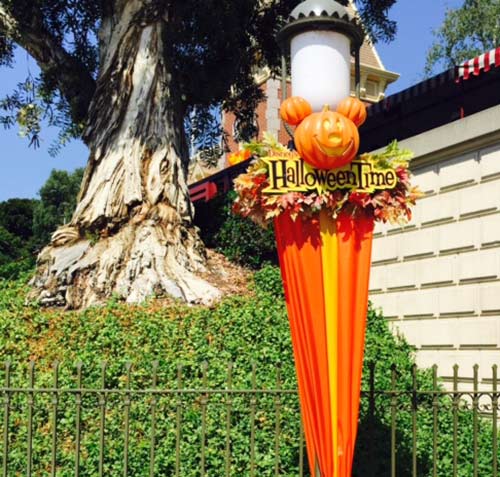 10.

Holidays at the Disneyland Resort
:
Holidays at the Disneyland Resort make Disneyland the most festive place to be! The official celebration will begin November 13 and continue through January 6, 2016. Like Halloween Time, Holidays at the Disneyland Resort will be a little bit different than previous years because of the celebration. Check back tomorrow for a full article on all the reasons why you need to be at Disneyland this holiday season.
11.

Seasons of the Force:
There will be an incredibly special limited time event coming next year that will be a "force" to be reckoned with. Seasons of the Force will bring Star Wars to the forefront of Disneyland (as Frozen Fun did with Frozen) and hold us over until Star Wars Land arrives. We will have more information on Star Wars Seasons of the Force in the coming days, so keep a look out.
12.

Diamond Celebration End Date:
The Disneyland Diamond Celebration will continue to dazzle until September 5, 2016! Trust us when we say, you do not want to miss out on this once in a lifetime spectacular. We continue to have amazing deals for the rest of this year and next year as well. You can even hold your vacation for just $125 down and final payment isn't due until two weeks before you travel!
Now is the perfect time to make it to the Disneyland Resort! So much fun and magic is happening with the Disneyland Diamond Celebration and holidays, you don't want to miss out on all the action. Book your Disneyland package online or call our travel experts at 855-GET-AWAY.
Check out these great articles: