UPDATED JANUARY 2019 The moment we've all been waiting for has arrived... 2016 Disneyland Resort vacations are now available to book! Now that our 2016 Disneyland pricing is in, you'll want to get busy planning your upcoming vacation. It hasn't been officially confirmed, but if it follows the trend of past celebrations, the Disneyland Resort Diamond Celebration will overflow into next year. That means that with luck, the celebration will at least for 12 months, which means it will continue through Memorial Day weekend. With some hope, trust and pixie dust, it may last through the entire year. That would mean even longer to enjoy Disneyland Forever, World of Color - Celebrate! and Paint the Night Parade. We've put together a month-by-month guide to help you decide when you should mark your calendar for your Disneyland vacation:
January: If you travel in the very beginning of the month, you'll get to experience the last few days of Holidays at the Disneyland Resort, normally without the holiday crowds. January also brings Martin Luther King Jr. Day, and Disneyland is always a good use of a 3-day weekend. If you are traveling with small kids (preschool age or younger), or just adults, it's a great month to visit as schools are in session. Of course, the Disneyland Diamond Celebration should still be shining strong!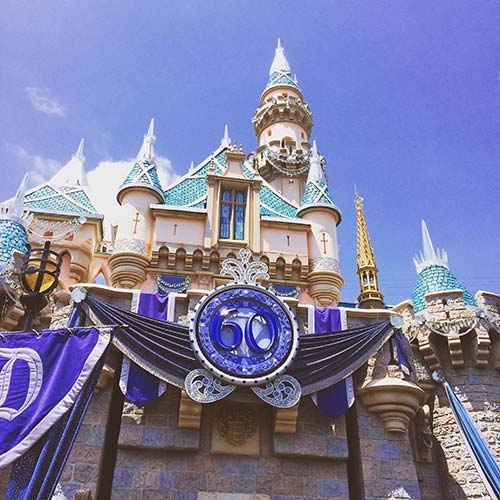 February: Ahhh, the month of love... Valentine's Day and President's Day are both great excuses to visit Disneyland. If you travel around Mardi Gras, you will be able to enjoy the celebration in New Orleans Square. February is another good bet for fewer crowds since it is during the school year. Also, the Diamond Celebration should be dazzling guests all month long.
March: March starts the official spring break season, which is great news if your kids aren't able to miss school. Spring break brings longer park hours, and oftentimes added entertainment. During busier travel times, the most popular shows are offered twice. This will most likely mean two opportunities to see Paint the Night and World of Color - Celebrate! on select nights. As a travel tip, the second showings normally have fewer crowds.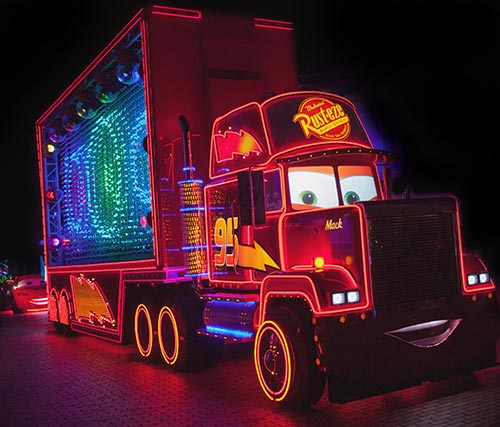 April: Spring break season is still going strong in April, which again means longer park hours and more entertainment. Keep in mind that during even the busiest travel times, Disneyland Forever, the current fireworks show is only shown once per night. However, for the first time ever, the fireworks can be viewed from five areas throughout the park. If you can, you should try to see it from as many vantage points as possible. Also, the Disneyland Resort normally does a little something fun for Easter that is perfect for families.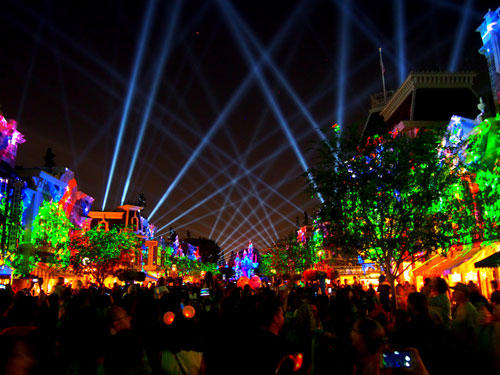 Image credit: Stephanie Curtis
May: This is a great time to catch all of the Disneyland excitement in that sweet spot after spring breaks are over and before school is out for the summer. Since it's not quite peak travel time yet, you can normally get some great deals when you book early. Grad Nites begin mid month and continue through June, so if you have a graduating senior, it is a great way to celebrate! Our group department has all of the info on booking graduation trips.
June: Travel in the beginning of the month before the after school rush if you're looking for fewer crowds. By mid-month you'll have extra hours at the parks with both earlier mornings and later nights. I must say, there's nothing quite like summer nights at Disneyland! With luck, the Diamond Celebration will still be going strong.
July:
The height of summer means longer park hours for the most hours of fun in Disneyland. It's also the month with more scheduled entertainment, and there is always a special patriotic fireworks display to celebrate the 4th. If you want more information, check out this article for
4 Reasons to Visit Disneyland on the 4th of July
.
August: This is the perfect month for a quick getaway before school starts. Some schools begin the school year mid-August, so if you have young kids or if your school starts later in the month, plan your Disneyland trip from mid to late month for fewer crowds and enjoy all of the summer festivities.
September: Labor Day weekend is a great time to sneak away for a quick getaway. Or, you can wait until mid-month and be at the Disneyland Resort when Halloween Time officially kicks off. It's a great way to experience all of the Halloween fun before the crowds begin. If you want to attend Mickey's Halloween Party, a private ticketed event, you'll want to plan around the end of the month. The first Mickey's Halloween Party of the season has traditionally fallen during the last weekend of September.
October: Halloween Time is in full force and is the most spooktacular time of year to visit Disneyland, with or without the Diamond Celebration. When you're making your general itinerary, we suggest checking the calendar for Mickey's Halloween Party. It's a private ticketed event that requires separate admission. On those select nights, Disneyland closes early, so if you aren't going to the party, it's a great time to do Disney California Adventure, Downtown Disney, or even a character dinner at Goofy's Kitchen!
November: Holidays at the Disneyland Resort begin mid-month, and it's a really magical way to ring in the season. Both parks transform into a winter wonderland and seasonal entertainment is added to the line-up. Veteran's Day is a popular school break time to visit. For fewer crowds, visit earlier in the month. If you want a Thanksgiving Day to remember forever, travel over Thanksgiving and book the Thanksgiving Day Feast at the Disneyland Hotel. Many other restaurants have special Thanksgiving dinners for the occasion. No matter where you dine on Thanksgiving in Disneyland, you can be thankful for no cooking or doing the dishes.
December: The entire month of December is a celebration of the seasons and the height of Holidays at the Disneyland Resort. Travel early in the month for fewer crowds and to get into the holiday spirit. Consider giving your family a holiday Disneyland vacation, no matter when you travel. If you are traveling over Christmas or New Year's, you'll want to arrive to the parks early as they have been known to reach capacity on these holidays. Also, remember that higher park attendance means longer park hours, so you have more time in the parks to enjoy it all.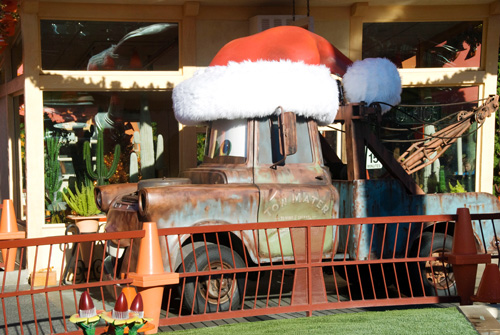 Image credit: Dis Fan Review
We hope that this month-by-month guide helps you make your 2016 Disneyland vacation plans. Hold your 2016 Disneyland vacation for just $175 down with our interest free layaway plan. It's the best way to get a head start on your vacation and lock-in your low price. You can view our 2016 Disneyland packages online, or call our Disney Experts at 855-GET-AWAY.
Check out these other great articles: