Disneyland brings out the fun in people and creates amazing memories to last a lifetime. For some, they simply cannot get enough and they keep coming back day after day to enjoy the magic and the attention to detail that Disneyland offers families and children of all ages. In this article, you'll get to know some of the Disneyland Celebs you can encounter when you visit the Parks.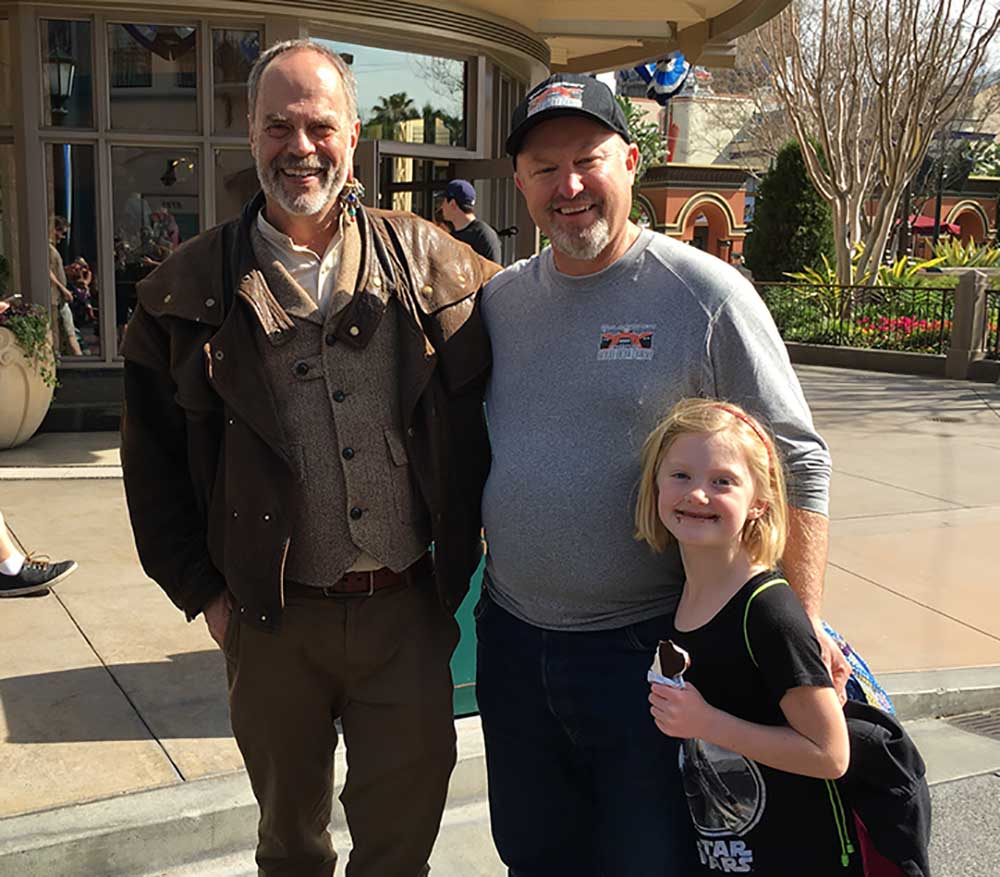 Disneyland Celebs - The Iconic People of Disneyland
Some guests and Disney Cast Members visit Disneyland Resort so frequently they have become Disneyland celebrities. They might even like Disneyland just as much as you do! Check our list of the iconic people of Disneyland to look for when you are at the Parks.
The Disneyland celebs below are organized based upon availability and likelihood that you could run into them. Some guests go to the Parks in hopes of seeing them just as much as any ride, show or Disney Character. The people of Disneyland are so much fun!

Disneyland Celebs
Maynard Smith, Disneyland Cast Member: Absolutely everyone who meets Maynard insists that they will never forget him! He is so popular that fans have set up their very own Facebook page to record Maynard sightings. Check him out at "Fans of Maynard the amazing Disneyland cast member."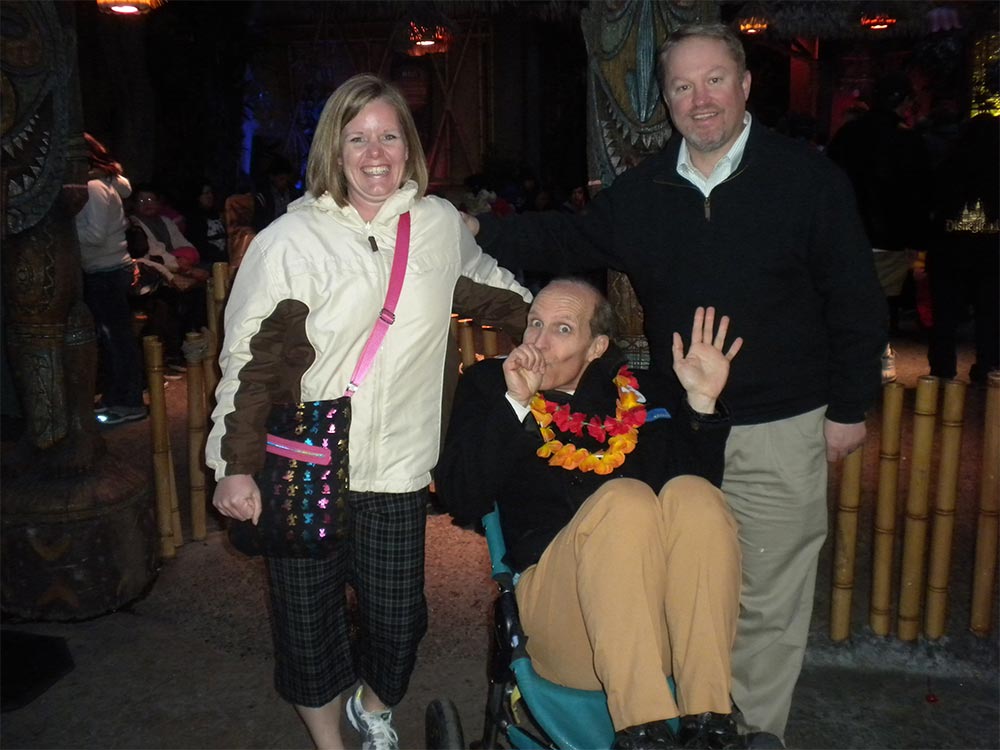 Maynard can typically be found at the Tiki Room or hosting the Haunted Mansion. He is full of energy, does crazy things and brings joy to many. When my wife and I ran into Maynard, he was adjusting the strollers in front of the Tiki Room. We asked for a picture and, without responding, Maynard went into character and posed for a pic that brought laughs all around. He has a wide array of comical voices and adds excitement to every interaction with guests. Maynard told us that he loves to entertain and to tell stories.
Insider secret: Ask Maynard to show you his "evil twin." This is the character that typically hosts at the Haunted Mansion.

Peter Tu, Disney Fan: Mr. Tu, as Cast Members call him, visits the Disneyland Resort nearly every day. His mission is a bit different than most; he arrives at the Parks to entertain, thank and put a smile on the faces of Cast Members. Ask any Cast Member and they will tell you how excited they get when they hear a distinctive, rhythmic clap. They know that Mr. Tu is coming to spread joy. Listen closely and you'll hear the crowds pick up Mr. Tu's claps. Mr. Tu is so popular that guests follow him around the Park to spread joy. A local story captured some of the fun that Mr. Tu spreads as he makes his way throughout the park. See Mr. Tu on YouTube HERE.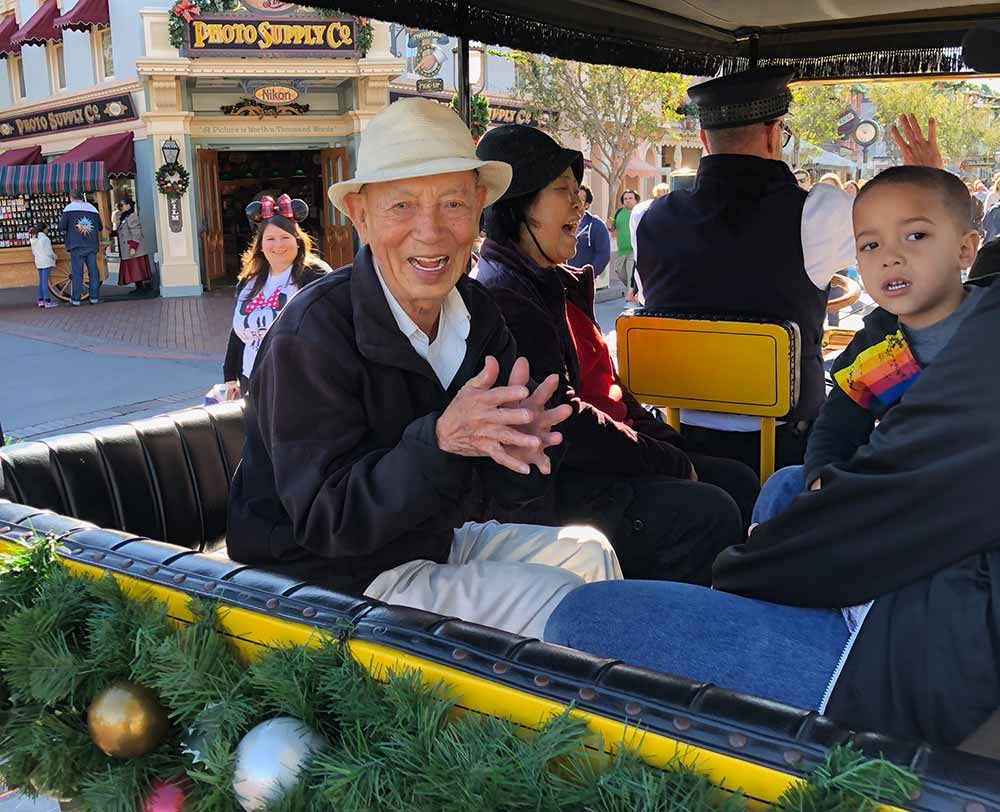 Oscar Martinez, Former Disneyland Cast Member: Oscar was hired by Walt Disney himself in 1956 when Disneyland was just a year old! Oscar worked in dining and food service at the Carnation Café for over 60 years. He was a fixture at Disneyland during the time and became one a Disneyland fan-favorite. Oscar retired in 2017 but goes back to the Parks very frequently to meet and greet fans and to keep the Disneyland magic in his life. Oscar frequently posts on his Facebook page when he will be at the park and fans rush to see him! Oscar has great stories about Disneyland and loves to share his interactions with Walt Disney. Oscar reports that Walt loved cherry shakes and chili, "sometimes right out of the can." Even today, those items are on the Carnation Café's menu! Oscar reports that on one occasion, a strong wind broke an umbrella on the patio at Carnation Café. Oscar jumped in and replaced it with an umbrella from the back room that was a different color. Walt walked by and saw the umbrella was different, went in the back room himself and replaced every umbrella so that they matched. Oscar exclaimed that he was always nervous when the boss would come around, but that he was a normal guy that liked simple things. "In the end", he said, "Walt wanted everyone to have a magical experience, and set the example that details matter that can still be seen in the hearts of every cast member."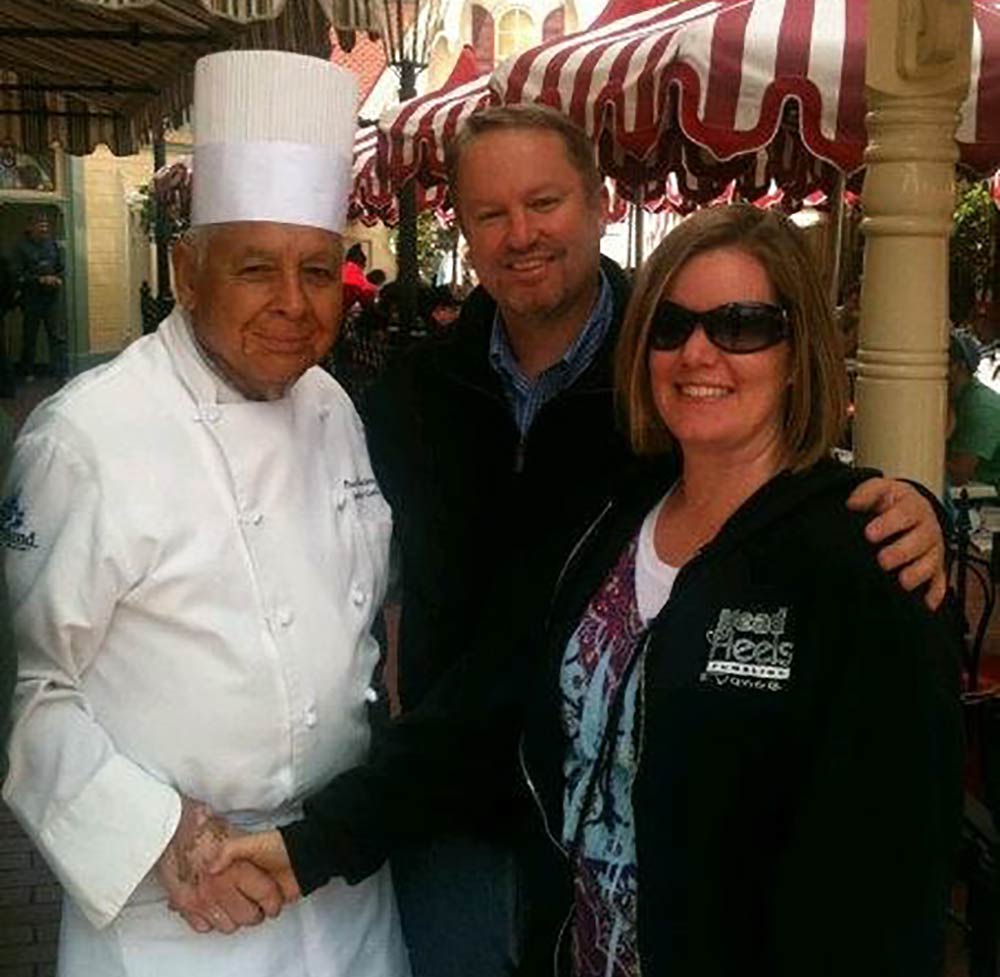 Ben the Disney Pin King!: Nearly every morning Ben, an avid Disney pin collector, arrives at the Disneyland Resort to trade pins with guests. He can often be found at the comfortable porch chairs on Main Street, U.S.A.. His vest is covered with pins that he is willing to trade and he says that it weighs "well, a lot." Ben says he loves the vibe of Disneyland and loves to collect pins! Ben is one of the coolest Disneyland celebs and he can tell you about nearly every pin, which are the most sought after pins and were you might find just the right pin to start your own collection. Ben is always up for a great conversation about his passion.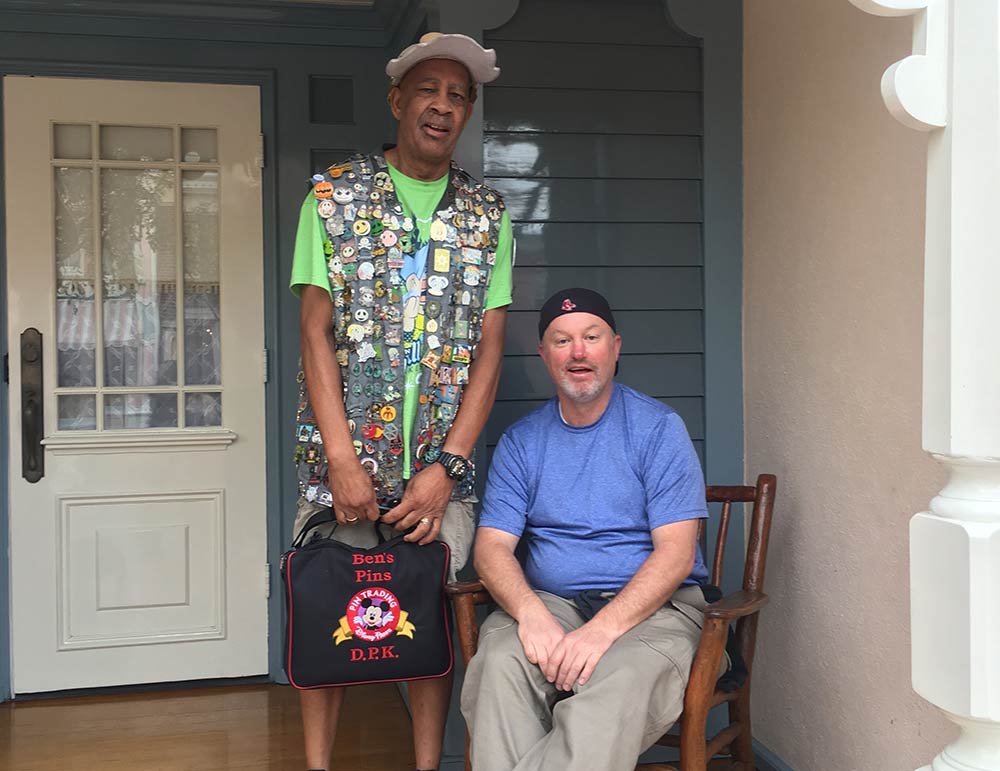 Bill Rogers and Camille Dixon: "Ladies and Gentlemen, Boys and Girls..." This greeting can be heard as you enter Disneyland Resort, when the parades are announced and when it's time to say goodbye at the end of the night. Bill Rogers is the voice of Disneyland Park and Camille Dixon is the voice of Disney California Adventure Park.
Insider secret: Bill and Camille are married! They have so many fun stories to tell about being the voices of the Parks and having fun with cast members who might recognize their voices.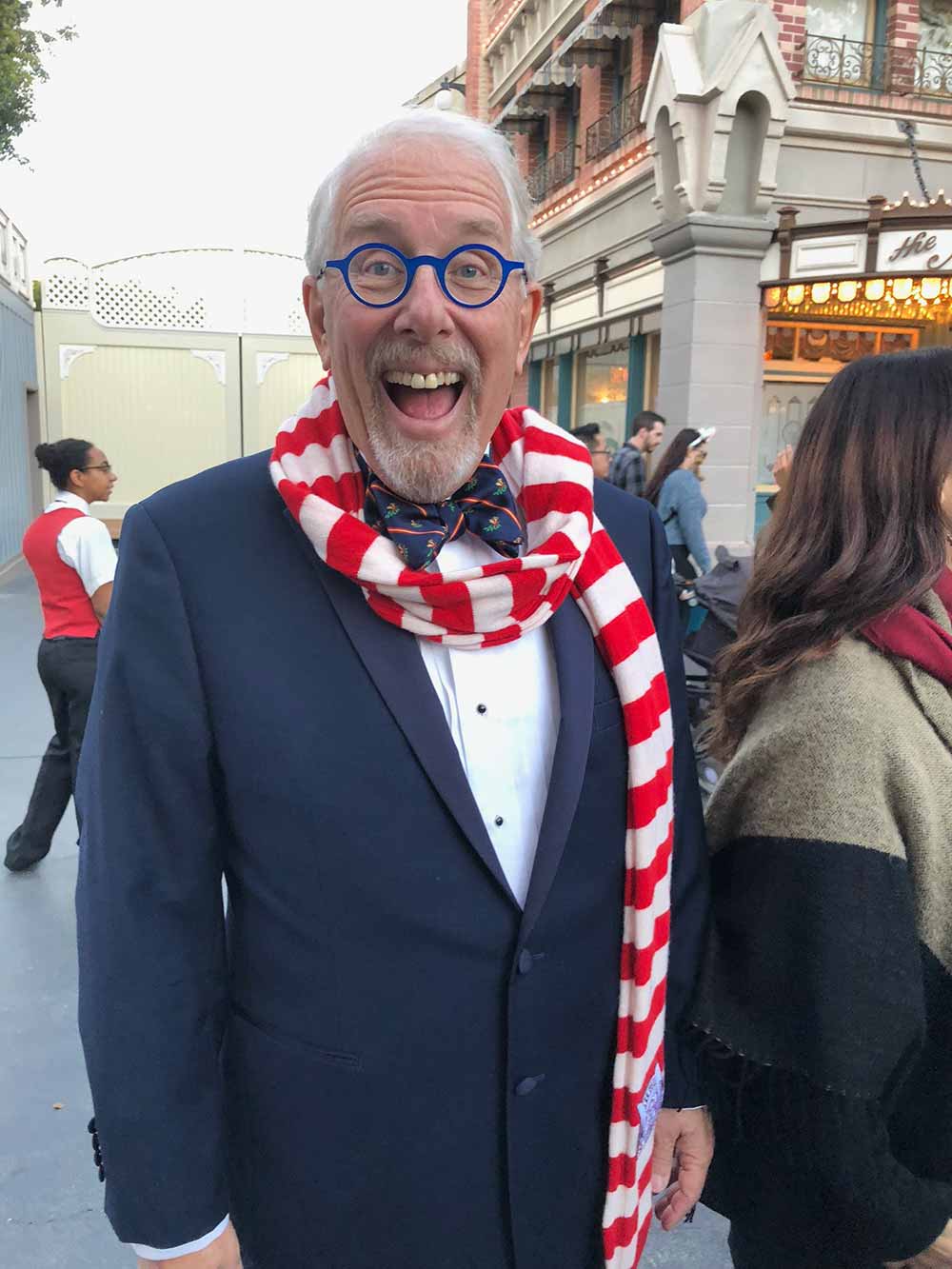 Jeff Reitz, Disney Fan: Jeff holds the record for consecutive Disneyland visits of a Disneyland fan. He set the record at 2,000 consecutive days to Disneyland. That is over five years straight that he did not miss a day! It is fun to see his 2,000th visit HERE.

Disneyland Celebs - Become One Yourself!
Social Club Members: Throughout Disneyland, social clubs visit the park and hang out with each other often. They are big fans of the Parks and typically connect with an attraction. They have created some rules to start your own Disneyland social club. Their rules are simple:
Follow all Disneyland Resort rules
Give respect, get respect
Never copy another club's patch, name or design
Their web-site reads: "we're a fiercely loyal and protective group of Disney fans. We hang out in the parks with our own clubs and other ones, take over rides, dance in the back lot, make a lot of magic and a little (teeny tiny) bit of mischief, and just enjoy hanging out with other people who are as crazy about Disney as we are. With Disney Social Clubs, you find yourself immersed in a world where Disney is your home and the Social Clubs are your family and friends."
Disney Cast Members: It is not uncommon to run into Cast Members who have been working at the Disneyland Resort for well over 30 years. Some of our favorites include the casts on Main Street, U.S.A. and the "Citizens of Buena Vista Street." Also, look for Debbie in New Orleans Square or the Jambalaya Jazz Band. Prior to his death, Ernie McLean played guitar with the band for over 30 years. The band still tells stories about Ernie and how beloved he was to park guests.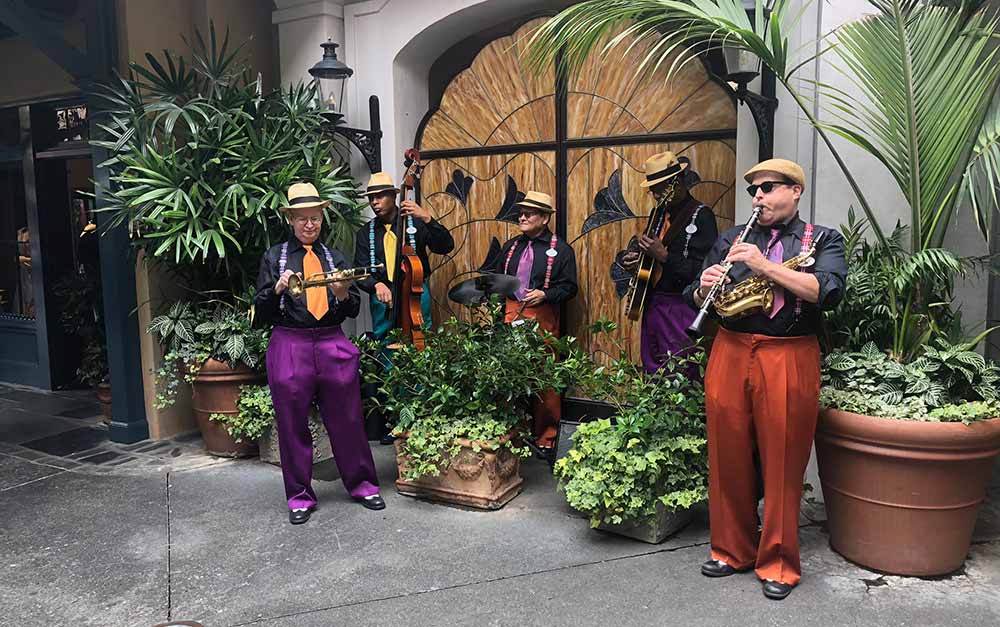 Disney fans are everywhere! It is fun to hang out with people who love Disneyland as much as you do. Disney fans and Cast Members are all alike; they enjoy, appreciate and look for the magic at the Disney Parks. Next time you plan a trip to Disneyland take an opportunity to strike up a conversation with the Disneyland celebs you learned about today. You never know who might have been hired by Walt Disney, designed an attraction, or have their name on a window in Main Street, U.S.A.. Disneyland is a great place to feel special and the magic of Disney. That is why people keep coming back again and again.
Chris Dallin is a Disneyland fanatic. He travels to Disney parks several times a year and continues to find hidden gems, adventure, joy, and magic in the Happiest Place on Earth. Tune into future blogs for additional ways to experience the magic of Disney Parks.
If you're ready to meet Disneyland celebs, we're ready to help make it happen! AT Get Away Today you'll find discount Disneyland vacations that include theme park tickets and accommodations at the best prices. Additionally, our expert travel agents are with you every step of the way before, during and even after your vacation. Check us out online, or gives us a call at 855-GET-AWAY.