Sometimes it feels good to get a hearty pat on the back. It doesn't happen as often as it should. November is known as a month of gratitude, so we put together a simple activity that will help spread the love and get everyone into a spirit of gratitude for the awesome people in our lives. It can be played at home, at work, your children's school or with friends. There is nothing more rewarding than a sincere compliment. It only takes a few minutes to make someone's day.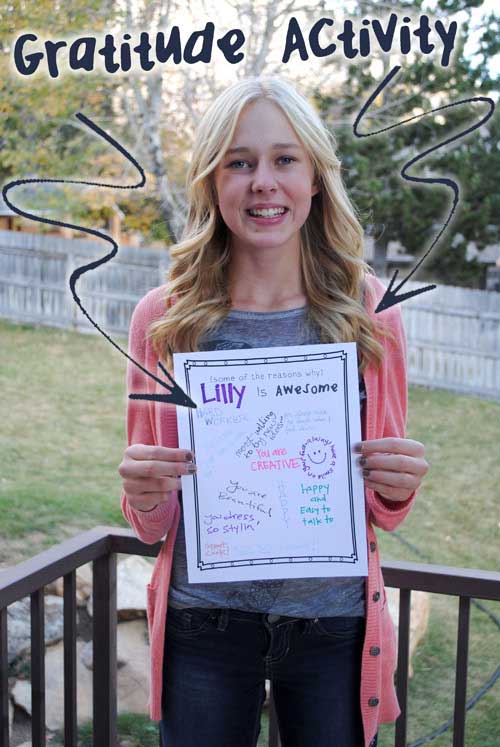 The Purpose: The purpose of the activity is to show gratitude and allow each person in the group to see their own talents and admirable traits. The Awesome Paper will serve as a reminder of each person's individual worth and of the good that they contribute to the work team, family or friend group.
To Play: Start by printing out the
Awesome Paper Template free printable
. You will need a paper for every person involved in the activity. Write the player's name in the blank spot on their paper.
Download free printable here
.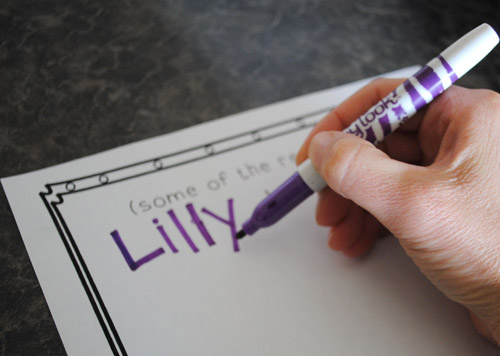 Each person in the group should write on everyone else's paper with one reason why they think that person is awesome. It can be a quality they admire, a kind thing they have done, or an uplifting adjective that describes them.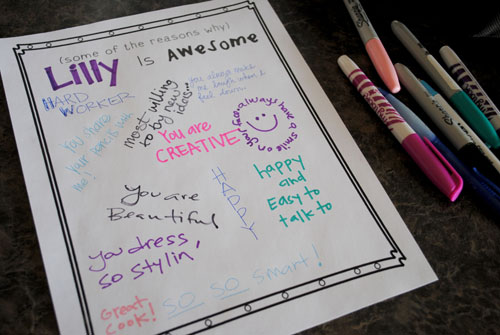 There are countless ways to accomplish this. For example:
• Sit down at a table as a group and pass the papers around the table until all of the papers are filled out. Then, talk about them and share your favorite parts with each other.
• Secretly pass a paper around the office each day with a new person's name on it. At the end of the day, present the paper to that employee and thank them for their hard work.
• As a family, you can post the papers on the wall or fridge. Keep them up for a whole week.
Watch as the week goes by at how they fill up with secret messages of kindness about each family member.
• Put the papers out on a table in a break room and let employees fill them out on their down time at work. Have a small gathering to read the comments and share all of the compliments aloud that people wrote about each other. It will certainly make everyone feel appreciated.
• Have a "We are Awesome" dinner with friends. Let everyone fill out the papers about each other and then talk about them over dinner.
• If you volunteer at your child's school, bring a paper for your child's teacher and discreetly have the students each write something nice about him or her. It will be the best gift they get all year!
• You could take a year and fill out a form for each person in your family on their birthday. When a family member's special day arrives they get to read their Awesome Paper. All the nice words are even sweeter than birthday cake!
It doesn't matter the method you use to collect the compliments! The point is to get it done. It is surprising to discover the traits that people admire about each other. The Awesome papers will likely become a keepsake that people will refer to when they are feeling down and in need of a boost. It feels so good to see such nice things shared in writing and reminds us of all of the reasons we have to be grateful for the people we have in our lives.
We are grateful to all of our blog followers and customers. We love hearing from you and want you all to know how lucky we feel to be part of your vacation memories. Thank you and enjoy this upcoming season of Thanksgiving!
If you want to show your family how thankful you are for them, consider taking them on a Disneyland vacation. We'd love to help. You can book any of our
Disneyland packages
online or by calling our agents at 855-GET-AWAY.

Check out these other great articles:
Family Gratitude Jar Tutorial
3 Reasons to Go to Disneyland This Thanksgiving
Family Memories Are What It's All About