There was no shortage of new Disneyland announcements from D23 this past weekend. Our team was there to experience it all. We are excited to give you a recap of all of the exciting announcements and changes coming to the Disneyland Resort. We'll also throw in a brief update of exciting things coming to
Walt Disney World Resort
and
Disney Cruise Line
.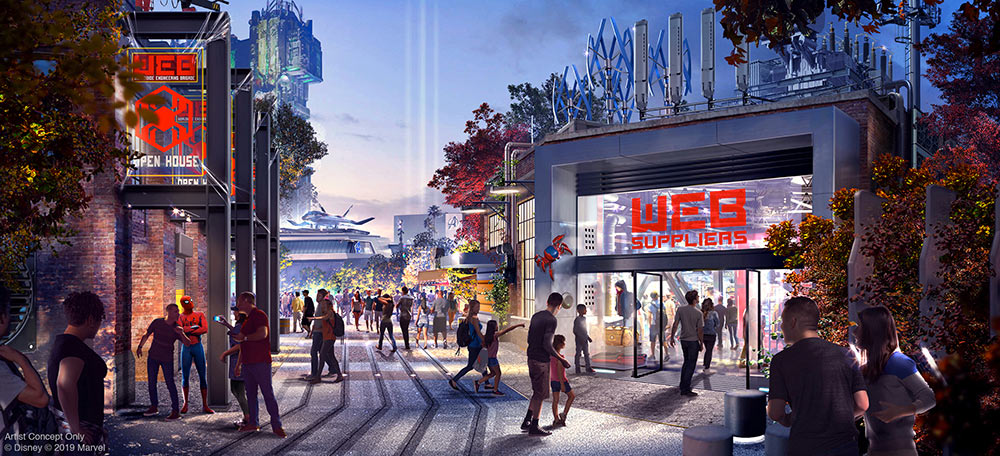 Photo courtesy of Disney
New Disneyland Announcements from D23
What a weekend! It felt like the announcements were non-stop. From new lands and attractions to new entertainment, there was a lot to take in. Now that we've had a minute to process everything, we've compiled all of the new Disneyland announcements in one place. We'll share the details on what and when everything is coming to the Disneyland Resort.

Rise of the Resistance - January 17, 2020
We have known for a while now that Rise of the Resistance would be opening as the major attraction at Star Wars: Galaxy's Edge. It was recently announced that the official opening would be on January 17, 2020. But, at D23, Disney released new footage of the attraction and it will be EPIC.
During the Disney Parks Panel, they showed footage of the inside of the attraction that included an official introduction to Resistance spy, Vi Moradi. You may have seen her around Batuu if you've been to Star Wars: Galaxy's Edge. It also showed some awesome special effects that will be used in the attraction. Rise of the Resistance will combine four ride experiences in one and promises to be unlike any other attraction in the world... or galaxy for that matter.
Avengers Campus - 2020
Next year the new Avengers Campus is going to open in Disney California Adventure Park and we can't wait! There will be a new attraction, a new restaurant and tons of character interactions. Avengers Campus will include the already open Guardians of the Galaxy - Mission: BREAKOUT!, so it will feel like a complete land, even though the announced attractions will just be considered phase one.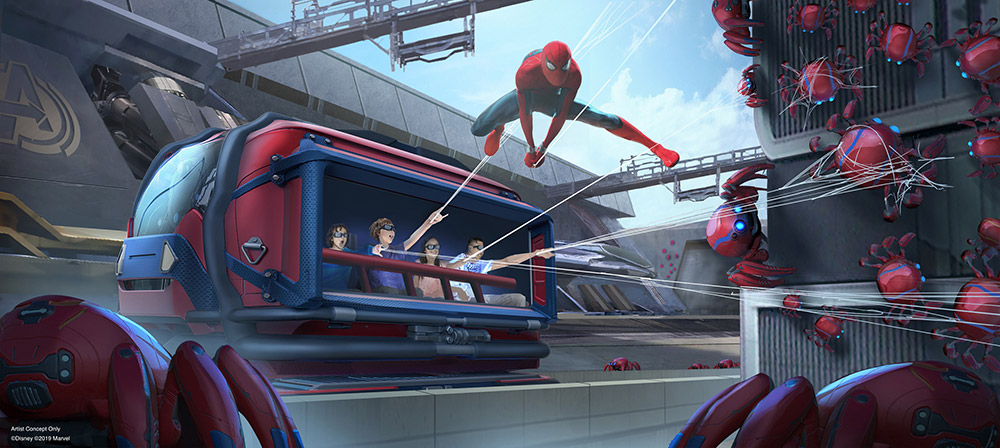 Photo courtesy of Disney
"WEB" stands for Worldwide Engineering Brigade and it will be the new Spider-Man attraction, a first for Disney. You'll visit an open house at WEB to try out the new "Web Slinger" vehicle. You'll sling webs just like Spider-Man and feel like a real super hero.
Pym Test Kitchen is a new restaurant experience where Ant-Man and The Wasp grow and shrink food. We don't know about you, but more of any Disneyland food sounds good to us!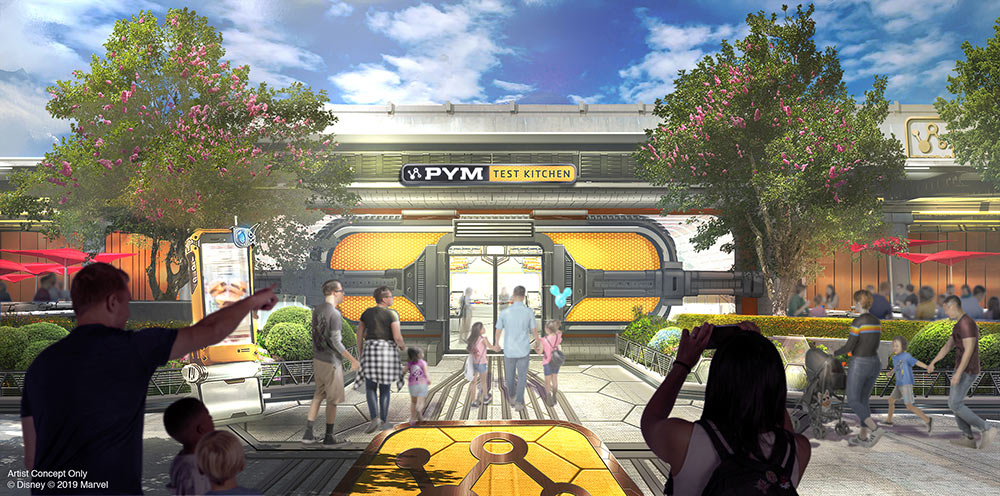 Photo courtesy of Disney
Phase One of Avengers Campus will also include a multitude of character interactions. You'll be able to meet heroes including Black Widow, Ant-Man and The Wasp, Doctor Strange and the Guardians of the Galaxy. Super Heroes from the Black Panther, Thor and Iron Man films will also have special encounters in the new land.
Photo courtesy of Disney
Phase Two of Avengers Campus will bring even more excitement with the debut of Avengers Headquarters. The building will house a brand new E-Ticket attraction where you'll board a Quinjet and fly alongside the Avengers on a journey to Wakanda. Concept art teases that characters like Hulk, Captain Marvel, Thor and so many others will all be featured in this new attraction. There is no opening date for phase two, but we will keep you updated as soon as we know.

Magic Happens - Spring 2020
An all-new daytime parade is coming to Disneyland... and it's coming soon! We're sure that this new parade will become an instant classic with stunning floats capturing some of our favorite Disney moments. All of the floats have not been announced yet, but we know that Moana will be riding her canoe down Main Street, U.S.A. as part of the procession. Miguel will serenade you on Ernesto de la Cruz's guitar and for the grand finale, you'll see Sleeping Beauty's dress magically rotate between blue and pink.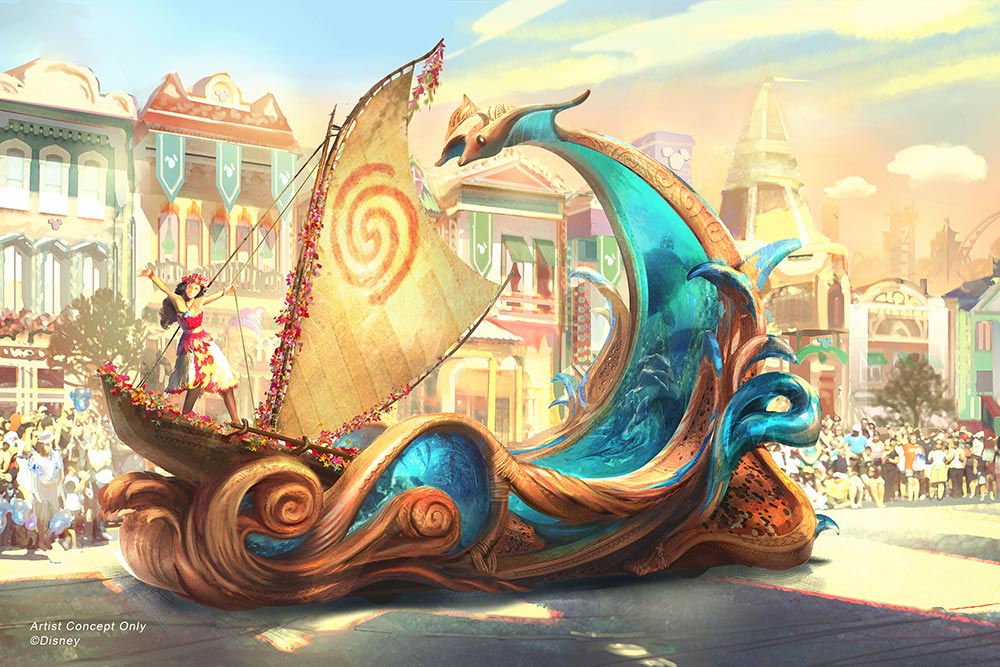 Photo courtesy of Disney
Mickey and Minnie's Runaway Railway - 2022
It's still a ways out in the future, BUT, this will be the first major Mickey-themed actual ride inside Disneyland Park, ever! The same attraction will be opening in the Magic Kingdom at Walt Disney World in Spring 2020, so we should have a better idea of what to expect once it's opened. In the meantime, we've been promised an exciting adventure into a cartoon world including state-of-the-art technology.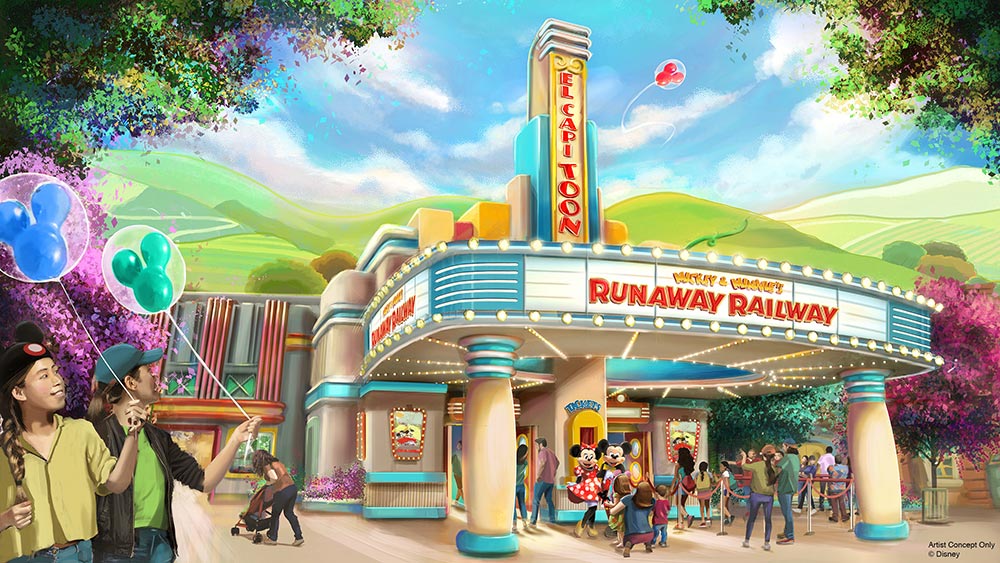 Photo courtesy of Disney
Walt Disney World and Disney Cruise Line Announcements from D23
There were a number of updates regarding Walt Disney World and Disney Cruise Line as well. Walt Disney World is getting a complete renovation to Epcot that will involve four "neighborhoods." Two exciting additions include new Moana and Mary Poppins themed attractions. Other announcements include a new restaurant called "Space 220" and the name of the new roller coaster, Guardians of the Galaxy: Cosmic Rewind. Walt Disney World also announced the name and price points for the Star Wars themed hotel. Star Wars: Galactic Starcruiser will offer 3-day/2-night immersive experiences starting at $3,300 for one person based on single occupancy. "Cabins" sleep up to five and are available for $7,200 at full capacity for the experience, which breaks out to be $1,440 per person. And finally, Disney Springs will be getting a new Cirque de Soleil show in Spring 2020.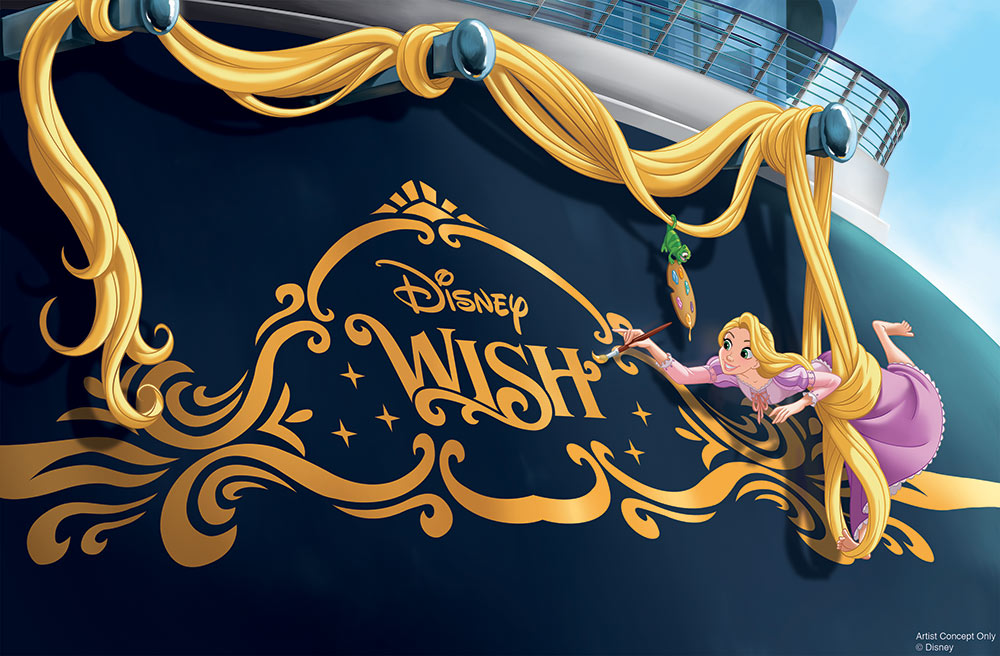 Photo courtesy of Disney
Disney Cruise Line will be launching a new ship, the Disney Wish, for sailings in January 2022. Not only will there be a new ship, there will also be a new island experience! Lighthouse Point, located on Eleuthera in the Bahamas, will become a Disney port of call similar to Disney's existing private island paradise, Castaway Cay.
D23 Wrap-up
Overall, D23 was thrilling and we can't wait for all of the new Disneyland announcements from D23 to become reality! In the meantime, there is still so much to celebrate at the Disneyland Resort. Halloween Time takes place September 6 - October 31, 2019 and Holidays at the Disneyland Resort take place November 8, 2019 - January 6, 2020. And of course, Star Wars: Galaxy's Edge is currently open where you can pilot the Millennium Falcon, grab a blue milk and build your own droid sidekick.
Whenever you're ready to explore Disneyland, we'd love to help. All of our Disneyland packages can be booked online, or you can call our agents for personalized planning assistance at 855-GET-AWAY. Either way, we will help you save the most and will be there along the way to make sure you have the best experience.