"a bug's land" may be small, but it's a big deal! Our One Minute Guide to a bug's land will show you all that there is to see in this larger than life land inside Disney California Adventure Park.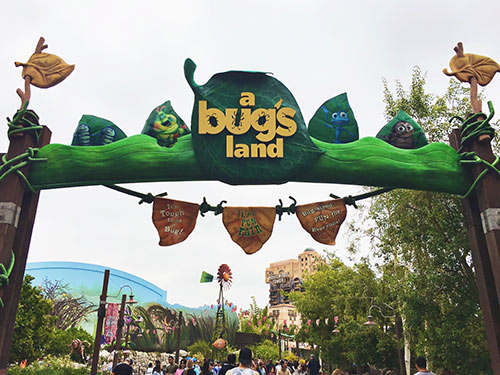 If you've ever been to Disney California Adventure Park, one of the highlights is shrinking down to the size of a bug in "a bug's land." Giant popsicle stick benches, huge empty cereal box archways, and towering clover leaves make you feel, well, ant sized. Feeling dainty is part of the charm of this unique land, but "a bug's land" offers so much more. Check out our One Minute Guide to "a bug's land" for this week's edition of #MovieMonday:
Also, another fun fact if you've been to Disney California Adventure Park over the last couple of years, is that the theater used for the "It's Tough to Be a Bug" attraction was occasionally used for extended previews for Disney films. Extended and interactive previews of the live action films of Maleficent, Cinderella and The Jungle Book were all shown at the It's Tough to Be a Bug Theater. Extended previews of Zootopia and The Good Dinosaur were also shown here. If you visited during any of these Disney film previews, then you wouldn't have been able to see the 9 minute It's Tough to Be a Bug.
However, It's Tough to Be a Bug is anticipated to be back for the long haul as extended previews are now being shown in the Sunset Showcase Theater. The Sunset Showcase Theater is located in Hollywood Land in Disney California Adventure and was most recently home to "For the First Time in Forever: A Frozen Sing-Along Celebration, and before that it was the Muppet 3-D Vision Theater. It's now a spot to catch immersive and incredible extended versions of Disney's latest and greatest films. Disney's Alice Through the Looking Glass first premiered in the newly re-branded space, and it is currently showing a version of the new live action Pete's Dragon.
If you enjoyed our One Minute Guide to "a bug's land" in Disney California Adventure Park, be sure to check out our other One Minute Guide Videos to get a full sense of the magic you can expect to see at the Happiest Place on Earth. We've got one for each land in Disneyland, as well as an overview of the whole park. We're also almost done with our Disney California Adventure Park One Minute Guide video series, so stay tuned!
One Minute Guides:
At Get Away Today, we shrink down your vacation costs to the Happiest Place on Earth. We have the best deals to make your vacation even more magical. Get an Extra Day Free on your Disneyland tickets, an Extra Night Free on your hotel stays and so many more exclusive deals you can only find though Get Away Today. Book your Disneyland package online or call our Disney travel experts at 855-GET-AWAY.