It's no question that things are always changing at the Disneyland Resort. This year has brought so many changes already, and so many more are coming. Because there has been so much change, we thought it would be a good idea to give you an update for the Disneyland Resort on the latest and greatest of everything that's been going on. Here we go:
Luigi's Rollickin' Roadsters opened in March of this year. This attraction replaced Luigi's Flying Tires, and it is so much fun! I must say, I wasn't a huge fan of the original attraction, but I think this one is a hit. The story line is that Luigi's cousins have come to visit from Italy and perform their dances for you. Because the cars are controlled by a computer and not on a track, each ride is a little bit different, and really delightful. My toddler wanted to write this again and again, so well, we did.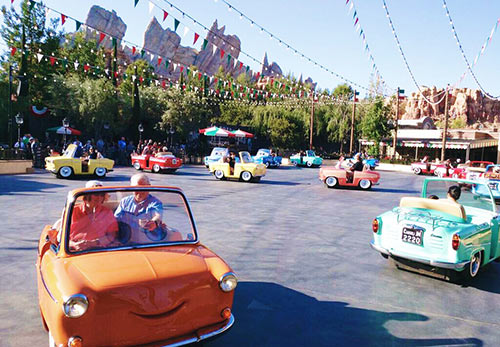 You may have heard a little bit about a small franchise called Star Wars. If you've been to Disneyland in the last few months, you know that Tomorrowland has been taken over with everything from a galxay far, far away. As part of Star Wars Season of the Force, Path of the Jedi is showing in the Tomorrowland Theater, Space Mountain has been transformed to Hyperspace Mountain, and the Innovations Building has been transformed into Star Wars Launch Bay where you can meet Kylo Ren and Chewbacca, as well as see many of the props from the films. Stormtroopers roam the streets, new scenes have been added to Star Tours - The Adventures Continue, specialty food items are available from the Galactic Grill and more. No word has been given to how long Season of the Force will last at Tomorrowland, so we recommend getting a trip on the books ASAP.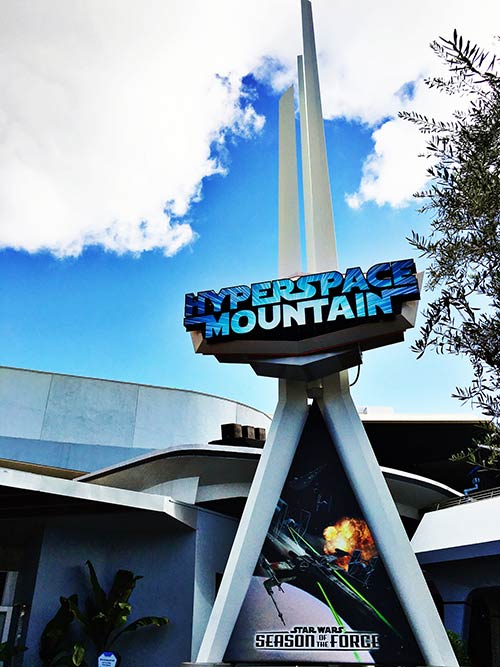 In the meantime,
Star Wars Land Disneyland
construction is well underway. Parts of Frontierland have been closed off, and the Big Thunder Ranch Barbecue and petting zoo have been closed permanently. Fantasmic!, Tom Sawyer Island, the Davy Crockett canoes, and the river boats are all on hiatus during the construction. If you head over to Critter Country, you can hear and see the construction taking place all day long. It's exciting that the crews really are working around the clock! You can also get a great view of the construction while riding Big Thunder Mountain Railroad. It is incredible to see how much has changed in such a short amount of time. It will be amazing to see how things transform as this new 14 acre land transpires!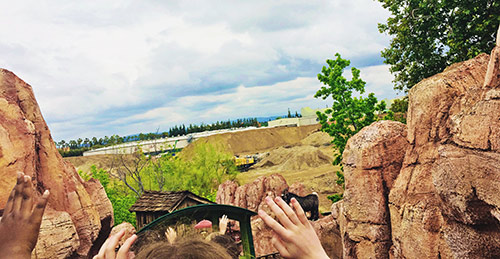 The Jungle Cruise was recently reopened after undergoing a lengthy update. The docking area was redone to make a loading and unloading faster and safer. Anything that make shorter lines is good news in my book! And don't worry, the old jokes are still, well, the old jokes.
You may have heard that Aladdin made its final curtain call at the Hyperion Theater in January of this year. In less than two weeks all new frozen live at the Hyperion theater will open. This promises to be just a spectacular of a musical event. With this change, For the First Time in Forvever: A Frozen Sing-a-long Celebration closed at the 3D Muppet Theater. We can't wait to see the new show, and will be reporting on it on May 27, the day it opens. Be sure to follow our Facebook page for more information and a LIVE video from the premiere.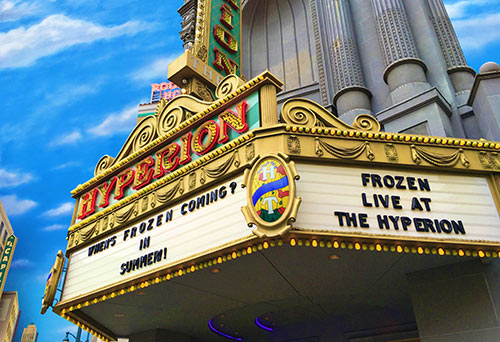 The House of Blues in Downtown Disney is moving! They are going to the Gardenwalk, just a couple of blocks away. There's no word yet on what will take its place in Downtown Disney, but we're sure it will be exciting. The move will take place sometime this summer and will give the venue more space to accommodate more guests for its live performances.
This is the last summer for the Diamond Celebration, which ends on September 5. There has not been any word as to what will stay and what will go when the celebration officially ends. So, we recommend getting your trip booked before then to make sure that you will be able to experience all of the dazzling decor, exclusive merchandise and food items, and of course the three nighttime spectaculars created just for the event; Paint the Night parade, Disneyland Forever fireworks, and World of Color - Celebrate!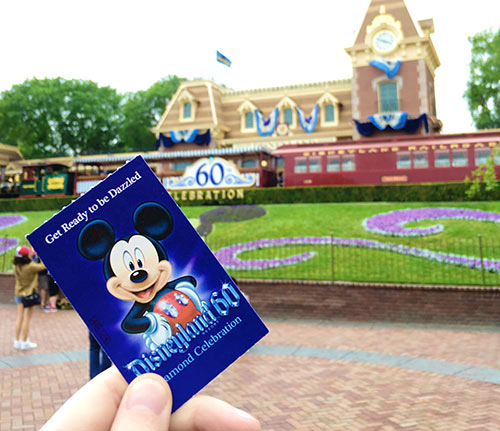 The Disneyland Railroad is currently closed as part of the Star Wars Land expansion. But, Disneyland has created a whole new way for guests to interact with the iconic attraction that was there from the very beginning. Guests are able to get up-close-and-personal with the trains at the Main Street and New Orleans Square Train Stations. Since the trains are normally going all day long, this is a rare opportunity for photo opps, chatting with conductors, and appreciating the beauty of the steam engines.
With all of these new adventures and limited time experiences, there has never been a better time to travel to the Happiest Place on Earth. We would love to help you find the best deal while equipping you with our favorite tips and tricks to make your Disneyland vacation magical! Book your Disneyland package online or call our agents at 855-GET-AWAY.

Check out these other great articles: