The beach is always a fantastic place to relax with your family. To make sure the trip is more relaxation than craziness, check out our best beach tips for families.
Ahhh, the beach. Relaxing with your feet buried in the sand. Long romantic walks along the shore. Listening to the rhythmic ocean waves as you lay in the warm sun. Flipping through a novel and sipping ice cold lemonade under a large colorful umbrella.

Those were the days…

Add a few kids into the equation and it sounds more like this…

AAAH! The beach! Sand everywhere. Dangerous waves. Miserable sunburns. No naps. Broken shovels. Crumbling sandcastles. Hot sun. Hot sand. Hot milk.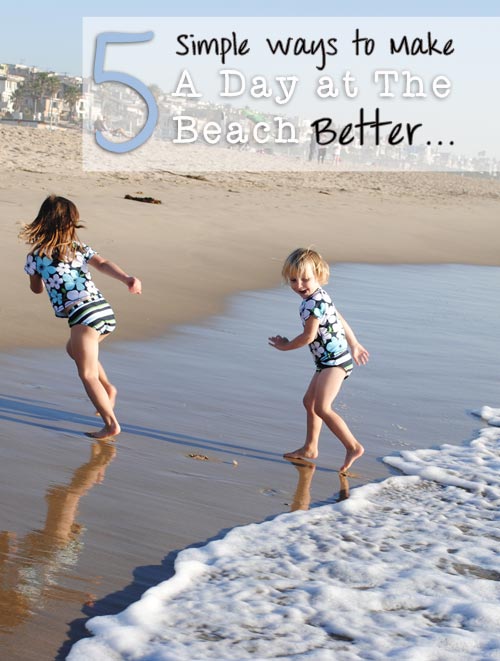 If your beach vacations have gone from tranquil to traumatic, give these simple but incredibly helpful Beach Day Tips a try. They are tested by real moms, like me, and really seem to cure those nasty beach day blues. You will be surprised to find that the ocean is a magical place for the entire family to explore and enjoy together.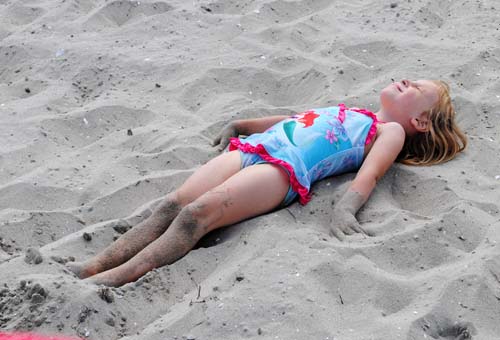 Tip One: Lather Em' Up before you Suite Em' Up

Before you get your little ones dressed up and ready to go in their swimming suits, take a minute to do a good hearty application of sunscreen. Without the swimming suit in the way, you can be sure to cover their entire body with that great UV Protection. This practice is good because you are sure to get total coverage and it is also much easier to get kids to hold still while you are still at your hotel. It will also give the sunscreen a chance to soak in so it doesn't get washed off immediately in the waves and the sand won't stick to their skin as much.

It is also a good idea to set a timer on your phone for every two hours as a reminder to reapply sunscreen. There is nothing worse than getting sunburned on vacation.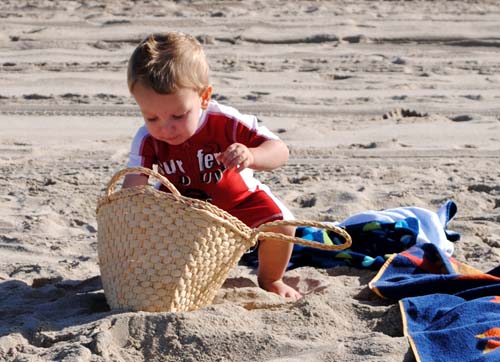 Tip Two: Freeze the Drinks and Pack the Snacks

Have you ever noticed that there is a direct correlation between food and mood? When kids are hungry they are more likely to become upset, ornery and difficult to deal with. It's amazing what a little food and water can do to turn a frown upside down. The night before your beach day outing, place several water bottles in the freezer. The frozen drinks can act as the ice for your cooler and will make it so you have nice cold water to drink throughout the day. Sun and water both cause dehydration. Having cool drinks will help combat the exhaustion that comes from exposure to the elements.

Typically, I am a fan of buying snacks in bulk. I don't like the unnecessary garbage that comes from food packaged as single servings. However, beach day is not the day to be overly eco-friendly. It is so much easier to keep sand out of the picnic supplies if everything is packaged for individuals. It only takes one sand covered hand to ruin an entire bag of chips. Keep everyone happy and pack snacks separately in Ziploc bags or splurge on the individual sized mini snack bags at the grocery store. Do as much prep work beforehand at your hotel, so you can relax while you are at the beach. You don't want to be spreading peanut butter on bread with a sandy towel as your workspace. That is not the kind of "crunchy peanut butter" most people enjoy!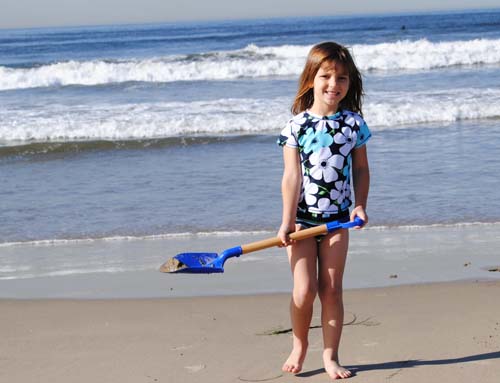 Tip Three: Ditch The Fancy Gizmos and Simplify the Sand Toys

It is so tempting to bring a whole car full of fun gizmos and gadgets for playing in the sand. There are toys that sift and spin and mold and toss. It has been my experience that when it comes to beach toys, less is more. Kids are most happy with just a good quality shovel and bucket. If you leave the bag of toys home, the kids aren't overwhelmed and it saves so much time cleaning and gathering at the end of the day.

Do you want to know what the real secret is to a child's beach day happiness? It is if mom and dad dig and pile and shape and play and get dirty right alongside them. Don't let the opportunity to build a princess castle or dig a mote for a spooky crocodile slip by. Playing together is paradise.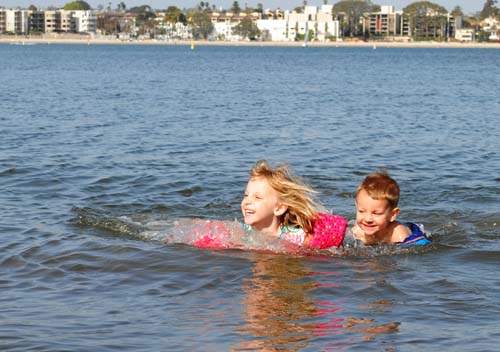 Tip Four: Set Good Boundaries

One of the most stressful things as a parent is keeping track of everyone. I am constantly counting my children, "One, two, three, four…" over and over again. Right when you get to the beach and you have your spot set up and ready to go, take a minute to set clear boundaries for your children. You can set up some cones that they need to stay between or use landmarks that are already at the beach. For example: Everyone needs to stay between the lifeguard tower and the purple and white striped beach umbrella. If you only have to look in a small area for your kids, it really helps cut down on the stress of making sure everyone is safe and accounted for.

It is also wise to set boundaries with the water. Make sure that children know they need to have a life jacket on if they are going to go into water above their shins. Waves can be unpredictable. It is good standard procedure to wear a life jacket while playing in the ocean. It will make mom happy and it will keep the kids safe! When the rules are made clear from the beginning, then you can relax and enjoy the day.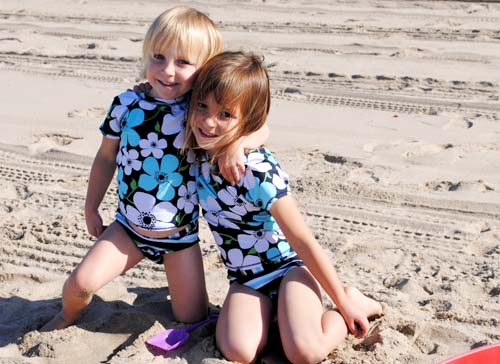 Tip Five: Pack the Baby Powder

Baby powder is good for more than just keeping tiny behinds dry. It also cleans sand off skin like magic! The moisture absorbing properties soak up the grip that sand has on skin so you can rub it off effortlessly. It is so nice to leave the sand at the beach instead of tracking it back to the car and in the hotel room.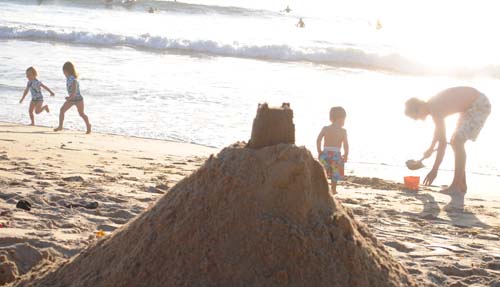 I have found that when I follow these basic guidelines, our beach days are my most treasured days on vacation. Some of our happiest times as a family have been while playing together at the beach, chasing waves, digging holes, hunting for seashells, and burring each other in the sand. Going to the beach with a family may not necessarily the most relaxing outing, but it is one of the very most memorable and rewarding.

If you don't already have a beach trip on the books, let us help you plan one! Whether you're thinking of a cruise (take in lots of different beaches), or want to stay at one beach the whole time (San Diego, Huntington Beach, Hawaii, etc.), we guarantee the best price on making priceless memories with your family! Call us at 855-GET-AWAY or plan online.

Check out these great beach vacation ideas:

How to Pick the Perfect Cruise
Top 10 Things to do in San Diego
Hyatt Regency Huntington Beach: The Perfect Beach Vacation
Hawaii Vacation Ideas for the First Time Visitor