If you're anything like us, you may find yourself spending more time at home than usual. With that in mind, we've created a roundup of Disney crafts you can do to create some Disney magic at home!
These Disney crafts are perfect for families to do together to celebrate all things Disney. We hope you find something on this list of crafts that helps you stay busy while the whole country is practicing social distancing. Some are so easy that all you'll need is paper and a printer! Others include items you may already have around. And if not, we've updated many of the posts to include supply lists so you can head to Amazon and order anything you need for our favorite Disney crafts. When you're done with all your at-home crafts, consider signing up for Hulu and adding the Disney+ upgrade!
Disney Crafts - Creating Disney Magic at Home
Our Disney craft ideas range from Star Wars to classic Mickey and everything in between. If for some reason you don't find something in this crafts roundup that you think your family will like, you can always search "crafts" on our blog's homepage HERE. Also, if you're looking for a great collection of Harry Potter themed activities, check out this blog article: Harry Potter Activities - Harry Potter Crafts and Harry Potter Recipes.
Disney Games to Play at Home
In addition to a Disney craft roundup, we have other ideas for keeping kids entertained at home listed below. We have lots of fun, free Disney games to play at home, and our most popular are the "Would You Rather" games. All you need is a printer and you can download these games and have a family night.
Disney Would You Rather - Free Printable Game
Our classic, Disney Would You Rather game can provide endless fun when you're gathered together as a family. Just print off the sheets and start learning more about each other with the questions provided.
Pixar Would You Rather Game - Free Printable
Print off 30 unique Pixar questions and learn more about each other during a fun family game night! Use this Pixar Would You Rather game as a boredom buster, or to break up any homeschool you might be doing during social distancing.
Pixar Game Printable - Find Out Who's Your Pixar Pal
You've got a friend in me! But which one is it? Play this Pixar Pal game to find out who is your Pixar Best Friend Forever. We love these origami games since they remind us of being kids ourselves. Did you used to call these "cootie catchers?"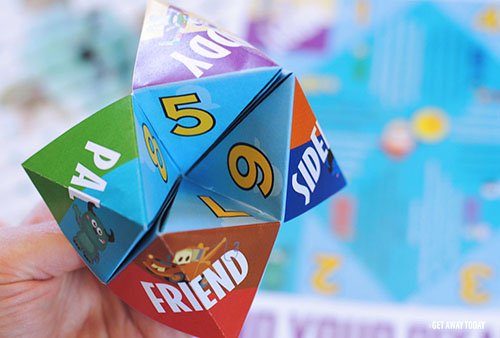 Super Hero Would You Rather Game
Our popular Would You Rather game is back in Super Hero form! Print out the questions and find out which Super Hero perks or weaknesses you'd rather have.
Would You Rather Game - Star Wars Edition Free Printable
One more time, we offer up a Would You Rather game, but this one for Star Wars fans. There are 41 questions so you can use The Force to choose between your favorite droids, where you'd like to live and who you'd rather fight in an epic battle.
Remember when Finding Nemo came out and we all fell in love with his loyal friend, Dory? Well, this I Spy games is based on everyone's favorite blue fish! This Finding Dory I Spy game is like having a portable, contained aquarium at your fingertips.
Star Wars Crafts
Star Wars Rise of the Resistance Printable
If you haven't yet experienced Star Wars: Rise of the Resistance at Disneyland, why not get a taste of it at home? This Star Wars printable gives a sneak peek of this amazing new ride at the Disneyland Resort. Just print and fold the fortune teller to go on an imaginary ride with the Resistance as they face off against the First Order.
Have you heard of a little guy people are calling Baby Yoda? We understand he's just a little bit popular these days. Well, you can have your very own little Baby Yoda to keep you company with this printable origami craft.
If your kids are into playing dress up, they'll love these Princess Leia ears. We love that they're so fluffy, and that they're actually clips. Sometimes the classic Minnie ear headbands hurt our heads after a while, but these will let us play Star Wars all day long!
Star Wars Chewbacca Savings Bank
If you're saving up for your next vacation to visit Star Wars: Galaxy's Edge, you can make this Chewbacca Bank, or the Yoda Bank we have linked below. Either one is a fun way to keep busy, and then save in style. We love how simple the Chewbacca craft is! All you need are a few pieces of fabric, a jar and some glue.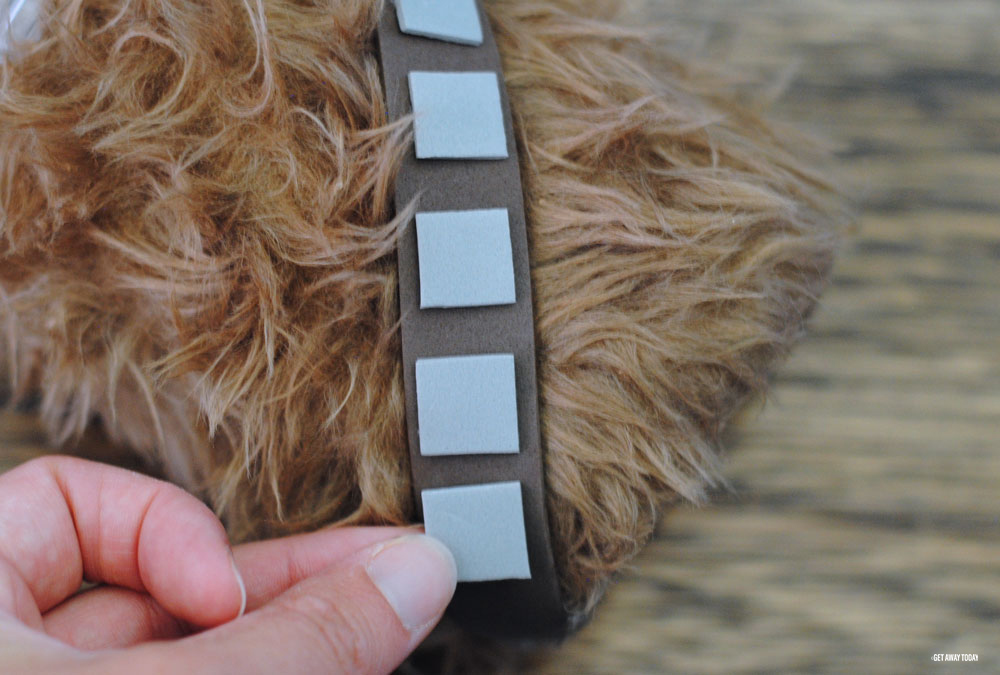 Print the Star Wars Yoda bank template and get folding! Encourage the kids to not only get crafty, but to save their money to put towards an out-of-this-world souvenir when you visit Galaxy's Edge.
Frozen Crafts
We're not sure if you've subscribed to Disney+, but in response to the temporary closures of many public places, Disney released Frozen 2 on its streaming service EARLY! We're psyched to have Frozen 2 on a constant loop so we can venture into the unknown with a great soundtrack. Check out our popular Frozen crafts linked below.
We know Elsa doesn't use a wand to make it snow, but sometimes we regular humans need a little help performing magic. And what little kid doesn't love having a magic wand for every day use? Follow this easy Elsa wand tutorial and let it snow!
It might be spring already where you live, but we're based in Utah and that means we can still expect some snow for a few more weeks! No matter the weather, you can capture the beauty of a winter wonderland with this Frozen snow globe craft that's perfect for all ages.
Create plays at home or just act out Frozen 2 in its entirety with these Frozen finger puppets. Fun for the whole family!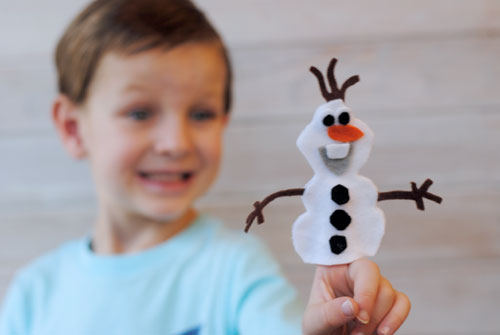 With Easter fast-approaching, give it a Frozen twist with these eggs inspired by Kristoff's troll family. They're too cute to crack!
Mickey and Minnie Crafts
If your go-to style is a pony tail, make it even cuter with a Minnie Mouse scrunchie! Minnie always accessorizes with a bow, and now you can, too.
If you're looking for some relaxation, whip up your own Mickey bath bombs! These can make a great science experiment for the whole family.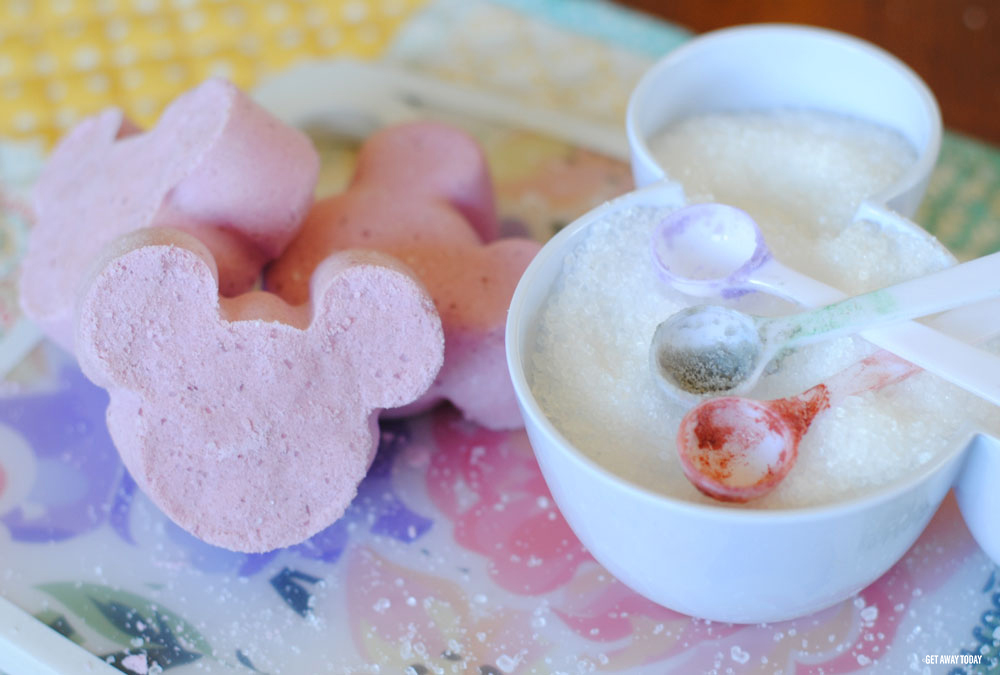 DIY Tulle Skirt with Pom Pom Embellishments
Add to your dress-up bin with this easy tulle skirt tutorial. You'll love shaking your poms poms!
Pom Pom Minnie Mouse Ears Headband
Your new pom pom tulle skirt wouldn't be complete without some hair accessories! Make these Minnie Mouse ears and take a walk around the neighborhood to show them off this spring.
Nothing like some old-school tie dye fun in the sun! Learn how to get a Mickey design on your tie dye shirt with our tutorial.
Pixar Crafts
Everyone's favorite piece of (not!) trash comes to life with this easy Forky DIY. If you'd like, you could also use this Forky tutorial to make Forky some friends.
Hands down, this is our most popular ears tutorial! Jessie is the rootin-est, tootin-est cowgirl in the wild wild west. Make you own Toy Story ears with this DIY.
Make your own customizable Mr. Potato Head without the mess! This printable game combines the classic Mr. Potato Head toy with a bit of adventure; you don't know what you'll spin next!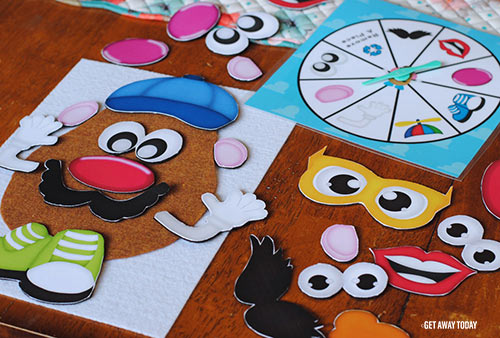 Did the slime craze hit your family? Not only is making slime a great way to pass the time, but once it's done your kids will be entertained with this glitter slime variation. Try not to get stuck on this project for too long *wink wink*.
Make Your Own Disney Piggy Bank
If you have Toy Story fans in your house, they'll love this Piggy Bank! Save up for your next vacation with this a-pork-able Hamm bank. Just print, cut and fold.
Other Disney Crafts to do at Home
DIY Disney Slime - Monsters, Inc. Edition
Again with the slime! Yes, we promise this is a winner! You'll love this bright green slime, and the printable label that goes with it.
Free Disney Incredibles T-Shirt Design
Make matching tees for the whole family with our free Incredibles design! Just because you have no where to go doesn't mean you can't look great!
Photo Coasters DIY - Print Those Instagram Memories!
Have you taken a vacation recently? If so, you probably have a lot of photos that need printing! Why not turn them into photo coasters with our easy DIY?
Make Your Own Super Hero Shield
Get the kids outside to play with Super Hero shields! Order a few Frisbees from Amazon, add our free printable designs and you're good to go.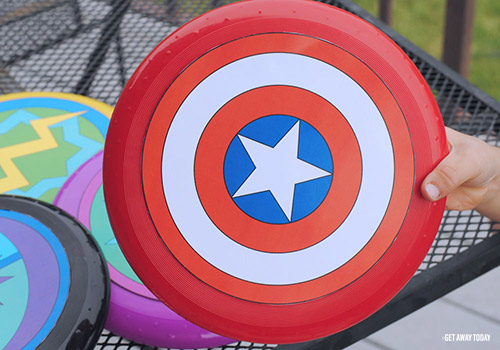 Free Disney Descendants Activity Printable
Have you watched the Descendants on Disney+ yet? Brush up on the characters and then play this game with the whole family.
Disney Recipes
We all know that when we travel, eating can be one of the best parts of the whole vacation! Luckily, we have some experts who have recreated a number of Disney recipes so you can enjoy some of your favorite Disney foods at home. Check out our roundup of delicious Disney recipes that are perfect parties, movie nights or maybe just breakfast.
Disney Breakfast
Rising Moons Overnight Oats Recipe
We love this yummy Star Wars inspired breakfast, and we're sure you will, too! With fresh fruits and popping bobas, it's a fun intergalactic recipe to try.
Pixar Pop Tarts Copycat Recipe
If you love pop tarts, try making your own with some Pixar flair! We love this copycat Disney recipe, which you can adapt for your family's taste. Fill with fruit, chocolate, cinnamon and sugar or anything that sounds good.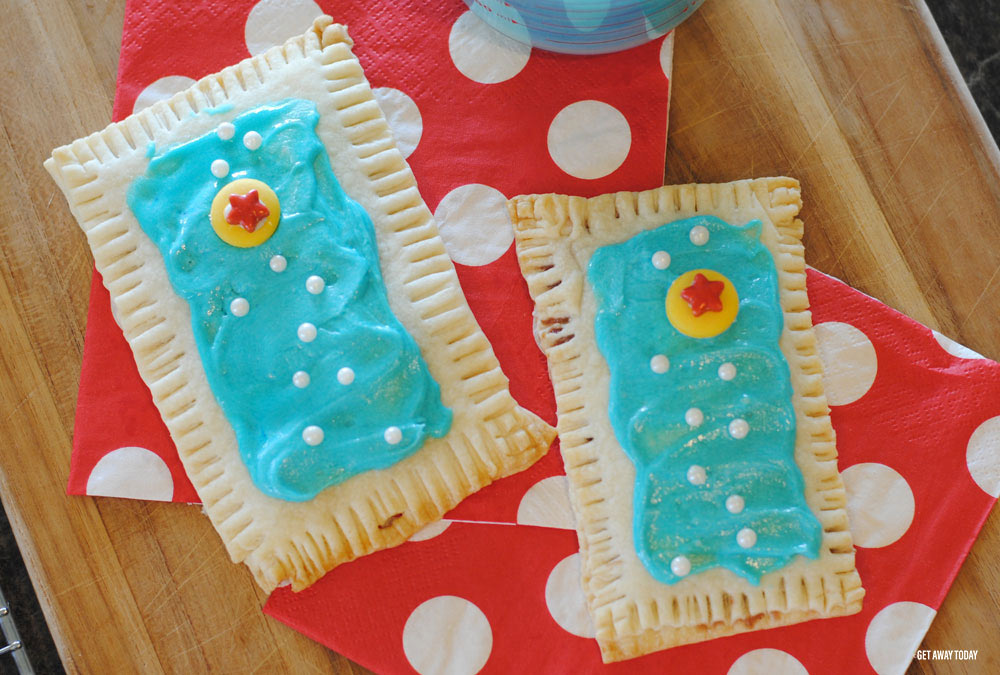 Disney Desserts
Make Your Own Pixar Ball Cake Pops
Have you ever make cake pops before? They are pretty simple, and you can give them a Disney twist by making them look like the iconic Pixar Ball.
The Most Incredible Jack-Jack Cookie Num Nums Recipe
Did you know when you ride Incredicoaster you can get a whiff of Jack-Jack's favorite cookie? And with our copycat Num Nums recipe you can fill your own home with the sweet, chocolatey aroma.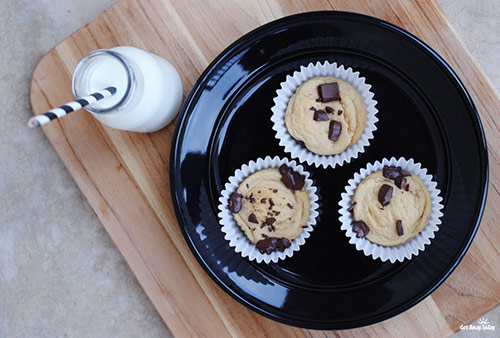 Monsters, Inc. Ice Cream Cone Recipe
It's never the wrong season for ice cream! Make some simple ice cream cones a little more exciting by giving them a Monsters, Inc vibe.
Hot Cocoa Marshmallow Macaron Tutorial
If you visited Disneyland during the Holidays, you may have tried the amazing hot cocoa marshmallow macaron. If not, you can recreate it at home! Order some ready-made macarons and embellish them using our easy tutorial.
Disney Frozen Rice Krispie Treats
Everyone loves rice krispie treats, so why not whip some up and transform them for your one millionth viewing of Frozen 2?
Olaf Cookies - An Easy Recipe!
There's nothing we love more than a semi-homemade cookie recipe. Use store bought cookies to create Olaf, everyone's favorite snowman.
Copycat Disney Chocolate Covered Bacon
The perfect pairing of salty and sweet, Disney chocolate covered bacon makes a great dessert (we won't tell if you make it for breakfast, though!). Try this copycat Disney recipe asap.
Star Wars Themed Foods
We love all the Star Wars movies and shows on Disney+! Next time you stream something from the franchise, add one of our Star Wars recipes to the experience.
Did you get a chance to try Blue Milk at Galaxy's Edge in the last year? If you haven't tasted it, or if you're craving another sip, follow our Blue Milk recipe.
Serve up some Green Milk next time you need a refreshing drink! You can enjoy it by itself, or mix it with our copycat Blue Milk recipe linked above. Which one is your favorite?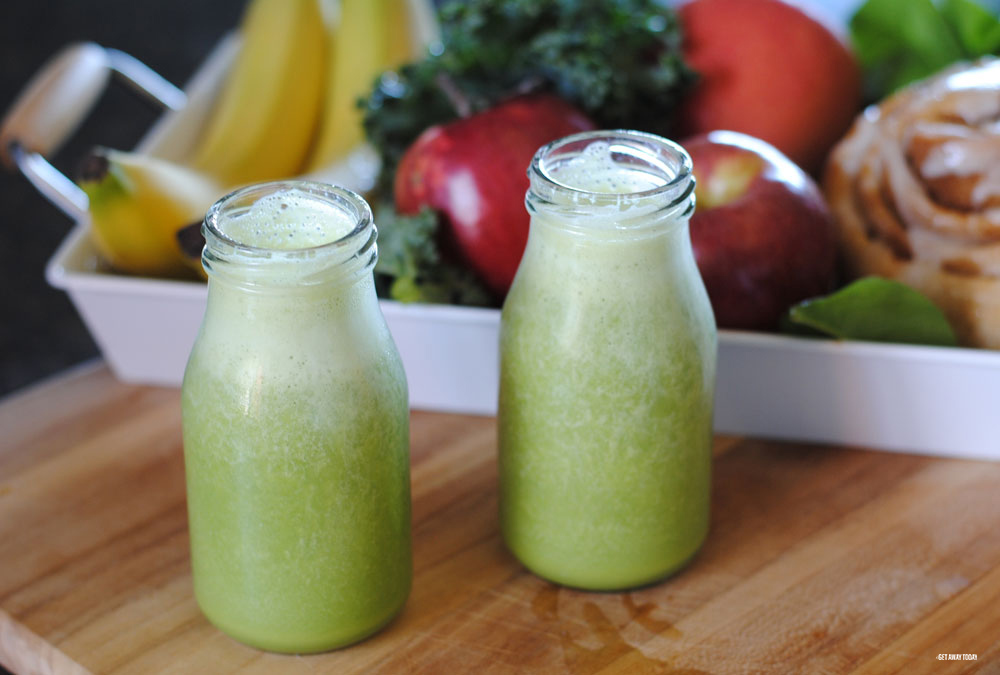 Can you even handle this cute cookie? Don't worry, there's nothing fuzzy about them except the name. These chocolatey, creamy sandwich cookies are a great after-school snack, or after dinner dessert. Plus, having the kids help you bake them can count for science or home economics!
Star Wars Themed Food - Star Wars Snack Mix
Perhaps one of our easiest recipes, this Star Wars snack mix is perfect for your night viewing party at home. We often come up with recipes that you can customize for your family's tastes, and this snack mix recipe is no exception.
Disney Dishes
Copycat Disneyland Corn Dog Recipe
Okay, now that your mouth is watering over all the yummy desserts, what's for dinner? How about some copycat Disneyland corn dogs? Make your own hand-dipped corn dogs using this recipe.
Poutine Fries Recipe - Inspired by Disney Springs Italian French Fries
These french fries can count as dinner since they're piled high with lots of toppings! We love this Disney Springs copycat recipe.
Disney Churros Recipes
Make your own Churro toffee at home using our copycat recipe.
How could we offer a Disney recipe roundup without including churros? Well, we can't! We have a few different options linked here. Try them all!
Copycat Disneyland Chocolate Churros Recipe
Peppermint Churros Recipe - Copycat Disneyland Recipe
Disneyland Churro Sundae Recipe
Copycat Disneyland Rose Gold Churros Recipe
Disneyland DOLE WHIP Recipes
What's the number one dessert at Disneyland? It's probably a tie between churros and Dole Whip. We have a classic Dole Whip recipe linked here, as well as a Dole Whip donut recipe. They're both so good, we won't make you choose between them.
The BEST Disney Dole Whip Recipe
Disneyland Donut Dole Whip Recipe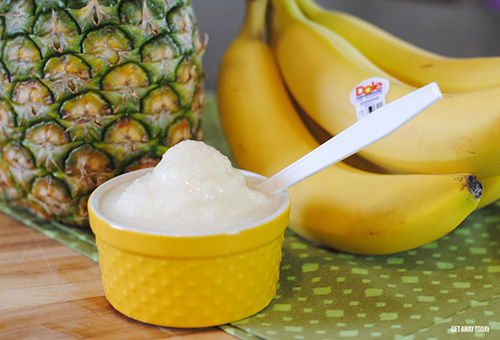 We hope that during this time spent at home, your family can create Disney magic with some of these ideas. We also hope you'll pin this article and keep it around for a rainy day, during Spring Break vacation or even just over the weekend. We love sharing our Disney recipes, Disney games and Disney crafts with you and will work on continuing to offer ideas for entertaining kids at home!
One thing that will definitely help pass the time is planning a future vacation - even into 2021. It's so easy to shop all of our vacation deals online. And even easier, is setting up a Layaway Plan where you can hold your vacation for just $175 down. You set your own payment schedule with final payment due just seven days prior to travel. It's the easiest and most flexible way to book your Disneyland vacation.